NATIONAL CHERRY BLOSSOM FESTIVAL
Join us in America's greatest springtime celebration! The National Cherry Blossom Festival returns March 20 to April 17, 2016 with three glorious weeks to celebrate the gift of the Tidal Basin Cherry Trees to the United States from Japan in 1912. Just minutes from DC, Fairfax County is a great place to stroll and enjoy several splendid gardens, which welcome National Cherry Blossom Festival visitors with a special gift.
UPDATE: Peak bloom is expected around March 23 - March 24. Make your plans now to see the blossoms at full bloom!  
---
Fairfax County's Glorious Gardens Self-Guided Tour 
Between March 20th and April 17th, the visitors of the National Cherry Blossom Festival are invited to plan a self-guided tour of the area's splendid gardens. In addition to the District's iconic Tidal Basin and the U.S. National Arboretum, plan stops at the following not-to-miss sites in Fairfax County, pick up your Festival schedule and your free Festival souvenir! (Be sure to call for the hours and directions!) 

River Farm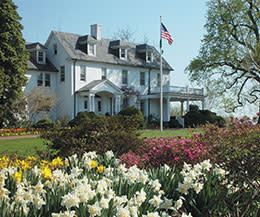 A historic 25-acre site on the banks of the Potomac River, River Farm was once part of George Washington's original five farms, and currently the headquarters of the American Horticultural Society. A short drive along the scenic George Washington Parkway from Alexandria, Virginia, River Farm is acclaimed for its spell-binding vistas stretching down to the Potomac River, along with its creative children's gardens, beautiful four-acre meadow, and colorful flower displays. It is a favorite site for weddings, family picnics, bird-watchers, and painters. The Garden Shop at River Farm has a selection of garden tools, and one of the best selections of gardening books in the D.C. area. You'll also find gardening supplies for kids and crafts from local artisans. River Farm is open year-round Monday through Friday from 9 am to 5 pm. From April through September, it is also open on Saturday from 9 a.m. to 1 p.m. River Farm is closed on national holidays. 
703-768-5700 - Free Admission

Green Spring Gardens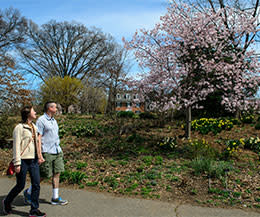 Green Spring Gardens is a "must visit" for everyone in the metropolitan Washington, D.C. area. It's a year-round gold mine of information and inspiration for the home gardener. It's an outdoor classroom for children and their families to learn about plants and wildlife. It's also a museum, a national historic site that offers glimpses into a long, rich history with colonial origins. There's something here for everyone: a wooded stream valley with ponds, a naturalistic native plant garden, over 20 thematic demonstration gardens, a greenhouse filled with tropicals, and a well-stocked horticultural reference library. Visit the Garden Gate Plant Shop and our two gift shops where you'll find gift ideas ranging from books and gardening gloves to china and wind chimes. Green Spring will educate, inspire, and delight you. The gardens are always changing, so come back often for new ideas.   
703-642-5173 - Free Admission
Meadowlark Botanical Gardens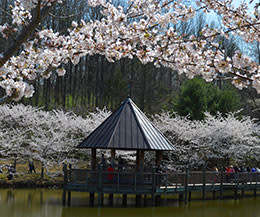 Beauty, conservation, education and discovery flourish throughout the year at this 95-acre complex of large ornamental display gardens and unique native plant collections. Meadowlark Botanical Gardens features walking trails, lakes, more than twenty varieties of cherry trees (over 100 trees), irises, peonies, an extensive shade garden, native wildflowers, gazebos, birds, butterflies, seasonal blooms and foliage create a sanctuary of beauty and nature.  Meadowlark is also home to the only public Korean Bell Garden in the entire Western Hemisphere!  The Bell Garden consists of stone terracing and stairs, Korean trees, a meandering path with various reflection stations, and the highlight, the Bell Pavilion housing a custom made two ton bell. Please plan a trip to the garden to see the expert craftmanship of the pavilion, the simplicity of the landscape and the breathtaking view of the rest of the gardens.
703-255-3631 - Small Entrance Fee
---
Scenes From The National Cherry Blossom Festival

Fairfax County Special Events
Cherry Blossom Children's Celebration
On April 2, celebrate spring and the Japanese gift of the cherry trees at Green Spring Gardens. Test your chop stick abilities, decorate paper fans, fold origami and more.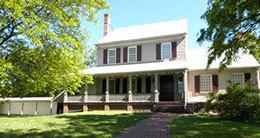 A Touch of Japan: Teas, Fans & Fun
On April 10, sample green teas and sweets of Japan at Sully Historic Site. Paint your own Japanese fan, and then enjoy a tour of the 1794 historic home.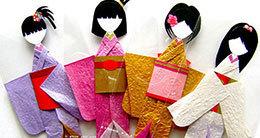 Culture Fair at the Visitor Center
Also on April 2, stop by the official Fairfax County Capital Region Visitor Center for a free Culture Fair. Enjoy craft activities like origami, calligraphy, and henna.
More
Madame Butterfly Tea at the Garden
On April 10, hear excerpts from the story of Madame Butterfly at Green Spring Gardens. Then, enjoy a Japanese-themed afternoon tea and take home a favor bag!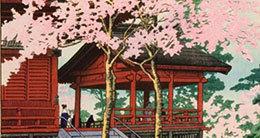 Fleeting Grace: Teachings of Cherry Blossoms
On April 9, browse the art galleries at Workhouse Arts Center and learn how to create glass cherry blossoms with multiple techniques. Plus, hula dancing!
More
Festival Central at the Visitor Center
Stop by the official Fairfax County Capital Region Visitor Center for free gifts, knowledgable travel counselors, and loads of information. Located in Tysons Corner Center. March 20-April 17.
More