American Craft Beer Week kicked off on Monday, May 11, and this year's edition is certainly the most unusual in the 15-year history of the event.  The Covid-19 pandemic has wreaked economic havoc worldwide and perhaps most acutely in the service and hospitality industries, including craft breweries. Taprooms have been closed nationwide since the middle of March and small and independent breweries have been forced to come up with innovative solutions to keep the beer flowing for their loyal customers.
Many Fairfax County breweries have started providing curbside pickup and even direct home delivery to their customers, reaching them in new and "socially distant" ways and continue to explore other innovative ways to preserve and even grow their business during this unprecedented crisis.
Several are now offering an expanded selection of takeout food. For example, Caboose Brewing Company is offering grocery pickup and delivery from its Vienna location including produce, meat, dairy, and even personal protective equipment (PPE) like masks and gloves. At its Caboose Commons location in Merrifield, customers can pick up select offerings from their existing café menu as well as PPE. Lake Anne Brew House in Reston is offering a rotating "dinner box" on Thursdays with everything you need to prepare a delicious meal for six. Finally, Fair Winds Brewing Company has continued its food truck partnerships and has trucks on site most days to complement its takeout beer service.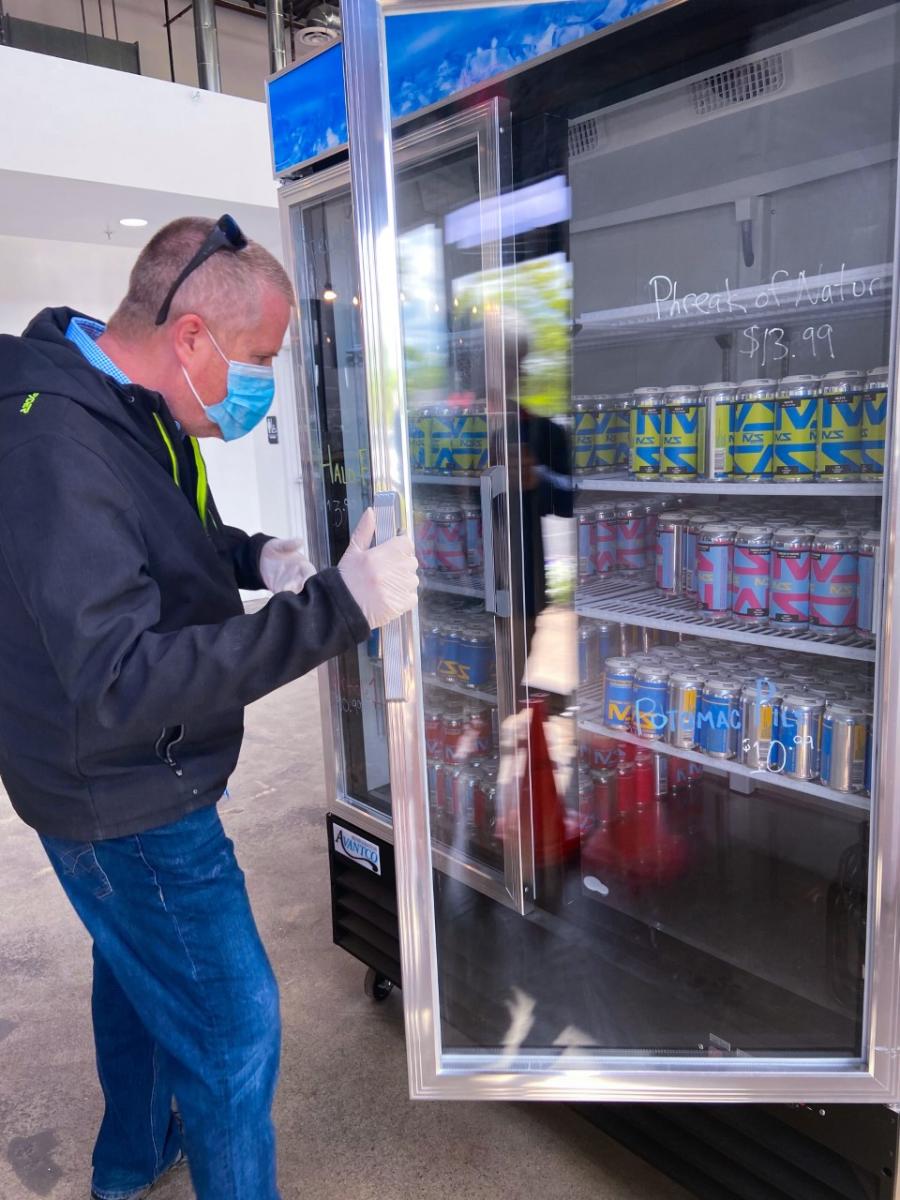 Photo courtesy Brian Hennighausen/Brewscapes
Other breweries are also using the downtime imposed by Covid-19 restrictions to prepare for an eventual reopening and what that may mean. Mustang Sally Brewing Company in Chantilly has been hard at work renovating its tasting room and changing up its brewing capabilities to add more frequent canned beers for to-go beer drinkers.
"Like everyone, we can't wait for a return to times when we can get together," says Sean Hunt, owner of Mustang Sally. "If there's a silver lining in all of this for us, it's that it gave us a kick in the butt to dive into a canning program where we'll start putting out new smaller-batch to-go beers in cans every couple of weeks. We just didn't have the time before to make the changes needed to kick off this program, but now we do."
Ono Brewing Company in Chantilly has completed work on its new outdoor patio and is looking forward to opening it as soon as Fairfax County approves Phase 1 reopening, according to co-owner Cyndi Hoffman. Meanwhile, co-owner Scott Hoffman has been designing an automated, entry-level canning system geared towards the needs of small breweries.
Moreover, several of the Fairfax County Breweries have also implemented creative ways to give back to the community and encourage their customers to do the same. Aslin Beer Company just completed its "Liquid Bread" promotion, which rewarded customers who patronized locally-owned restaurants with gift cards redeemable for Aslin beer. Ono Brewing Company sponsored a "Buy a Beer for a Teacher" drive during National Teacher's Week May 4 – 10. Settle Down Easy Brewing Company is partnering with Food for Others, a local nonprofit that distributes meals to those in need who have been affected by the Covid crisis.
Co-owner Frank Kuhns says that they have collected "seven large bins of food just since Mother's Day" after volunteering their taproom as a drop off location.
The creative and community-focused spirit that defines the craft beer industry is alive and well in Fairfax County. And although we may not be able to celebrate this year's American Craft Beer Week in a local taproom, our breweries are still producing great beer and have implemented a variety of innovative ways to get that beer and other delicious products into our hands.  They are only a phone call, online order, or a drive-up away and they need your support. Now more than ever.
Below are the opening hours and takeout delivery options for each of our breweries. Be sure to check each brewery's website and/or social media for detailed information. 
Aslin Beer Company
Curbside pickup at both Herndon and Alexandria locations, daily from 11am-8pm

Next day home delivery to Arlington, Alexandria, Fairfax, Loudoun and Prince William Counties ($75 minimum).

Bike Lane Brewing
Open in the afternoons from 12pm to 6pm for takeout orders of cans and growlers.

Caboose Brewing Company
Open from 11am-3pm (Vienna) for takeout and delivery orders of beer and groceries.

Open from 7am-8:30pm (Merrifield) for takeout orders of beer and food.

Fair Winds Brewing Company
Open 12pm to 6pm daily for takeout can orders, and often has food trucks on-site for take away meals as well.

Lake Anne Brew House
Open Thursday-Friday, 4pm-7pm; Saturday-Sunday, 12pm-5pm for takeout orders of cans and growlers

Offering a variety of food options including a weekly Thursday Dinner Box.

Online ordering also available

Mustang Sally Brewing Company
Open Tuesday-Friday, 2pm-6pm; Saturday-Sunday, 12pm-6pm for takeout can orders.

Ono Brewing Company
Open 12pm- 6pm Tuesday-Sunday for takeout orders of cans and growlers.

Odd BBQ open for food take out 12pm-6pm Tuesday-Saturday.

Settle Down Easy Brewing Company
Open for takeout of cans from 1pm-7pm Tuesday-Sunday

Limited delivery within 5 miles of the brewery.
If you're also missing out on visiting our local Fairfax County wineries, you're not alone! Here is the 411 on what our two vineyards are offering during the pandemic:
The Winery at Bull Run
Curbside pickup available Wednesday-Sunday, 12pm-6pm (call to place order in advance). Discounts available for multiple-bottle purchases.
Limited delivery available on Fridays & Saturdays (15-mile radius, $50 minimum). Place orders Wednesday-Sunday, 12pm-6pm.
Free shipping for all online orders of 3 bottles or more (promo code: itswinetime)

Paradise Springs Winery
Open for to-go purchases and curbside pickup (call to place order in advance)
Limited delivery available (25-mile radius; 3+ bottles)
Free shipping for online orders of 6 bottles or more