When it comes to dining out, some restaurants simply have the innate ability to transport you to another world through the atmosphere, the food, the service, or a combination of all three. These aren't your run-of-the-mill restaurants – these are tried and true, regionally beloved, memorable dining experiences.
And now, more than ever, you deserve a special night out. In Fairfax County, Virginia, there are more than just a couple of these extraordinary places that offer a taste of destination dining.

2941 Restaurant
2941 Fairview Park Dr, Falls Church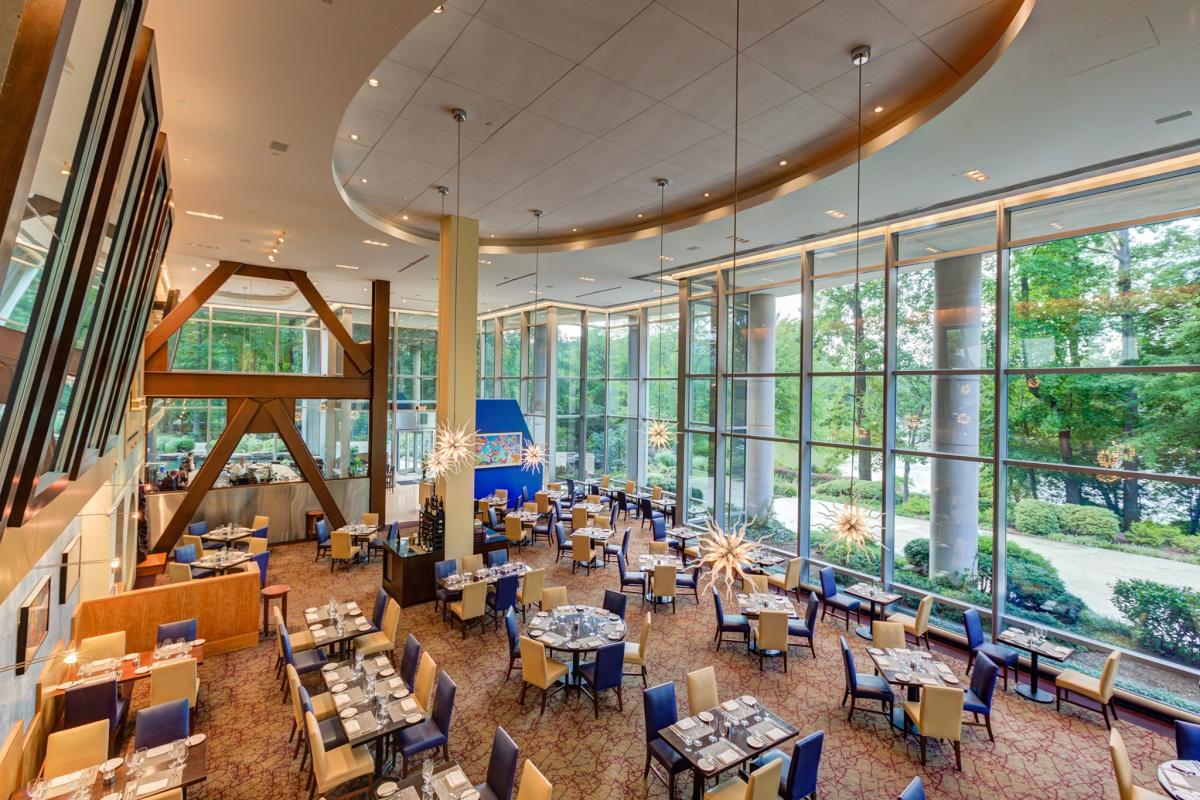 Image courtesy 2941 Restaurant/Facebook
Recently named the #1 best restaurant in Northern Virginia by Northern Virginia Magazine and lauded as one of the top dining spots in the greater Washington region, the ever-changing, five-course Chef's Tasting Menus offered at this off-the-beaten-path establishment consistently bring diners back time and time again. Executive Chef Bertrand Chemel's contemporary American cuisine is accented with bold French and Mediterranean flavors that you'd come to expect from a born-and-raised Auvergne native. As you approach 2941 Restaurant, which is subtly located on the ground floor of an office building, you may be surprised to be greeted with lush greenery, a koi-filled pond, and yes, even a waterfall. Inside, the main dining room soars 30 feet in the air with floor-to-ceiling windows that offer spectacular views of the outdoor landscaping. Just outside the main dining room, order an aperitif at the bar from the creative – and also seasonally rotating – cocktail menu.

Blend 111
111 Church St, NW, Vienna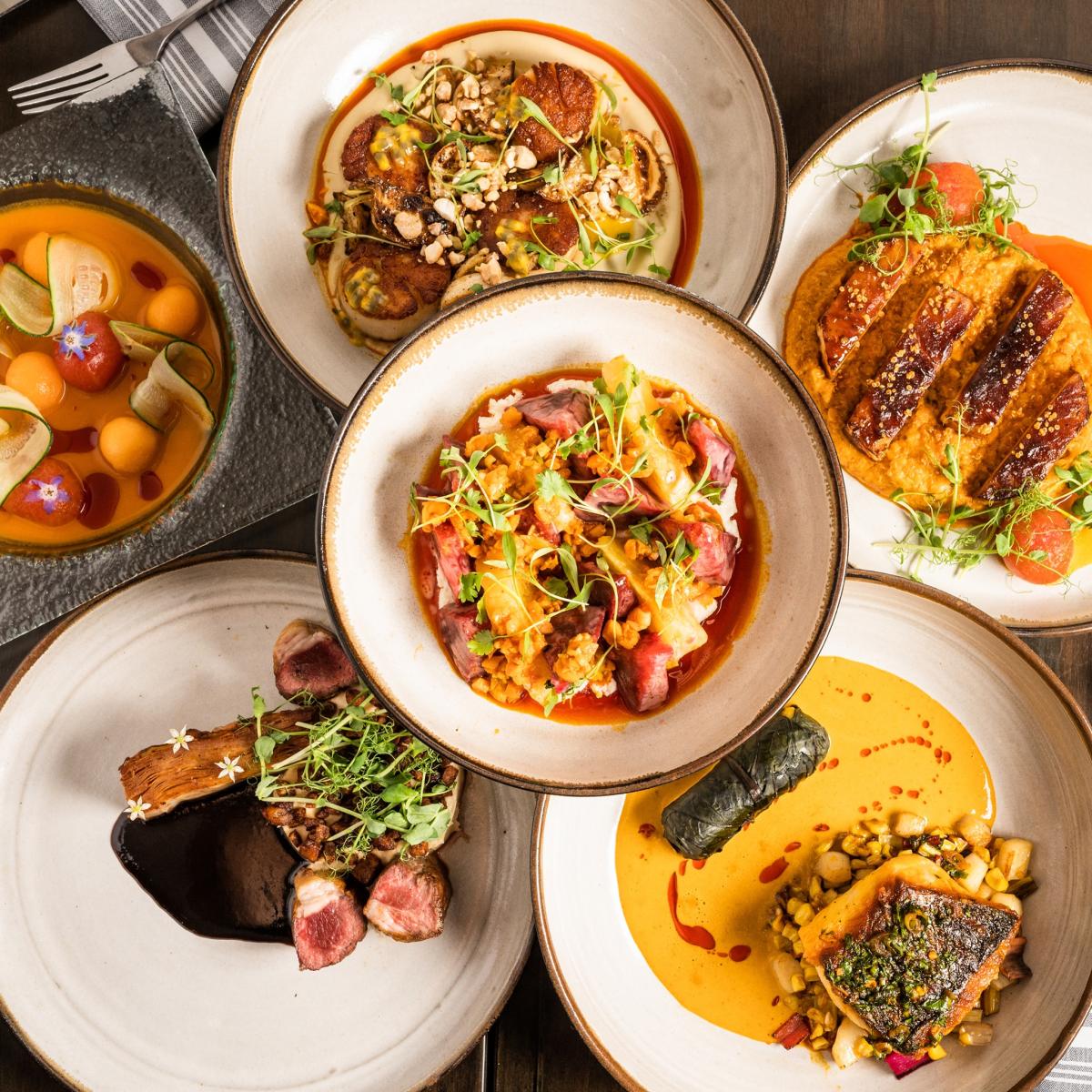 Image courtesy Blend 111/Facebook
The newest restaurant on this list (opened in 2019), Blend 111 brings, well, a blend of modern Latin American cuisine to the Town of Vienna's picturesque Church Street. Executive Chef Andrés-Julian Zuluaga and owner/head sommelier Michael Biddick bring an infusion of food, wine, coffee, and other flavors from various Latin cultures to the table in this sustainability-focused venture. Rotating menus are created after personal visits and direct conversations with farmers, producers, and winemakers to determine which ingredients and crops are best sourced for the season. The sleek, café-style space built within the framework of a former furniture shop makes you feel as though you've discovered a hidden jewel within a bustling urban center. And though Blend 111 is fairly new to the scene, critics have layered on the accolades – The Washington Post's Tom Sietsema is a personal fan and included it in the 2021 Fall Dining Guide and Northern Virginia Magazine named it the #3 best restaurant in Northern Virginia.

Cedar Knoll
9030 Lucia Ln, Mount Vernon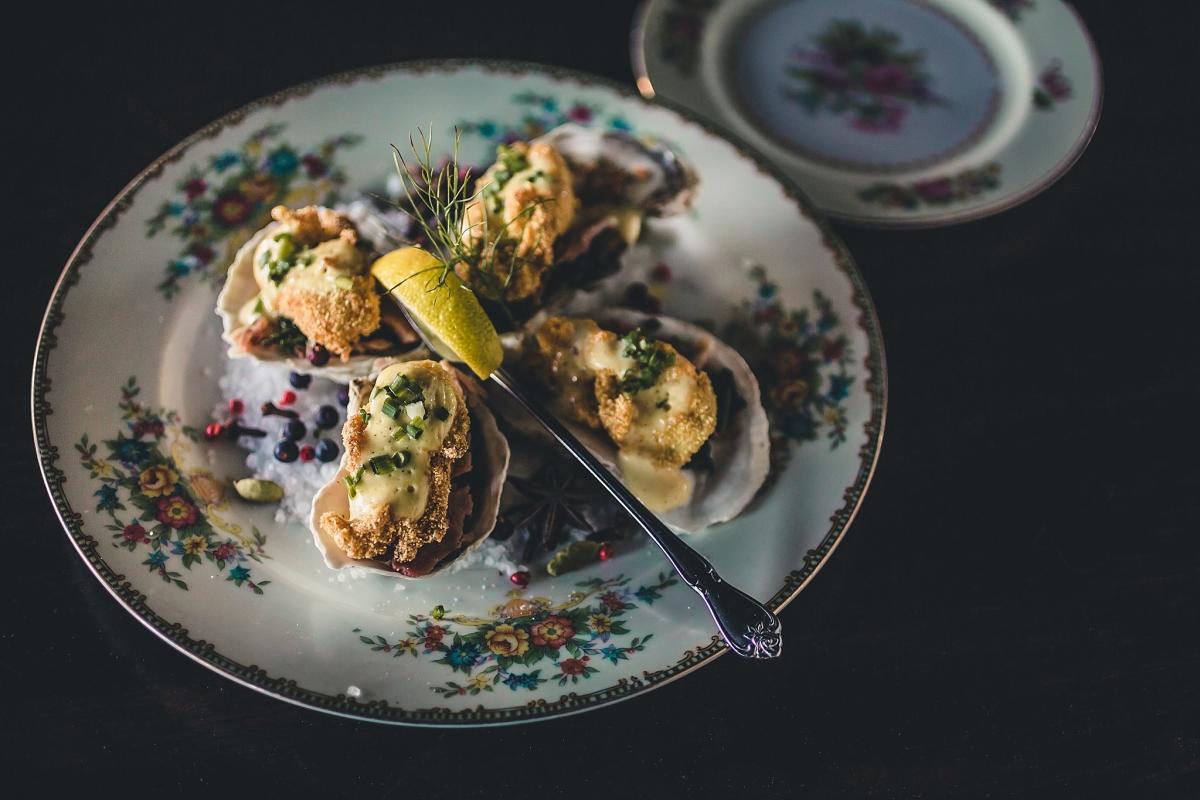 Image courtesy Cedar Knoll/Facebook
For fine dining with sweeping waterfront views and historical significance, look no further than Cedar Knoll. The land on which this hidden gem of a restaurant sits was once owned by George Washington (in fact, Cedar Knoll is just 1.7 miles from his estate). The building itself began as an 1800s farmhouse, then an antique shop, and eventually transitioned to an inn and restaurant in 1941. Since 2015, owner and Executive Chef Andrew Holden has been leading the charge to create dynamic seasonal menus that showcase the European and Mediterranean influences he is inspired by, yet retains the classic American flavors that offer a sense of comfort. Fresh seafood is a staple here with a strong showing of local Virginia oysters; the libations menu is also one of the few in the area to include local Northern Virginia wine. The historic charm baked into the walls at this neighborhood favorite is unrivaled and one taste of the menu will have you making follow-up reservations.

Clarity
442 Maple Ave, E, Vienna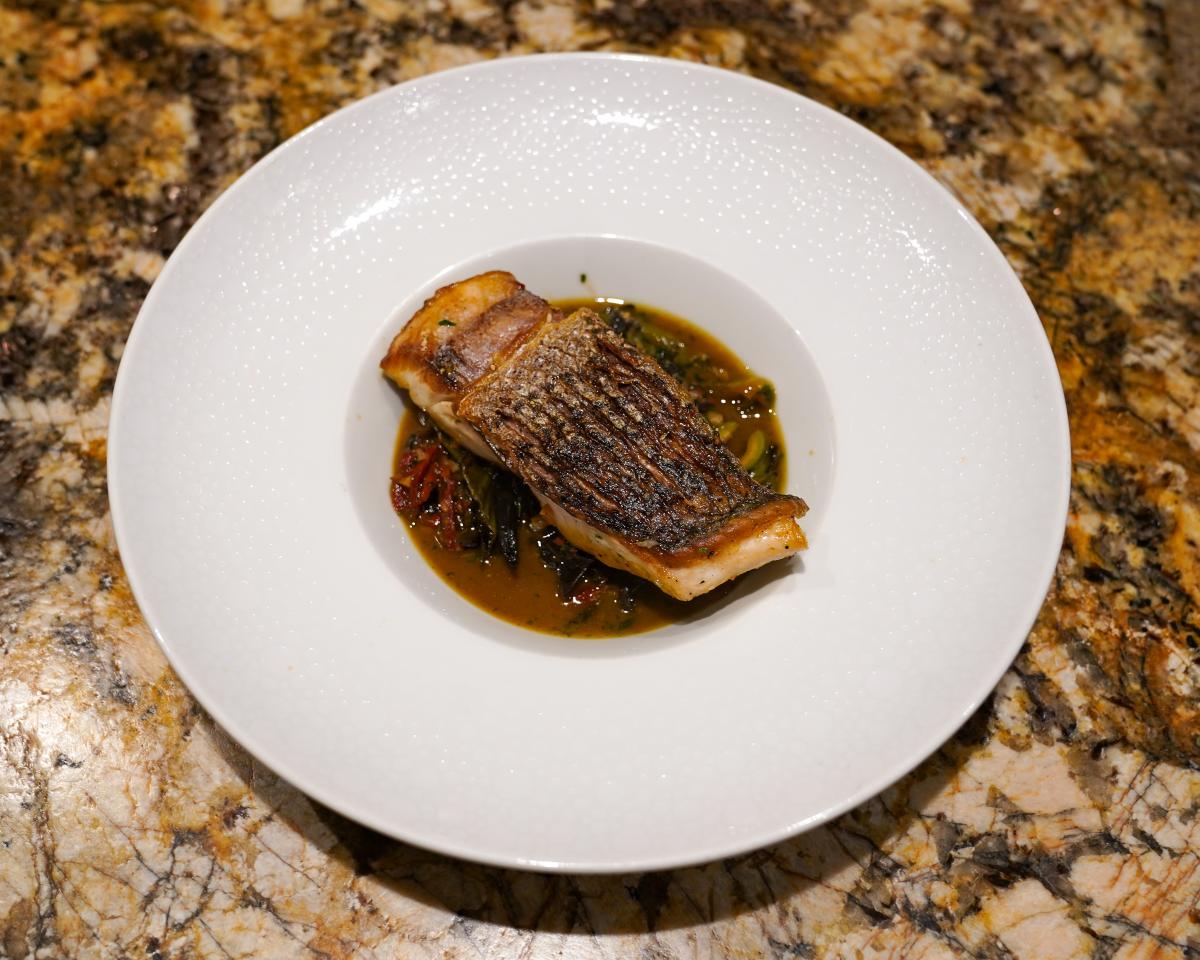 Image courtesy Audrey Wong for The Dining Traveler
As its website suggests, everyone is looking for a little clarity (especially these days) – and this gem of a restaurant in the Town of Vienna can deliver in spades. Clarity's chef/owner Jon Krinn was already renowned in the Washington, DC area for opening the aforementioned 2941 Restaurant and the former Inox in Tysons after years of working under nationally regarded chefs like Tom Collichio and Rocco DiSpirito. At Clarity, Krinn works his freestyle magic by creating new lunch and dinner menus every. single. day. (Lunch menus are posted online by 11:30am and dinner by 4:30pm daily.)  Featuring an open exhibition kitchen, surrounded by the main dining room, and a first-come, first-served 8-seat kitchen counter, guests can get up close and personal with Chef Krinn's concoctions. Better yet – if you have food allergies or restrictions, the team will work directly with you to adjust and create. A truly one-of-a-kind experience awaits you at Clarity, and it's easy to see why it has raked in awards and accolades since its opening in 2015.

L'Auberge Chez Francois
332 Springvale Rd, Great Falls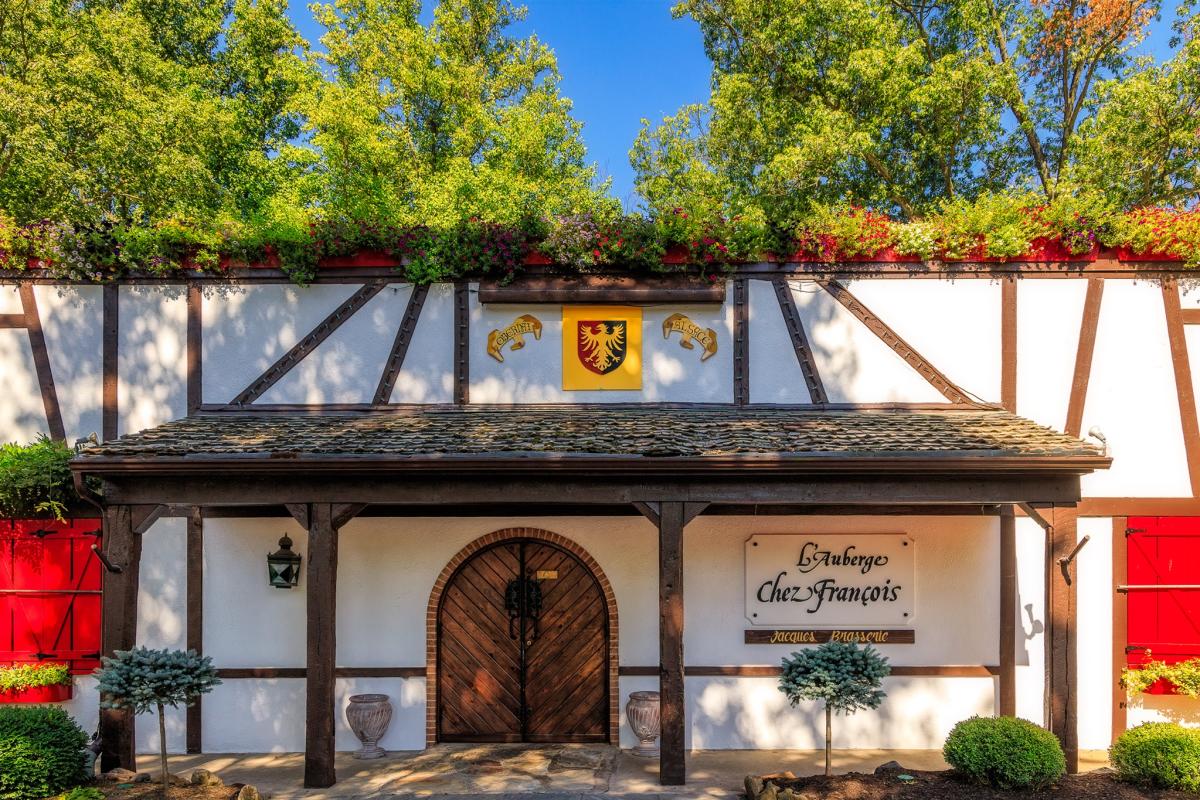 Image courtesy L'Auberge Chez Francois
As you follow the winding road that leads to L'Auberge Chez Francois and turn into the gravelly driveway of the charming inn-style restaurant, you'd be forgiven for forgetting that you are still in the Washington, DC metro area. Chef Jacques Haeringer continues the family tradition that his father started in 1954 with contemporary cuisine marked by the diversity of traditional Alsatian cuisine and the infusion of homegrown crops from the restaurant's sprawling on-site gardens. Stepping into the restaurant's main dining rooms, you are transported to Alsace, France through its old-world style atmosphere, stained glass windows, meticulously curated family heirlooms, and the warm hospitality of the well-trained wait staff. Expect a multi-course meal here with expertly paired wine and do not dare leave without a taste of their famous hot souffle. Arrive early for a specialty cocktail from the Brasserie downstairs or take a stroll around the property's beautiful gardens. Whatever your occasion, a celebratory – and delicious – time awaits you at this dining destination.

Trummer's Restaurant
7134 Main St, Clifton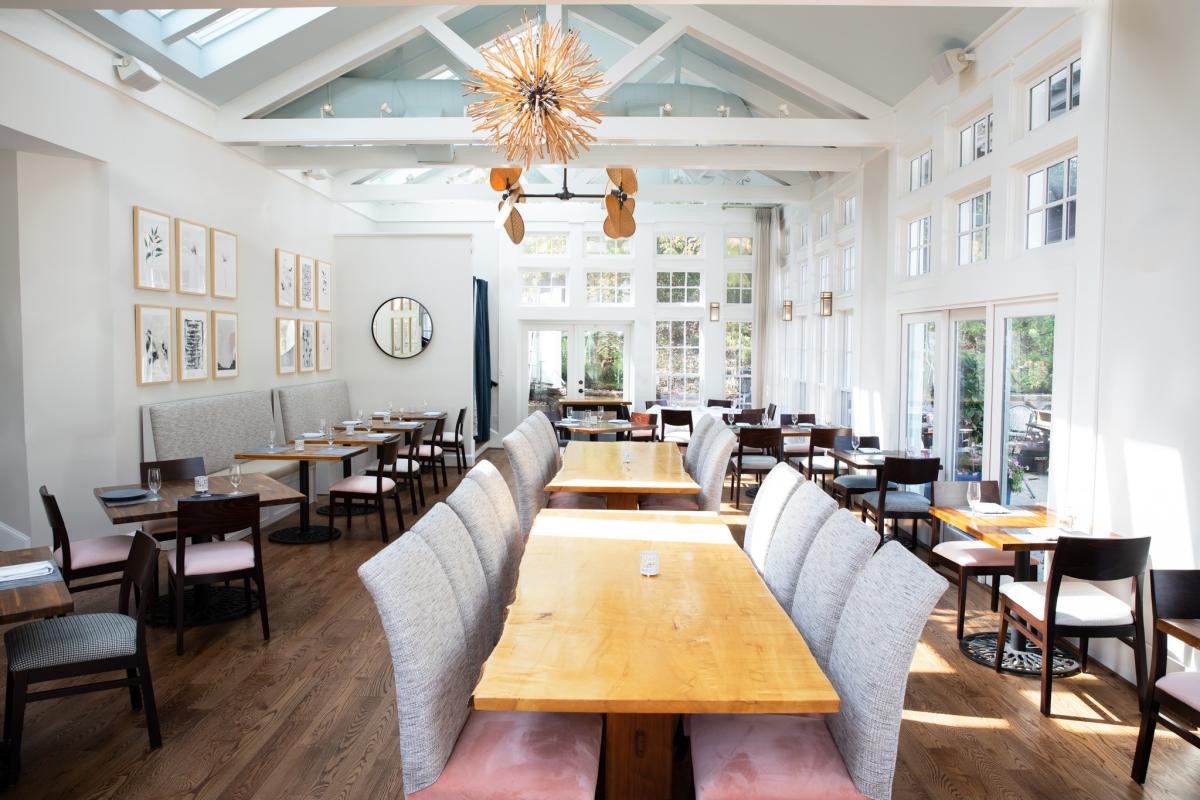 Image courtesy Trummer's Restaurant
Set amongst the quaint main street setting of the historic town of Clifton, the husband-and-wife-owned Trummer's Restaurant has long been a favored place of the Washington-area community for celebrating life's big occasions. In recent years, the restaurant shifted its focus to allow for a slightly more casual environment and creatively crafted American cuisine with influences from co-owner/mixologist Stefan Trummer's native Austria. Executive Chef Daniel Perron, once a line cook at Trummer's, now leads the kitchen and has been infusing elements of his own Korean heritage into menu items that are ultimately inspired by the rich agricultural community of Virginia. An evening at Trummer's is not complete without a taste of the innovative cocktail program the restaurant is known for – or a palate-perfect pairing of one of the many wines that are housed in one of the Mid-Atlantic region's largest wine cellars. Pulling up a seat in the bright and airy main dining room, you'll quickly understand why Trummer's has been a consistent player in Washington, DC's finest dining experiences for many years.

Where have you had a memorable dining experience? Let us know in the comments below or on social media using @VisitFairfax or #FXVA.