It's what we've longed for since December ... springtime is finally here! Let's celebrate! April is a busy month here in Fairfax County and the best part about it all is the sense of community you feel in each and every event, festival, historic tour and park visit. Come visit and let us show you the richness we have to share here in Fairfax County this April. 
Easter is here!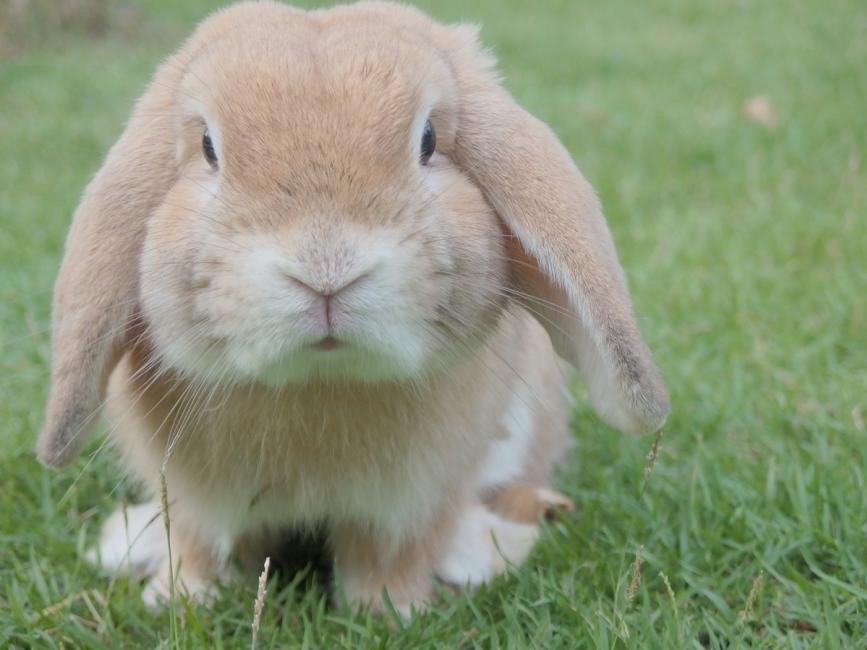 Whenever I think about the start of a new month, I'm always searching for a holiday to celebrate - and apparently so is Fairfax County. The options for Easter Egg Hunts and Brunches around here are out of this world. As to not overwhelm you with the amount of fun and food going on around here, visit our Easter guide for everything you need to plan your trip. 
Farmers Markets
Starting in April, several of Fairfax County's Farmers Markets are officially open for business. Buying through Farmers Markets helps support sustainable agriculture and gives you an excuse to pick up something tasty for dinner. 
FRESHFARM Market - every Sunday - Mosaic District, 2910 District Ave
9:30 am - 2:00 pm starting April 7 
Wakefield - every Wednesday - Wakefield Park, 8100 Braddock Road
2:00 pm – 6:00 pm starting April 17 
Herndon - every Thursday - Old Town Herndon, 700 Block of Lynn Street
8:00 am – 12:30 pm starting April 18
Burke - every Saturday - VRE parking Lot, 5671 Roberts Parkway
8:00 am – noon starting April 13
Reston - every Saturday - Lake Anne Village Center, 1609-A Washington Plaza
8:00 am – noon starting April 20
Reston Farmer's Market by Community Foodworks - every Wednesday - St. Johns Neuman Catholic Church, 11900 Lawyers Road
8:00 am – noon starting April 20
National Cherry Blossom Festival
Peak bloom dates: Begins April 1, 2019
Festival continues through Sunday, April 14, 2019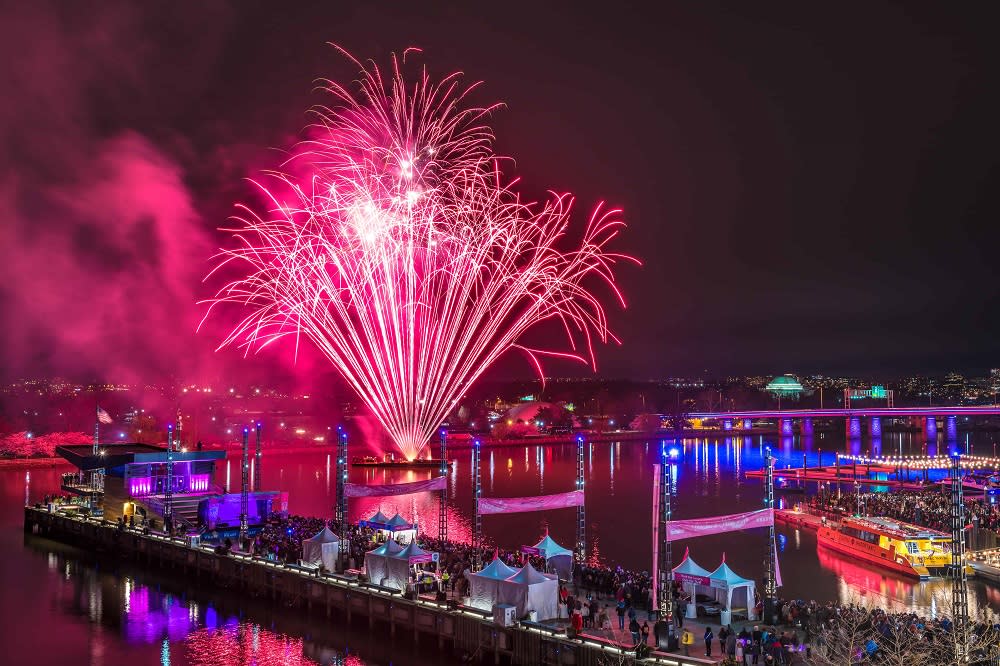 Image courtesy Doug Van Sant 
Trees are a big deal around here. If you have any doubts, check out how we celebrate during The National Cherry Blossom Festival. Since 1912, the annual blooming of the Cherry Blossoms is a reminder of the gift of 3,000 cherry trees from Mayor Yukio Ozaki of Tokyo to the city of Washington, DC. We celebrate the lasting friendship between the people of the United States and Japan. Check out some of the signature events before they end!
Petalpalooza at The Wharf, Saturday, April 6, 2019 – 12:00 pm to 9:30 pm
National Cherry Blossom Festival Parade, Saturday April 13, 2019 – 10:00am to 12:00pm
Riverbend Park Bluebell Festival
Saturday, April 6, 2019 - 10:00am to 3:00pm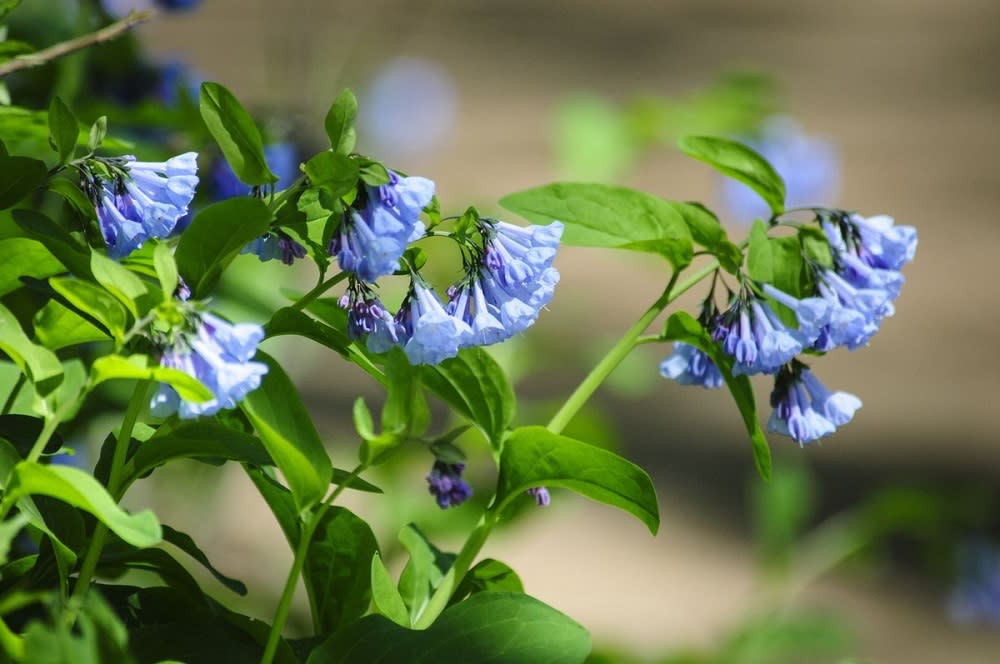 Photo courtesy Fairfax County Parks
Who doesn't love Bluebells in such an abundance?! Bluebells at the Bend Festival is a local family favorite every April. Riverbend Park is tucked away from the hustle and bustle of the area's urban settings on the Potomac River, lush with forests, meadows, and ponds. Parents: come appreciate the breathtaking blooms, listen to live music, shop for crafts and enjoy one-of-a-kind food trucks. Kids: run off for some face painting, spot live animals and create chaos in the moonbounce.
All for $7 per person (until April 5), $9 at the door.
See you there!
Founder's Day in Reston
Saturday, April 6, 2019 - 12:00pm to 4:00pm
As if you didn't have enough choices for amazing things to do in Fairfax County, here's another one for Saturday, April 6. This year is the 55th founding anniversary of Reston, one of our most happening communities. To celebrate Founder's Day, head down to Lake Anne Plaza for plenty of family-friendly activities including moon bounce, "Simon Says," t-shirt art, pinwheel crafts, face-painting, guided public art tours of Lake Anne, local live musicians and artists, plus much more.
Also: Record your Reston memories with NPR's StoryCorps to be featured on their site. Learn more here.  
5th Annual Northern Virginia International Film & Music Festival
April 7-14, 2019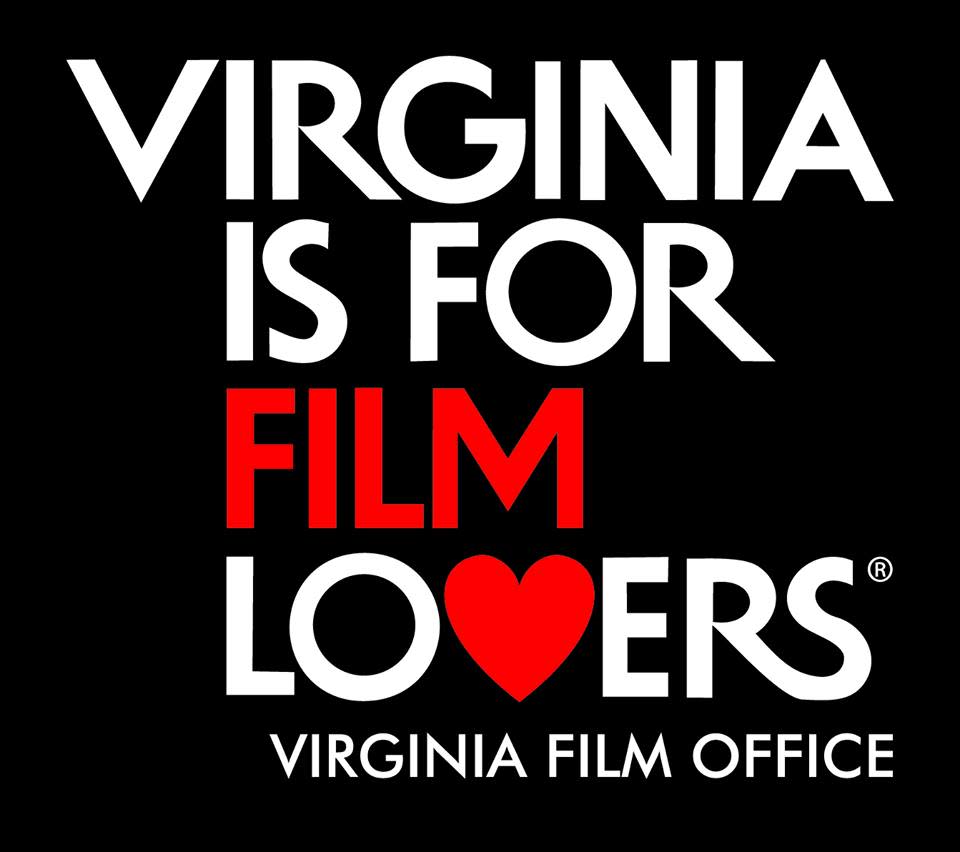 Logo courtesy Virginia Film Office
For the past four years, Northern Virginia Film Fest and our Virginia Film Office have worked together to bring a slice of Hollywood to the Northern Virginia area. Thankfully for us, it's right here at the Mosaic District. Catch screenings of films shot in our backyard at the Northern Virginia International Film & Music Festival:
B.E.N. (Comedy) – Monday, April 8, 2019
Dakota (Drama/Music) – Monday, April 8, 2019
Odyssey (Comedy) – Monday, April 8, 2019
Coins Only (Drama, Supernatural, Fantasy) – Thursday, April 11, 2019
Four Corners (Comedy, Historical, Adventure) – Thursday, April 11, 2019
The Charles Effect (Drama) – Thursday, April 11, 2019
Sound Wave (Film Noir, Thriller, Science Fiction) – Friday, April 12, 2019
If you're more into music, check out musical performances (schedule coming soon!). If you're looking to sharpen your creative film hat, NOVA Fest also offers seminars on Screen Writing and Film Production & Distribution. Last but not least, don't forget to check out the Annual Awards Ceremony. The Black Tie Event features our fabulous filmmakers, screenwriters, actors, directors, and musicians. Seating is limited and expected to sell out, so get your seat quick!
Kite Festival at Gunston Hall
Saturday April 13, 2019 - 10:00am to 4:00pm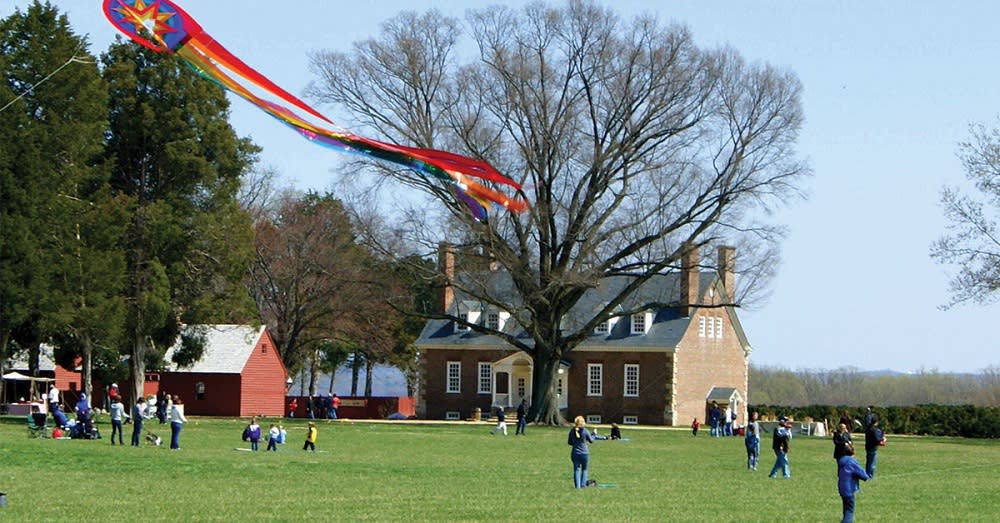 If you missed the Cherry Blossom Kite Festival in D.C., don't worry. Celebrate spring at Gunston Hall during their annual Kite Festival. Gunston Hall was built for George Mason IV (Go George Mason University Patriots!) in 1759 and is truly an example of Georgian-style architecture washed upon Virginia's shores.
Join us in admiring history and reveling in warmer weather through kite flying and family fun. Conveniently purchase your kites in the museum shop. The fun doesn't stop with kites; there will be more children's activities, crafts and guided tours, too - fun for all ages!
$10 per adult and $8 per child 2-18
National Park Week
April 20-28, 2019
The National Park Service has declared April 20-28 National Park Week. Come show your appreciation and admiration during this week for all that our parks have to offer. In honor of NPW, all entrance fees are waived on April 20, 2019 (yay!). This includes our magnificent Great Falls Park.
April 20 – Entrance Fee Free Day & National Junior Ranger Day
To celebrate our Junior Rangers, Great Falls Park will be offering children's activities from 10:00 am to 2:00 pm. We don't care what age you are – just come to "explore, learn, and protect" your national parks and became an official Junior Ranger!
Be sure to check out the visitors center where our Volunteers and Rangers are eager to tell you all about Great Falls. If you're feeling adventurous, join the Rangers for a short 30-minute hike, starting at 1:00 pm to get the scoop on all the history – every Saturday and Sunday.
Hot tip: ask for Ranger Mike; he'll give you insider tips, like hearing about a young George Washington who worked as a surveyor on Great Falls land! 
Taste of Vienna
Saturday April 27, 2019 - 11:00am to 8:00pm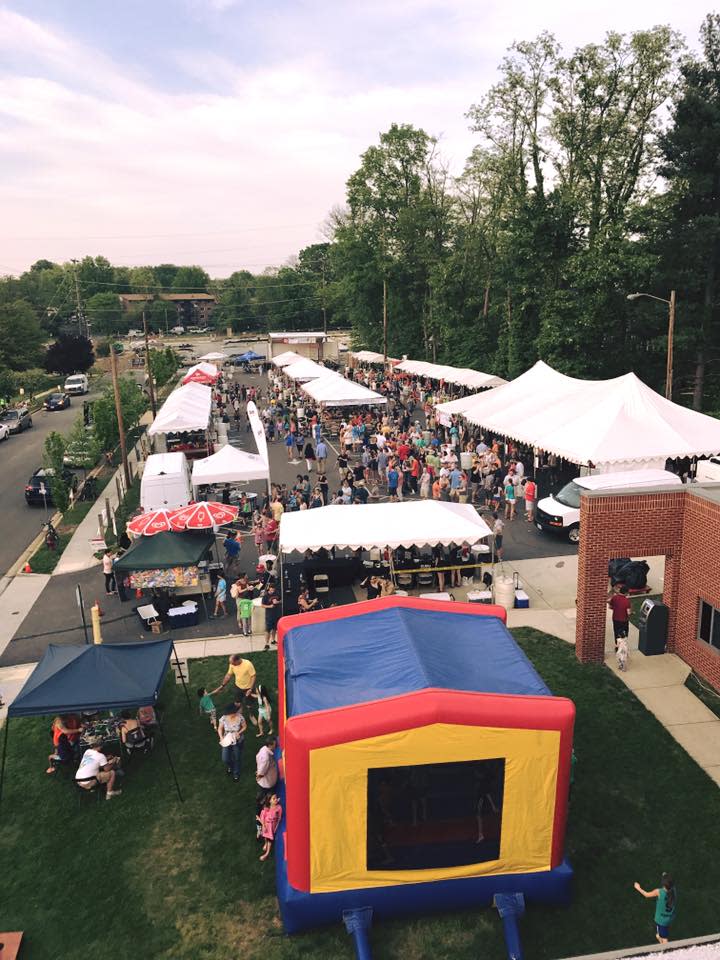 Image courtesy Taste of Vienna
One of the reasons I love Fairfax County is events like Taste of Vienna. When spring and summer starts, you see community get-togethers like this all season long. We can thank our local Vienna Volunteer Fire Department for hosting the 8th Annual Taste of Vienna. If you travel for food and live music, this is your place to be. Restaurants from all over this quaint town come together to share their food with you. Taste of Vienna offers six different deals for moon bounce admission, wine and beer tickets, Taste of Vienna Commemorative Pint Glass, and of course donations for our frontline responders.
Event admission is free and proceeds go to benefit the Vienna Volunteer Fire Department.
Featured Taste of Vienna Restaurants:
Taco Bamba | Kay's Smoothies | Viet Aroma | Pure Pasty | Ledo's Pizza | Nothing Bundt Cakes | Kiln / Kustard & Co. | Caffe Amouri | Cabot Creamery | Rita's of Vienna | Härth | Blackfinn Ameripub | Ben & Jerry's | Tuk Tuk Kitchen | Bistro 1521
Featured Taste of Vienna Food Trucks:
Captain Cookie & The Milk Man | Red Hook Lobster Pound | Crepe Love
Springfest
Saturday, April 27, 2019 - 10:00am to 4:00pm
For much of April, we see an initiative to clean our Fairfax County community. After all, Earth Day is April 22! Springfest is our official celebration for a cleaner, greener and sustainable region. Head to Sully Historic Site for all kinds of family fun.  Need a reason to show up? I've got 9:
PET AN ALPACA (alpacas are apparently a new obsession?)
Let the kids run through an environmental obstacle course
Engaging environmental crafts
Talk one-on-one with our Master Gardeners
Buy plants for your garden
Pirate puppet shows
Over 75 vendors
Food trucks
And supporting a cleaner planet - "Healthy Planet-Healthy People."
I could go on, but I'm sure you get the point. To make the deal sweeter, admission is free!
*Please Note: Parking at SpringFest will cost $10 per car (collected by Park Authority).
Fairfax History Day
Saturday, April 27, 2019 - 10:00am to 5:00pm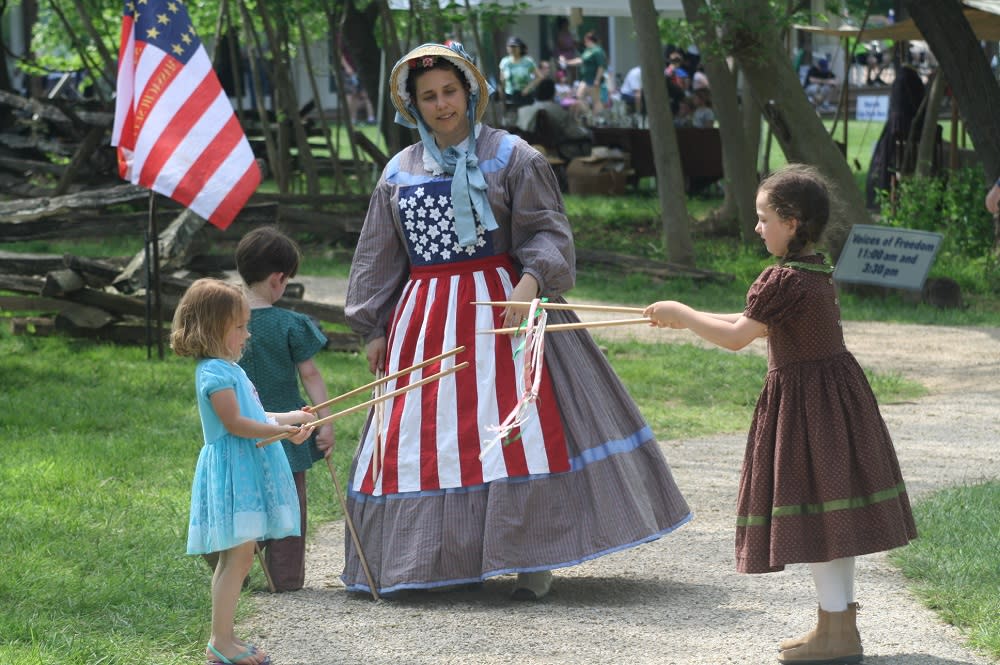 Image Photo courtesy City of Fairfax 
April is a month for history here in Fairfax County. Fairfax History Day really ties in what we're all about here in the county. This area has a wealth of history written in the places that have been here since the 1800s. We have incredible people who live to retell the stories of our home and Historic Blenheim is no exception.  
All right, let's get to the fun stuff! What can you expect to love at Fairfax History Day 2019?
If you're a history lover:
Living history spanning the 19th century
Speak with an early 19th-century tavernkeeper
Discover the wonders of the 19th-century science world with a naturalist
Tour the Historic Blenheim House and Gallery to learn about farm life for the family and their enslaved people
See the Civil War graffiti tours and learn about medical treatment during the Civil War
Discuss with and purchase authors' books on 19th century Fairfax history topics
Meet local authors with their Fairfax-themed history books for sale
Enjoy historic artifact displays include Fairfax County courthouse records and historical information from the Virginia Room and George Mason University Special Collections 
If you're trying to keep the kiddies entertained:
Hayrides and pony rides
Climb the children's hay pyramid
Play 19th-century children's games and parlor games
Visit Blenheim's popular corduroy log road exhibit
Food by Knights of Columbus, Historic Fairfax City, Inc., and Colonial Kettle Corn
Watch demonstrations of traditional crafts and skills, including weaving and blacksmithing
Learn about slave life and foodways and help the laundress wash and dry clothes
Watch and listen to period dance and music groups
Join in Civil War "boot camp" (camp drills with wooden rifles for children)
Talk with soldiers and civilians to learn about camp life
Learn how to write cursive
Special Notes: Proceeds benefit the restoration of Historic Blenheim. There is NO parking at the Blenheim site. Free shuttles from Fairfax High School (3501 Rebel Run, Fairfax). Shuttles stop on the side of building parallel to Old Lee Highway.
Admission: Sales at the gate only • Cash, VISA or MasterCard accepted: $5/Adults • $3/Youth (ages 3-12) • Free/ 2 and younger
Historic Garden Week in McLean
Tuesday, April 30, 2019 - 10:00am to 4:00pm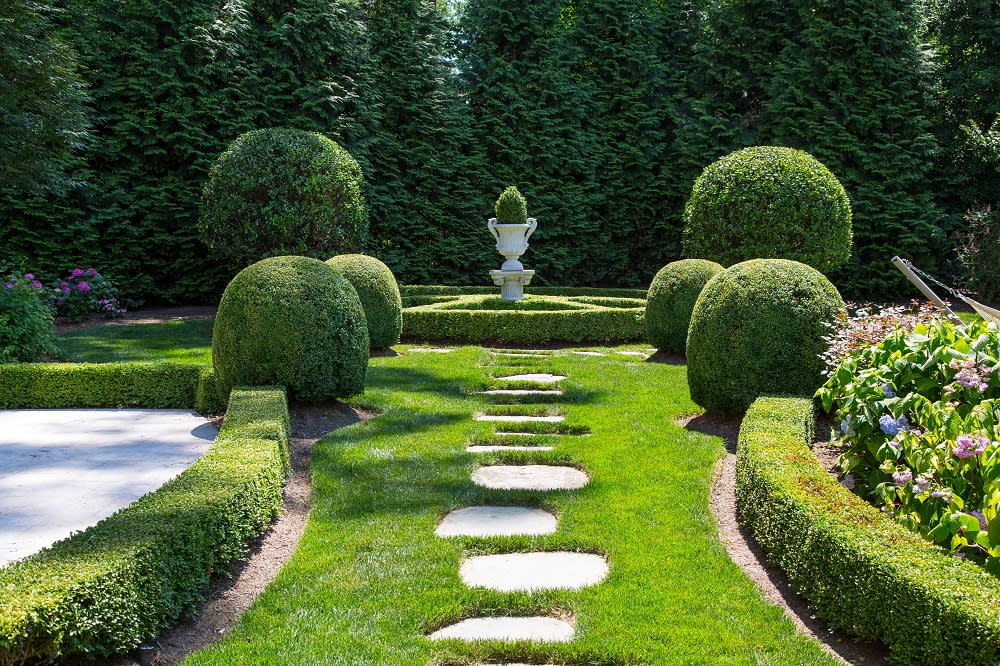 Image courtesy Donna Moulton
I wasn't lying when I said there's plenty of history in Fairfax County. Here's yet another unique historic event. "Gardens, Homes, & History" sums up Garden Week in McLean. The historic home and garden tour is a great event for history lovers, garden enthusiasts or anyone looking to enjoy the sunshine on a Tuesday afternoon in April.
"McLean is known for its luxury homes and high-end shopping destinations and is home to numerous diplomats, business owners, and high-ranking government officials. The tour includes a mix of historic, traditional and contemporary homes ranging from a home built in the 1750s with ties to the Revolution and used as a hospital during the Civil War, to a contemporary Japanese-influenced home built on a hillside with terraced gardens, a pool, and patio that are perfect for entertaining." - Historic Garden Week Guidebook
If these events and activities aren't enough for you, be sure to keep up with our main Events Calendar for an assortment of fun happening all month long. Share what fun you end up having in Fairfax County on social media using #FXVA and @VisitFairfax. Did we miss anything above?  Tell us in the comments below.