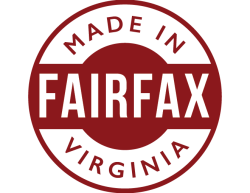 Fairfax County is home to an incredible and diverse group of artisan makers – so much so that the Made in Fairfax initiative was born.
The Made in Fairfax network aims to be a one-stop-shop for maker businesses and those who want to support them. The Made in Fairfax directory features dozens of artisans who create a variety of products in the county like custom furniture, baked goods, jewelry, and more.
This holiday season (or any time of year, really!) take "shop local" to new heights by directly supporting the makers of these gift-worthy products – created right here in Fairfax County, Virginia.
Here's your 2020 Holiday Gift Guide.
Jewelry
Find one-of-a-kind, micro-mosaic jewelry in the Blue Hyacinth Mosaics online shop, founded by Shona D'Cruz. Shona creates handcrafted colorful pendants, earrings, bracelets, and more out of a variety of found materials and smalti glass, using the millefiori glasswork technique. She also creates art for the home and teaches mosaics and art classes for both children and adults. Browse her gallery here and see what's available to order now in her online shop.
More ideas: Traveling may be limited right now but you can still take a piece of the world home with you by purchasing a piece of sea glass jewelry from Lucky Sea Glass. Vienna-based owner Jean collects sea glass, lava, or pearls from around the world and crafts them into unique pieces of jewelry. Did you know that genuine sea glass is often considered to be a lucky charm? Browse her Etsy shop to see what speaks to you. Or, browse beautiful silver, brass, and copper jewelry pieces by McLean-based artist Monika Stedul (message her via Instagram for ordering details). Order by December 1 to guarantee delivery.
Body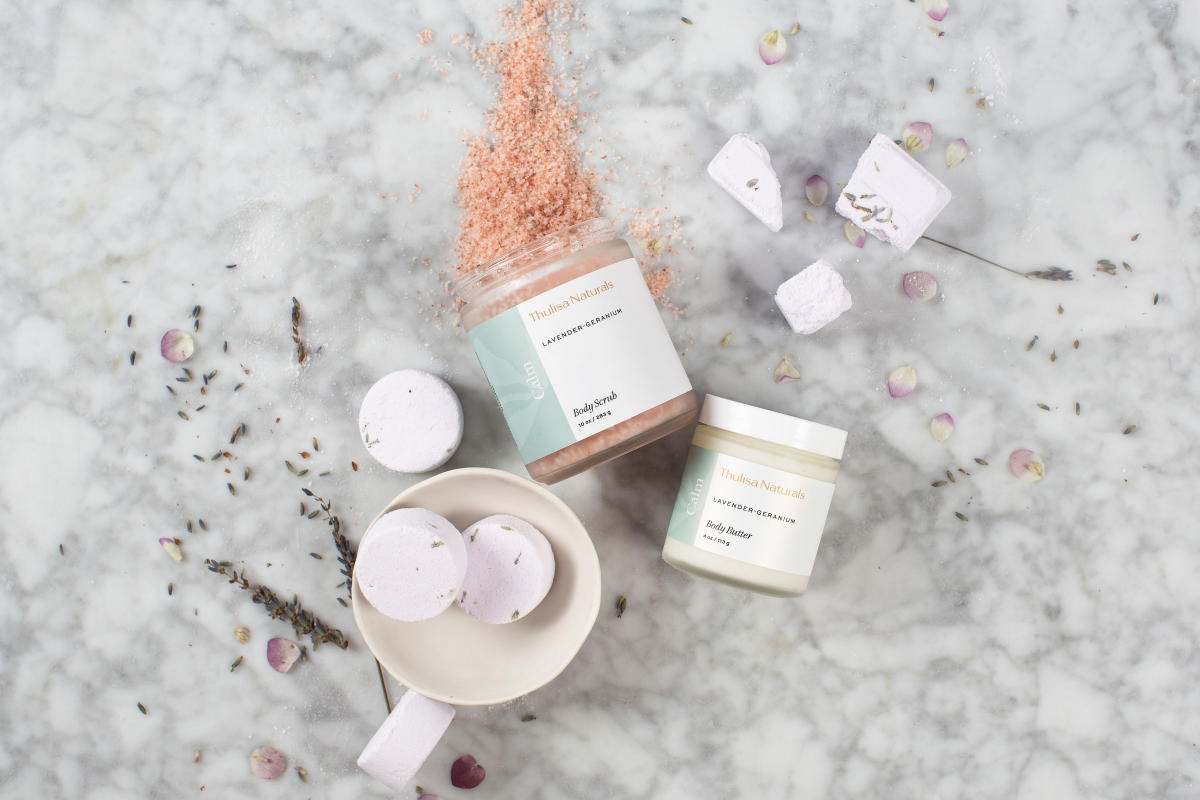 Image courtesy Thulisa Naturals
Pamper yourself with the deliciously hydrating hair, body, and lip products from SheaTHATagain!, a shop run by Herndon resident Tana McNeil-Taylor. She wanted to create products with natural ingredients that would work for her own hair, and before she knew it, others were clamoring to get them. Choose from fan-favorite Whipped Hair Butter or Whipped Body Butter or select a gift set featuring shea & cocoa lip balm and Almond Mint Body Butter bars. Order here.
More ideas: Stock up on Thulisa Naturals products for a nightly escape from the daily grind. From foaming fizzy bars and shower steamers to body scrubs and butters, shop owner Anusha Moodley prides herself on creating products that help women prioritize self-care in an all-natural way. Visit her site for a quiz to find out which products are right for you, browse her blog for inspiration, and order your holiday haul.
Art & Prints
Take home a piece of the picturesque landscapes of Virginia with the gift of printed watercolor products. These classic and elegant designs were derived from artist Begona Morton's original oil paintings and range from tea towels to coasters to cards to flags. Her popular tea towels, meticulously painted on linen or cotton fabric for printing, and oftentimes featuring the landmarks of her surroundings in Great Falls, can be picked up at the Great Falls Farmers Market or ordered online. Browse her website for other gift ideas, plus original oil paintings. Local pickup is available just prior to the holidays; be sure to order online by December 20 for holiday delivery.
More ideas: Make a point to swing by the Workhouse Arts Center for unique prints and other artistic endeavors from the 65+ studio artists-in-residence at the center. We promise you'll find more than one truly unique gift for those on your list.
Coffee Beans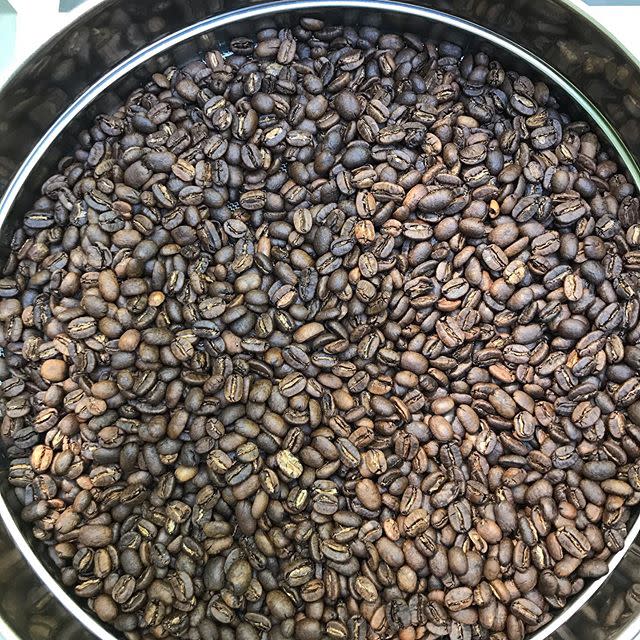 Image courtesy NOVA Nano Coffee Roasters
Offer a gift that truly kick starts your loved one's day every day – with the gift of locally roasted coffee beans. There are several great coffee roasters in Fairfax County, like the woman-owned Cervantes Coffee Roasters, which offers single-origin beans and operates almost exclusively on a roast-to-order basis. Bonus: you can tour their roastery in Springfield or sign up for classes to further your coffee education. Wish you ordered more than one bag? Check out their subscription for monthly or bi-weekly delivery!
More ideas: Place an order with NOVA Nano Coffee Roaster for a huge lineup of single-origin specialty beans, from places like Costa Rica, Peru, Honduras, Tanzania, and Indonesia. (They are all about community – so email, text, or call to buy!) You can also pick up freshly roasted beans from Town of Vienna favorite Caffe Amouri, or Herndon shop Weird Brothers Coffee. And of course, who wouldn't love a gift card to one of the locally-owned coffee shops across the county – here are several coffeehouses to consider.
Stationary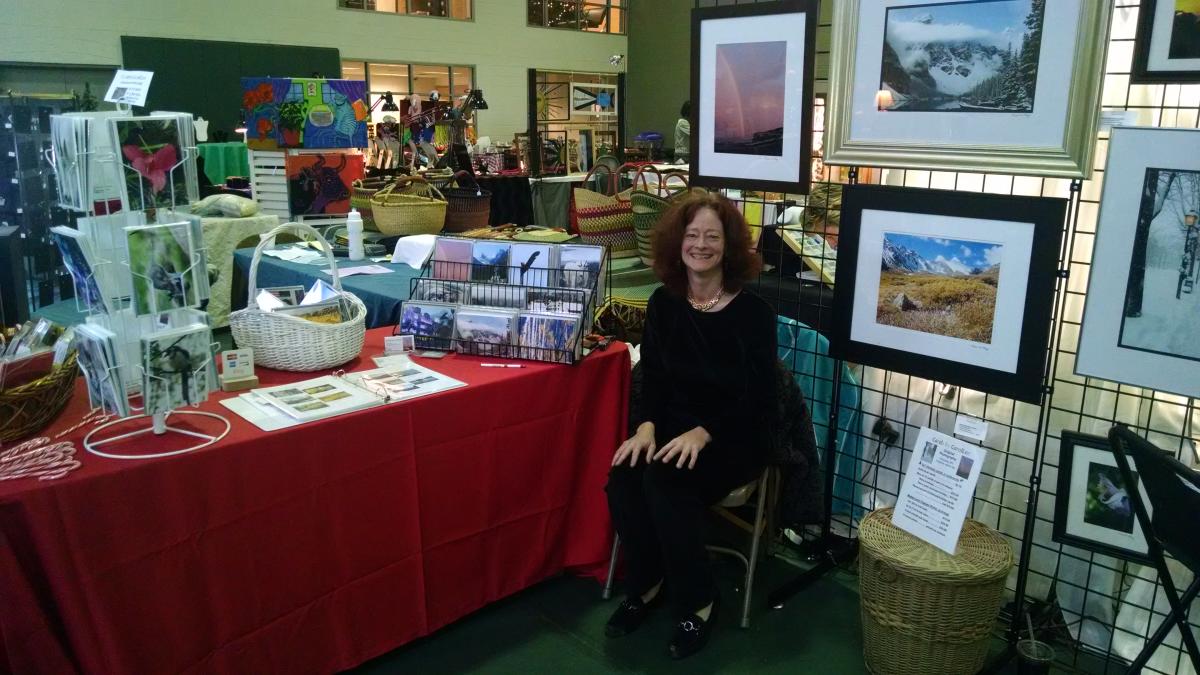 Image courtesy Carol Lee
If you haven't figured out your holiday card situation just yet, worry not! Browse the array of handmade cards – whether individual or in a mix/match set of 10 – from Falls Church-based artist Carol Lee. Carol's interest in photography began when she was just twelve and she has been creating art ever since. Find greeting cards, Christmas cards, or matted and/or framed prints in Carol's Etsy shop – local pickup can also be arranged.
More ideas: Want to make your own holiday cards? Check out Keri's Papercrafts, out of Herndon, for Christmas Card Kits! Keri also offers up beautiful multi-dimensional handmade cards, felt flower wreaths, and other supplies. Order yours from her Etsy shop.
Pets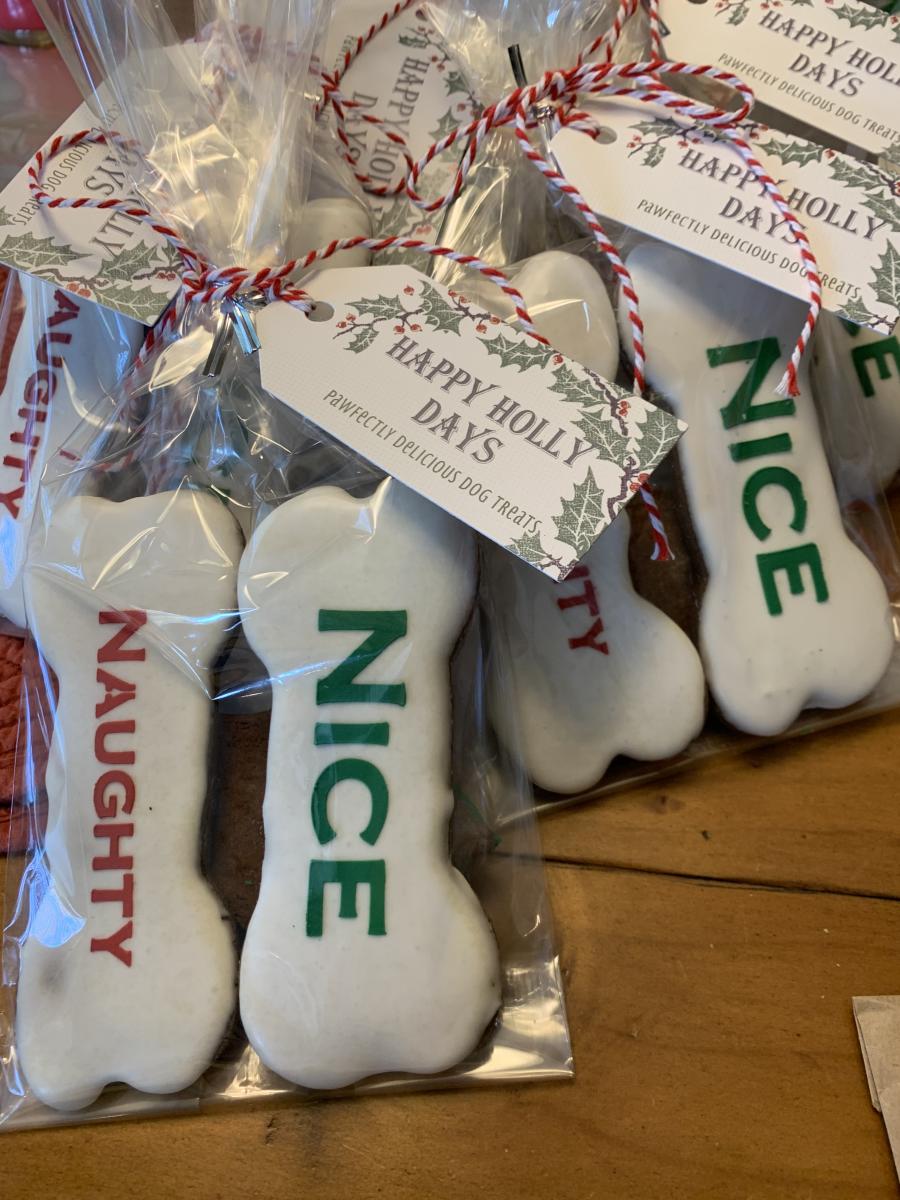 Image courtesy Pawfectly Delicious Dog Treats
Your furry friends deserve some love this holiday season, too! Luckily for you, Pawfectly Delicious Dog Treats offers up all-natural ginger doggie treats – made with love by differently-abled young adults. The non-profit has been providing job training and meaningful work to young adults with disabilities since 2017 in an effort to celebrate their unique talents and abilities within the community. Just in time for the holidays, you can treat your pup to a holiday assortment of treats that have been handcrafted, baked, and stenciled. Order online by December 15 for holiday delivery.
More ideas: Find tasty biscuits, cheesy puffs, cupcakes, peanut butter rolls, and other packaged treats for your furry friend at MJ Pet Bakery, which uses healthy, human-grade ingredients. New fun favorites include the Christmas Package, the Quarantine & Chill Pills, and even treats for the little kitties in your life. Order online and get free shipping when purchasing $35+.
Food
Virginia is known for its incredible peanuts, so Reston resident Radhika Murari decided to do something about it! You may have recently heard about her company, OmMade Peanut Butter, with the news that she will be opening a small-scale factory in Fairfax County in the coming years. In the meantime, you can gift your loved ones with delicious, all-natural peanut butter in a variety of flavors like "Espresso Ecstasy" (yep, with a shot of espresso!), "Pumpkin Paradise" (featuring the warm spices of Fall like allspice and nutmeg) and "Bee Cosmic" (made with bee pollen). You can also buy gift sets and find a slew of recipes on their website.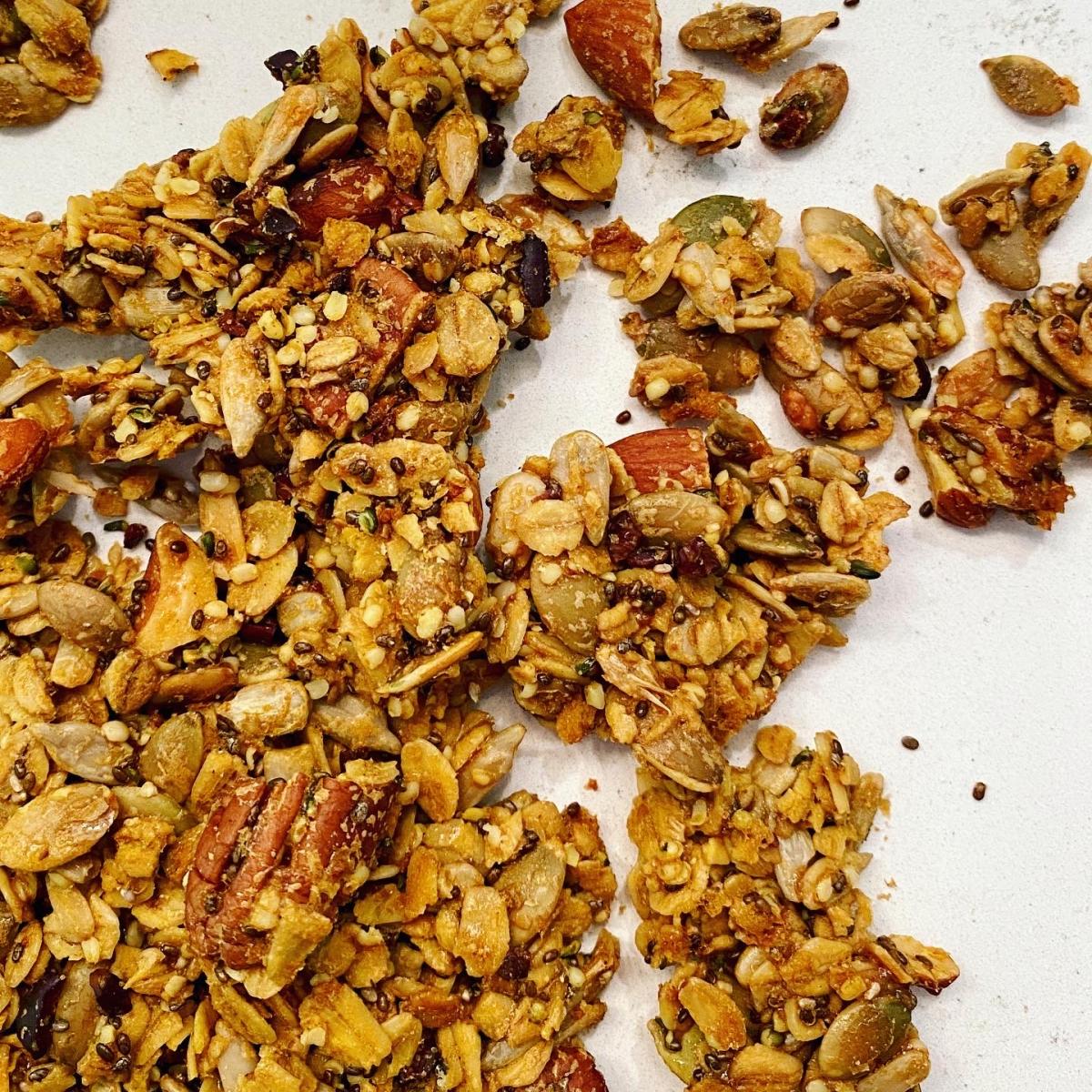 Image courtesy Dano's Granola
More ideas: You may already know about River-Sea Chocolate Factory in Chantilly, but did you know that next door, you can also pick up gluten-free, vegan organic granola and other healthy treats from Dano's Granola? Packed with superfoods like almonds, chia, and hemp seeds, and sweetened up (in some cases) with chocolate chips, Dano's offers snack-size portions and 12oz. bags, in addition to family subscription packs. Order by December 17 for holiday delivery.
Bonus: We know you know about Lake Anne Brew House and the delicious beer they brew in Reston, but pair that beer with a fresh-baked Nordic Knot pretzel, the Brew House's sister business, and you've got a match made in heaven for all of your beer & pretzel lovin' friends! Order for pickup here.
Wine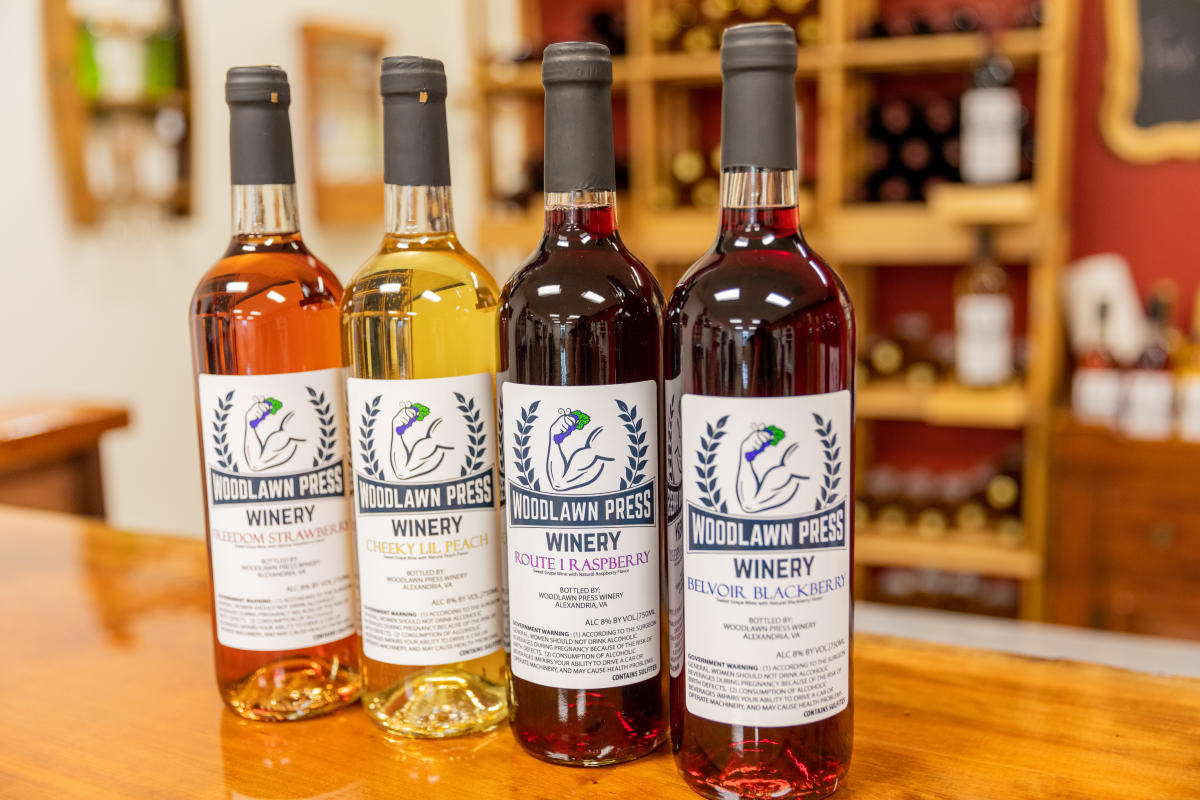 Image courtesy Woodlawn Press Winery
Did you know there's a winery on Richmond Highway? Woodlawn Press Winery is a veteran and family-owned micro-winery that makes and bottles its own varietals and fruit wines right here in Fairfax County. Choose from custom blends like Grazia's Steel Blend, which mixes Viognier and Pinot Grigio for an off-dry, medium body or Mission First, a red blend of Cabernet Sauvignon and Merlot which features notes of coffee and dark plum; try a fruit wine like the Route 1 Raspberry or Belvoir Blackberry or even the holiday favorite, A Very Merry Cranberry. A gift idea everyone will love? Their specialty Tasting Flights are pre-packaged in 4oz. containers with tasting notes on the side. You can also find a variety of vinegar, olive oils, chocolates, elderberries, and honey in their shop. When you swing by for pickup, time it so that you're there for a tasting of your own, offered every 30 minutes; or keep an eye on their events calendar for more fun! Also available for delivery; order here.
More ideas: Of course, you can also pick up wine from the two vineyards in Fairfax County – Paradise Springs Winery and The Winery at Bull Run.
Home Goods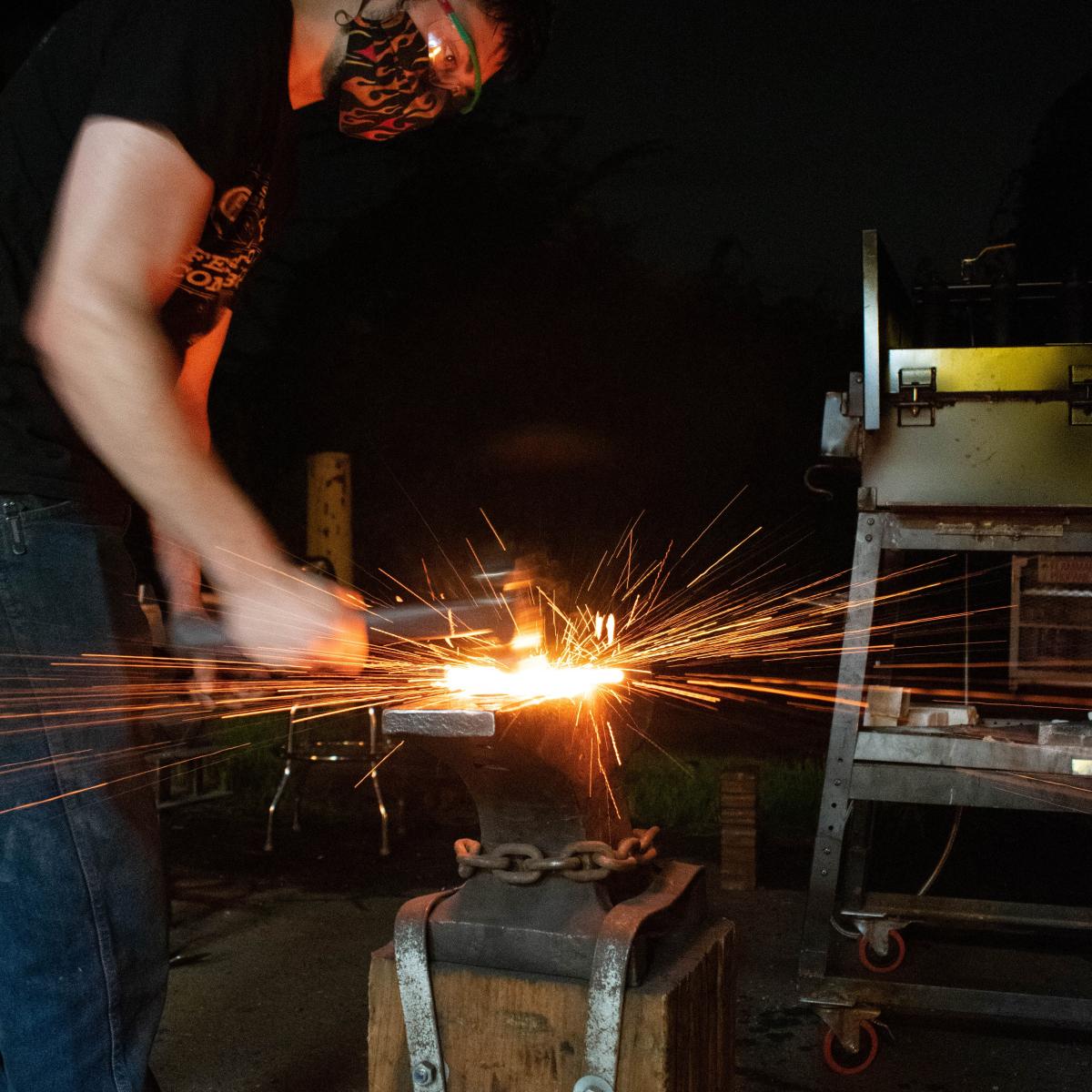 Image courtesy Flatline Forge
Go big or go home with gift-giving this year with a unique piece of art from Flatline Forge, a blacksmithing outfit in Reston. Journeyman blacksmith Gari Jimenez-Lugo and his apprentices specialize in traditional architectural and decorative ironwork, but you can browse their catalog for both one-of-a-kind and inventoried items like knives, cufflinks, bottle openers, and yes, even a Viking hammer!
More ideas: For even more blacksmithing fun, bookmark the site of Semicolon Craft and Forgeworks, which offers a full-on blacksmithing school for those who want to learn the art. Classes are temporarily suspended due to covid, so keep checking back for when they might resume.
Textiles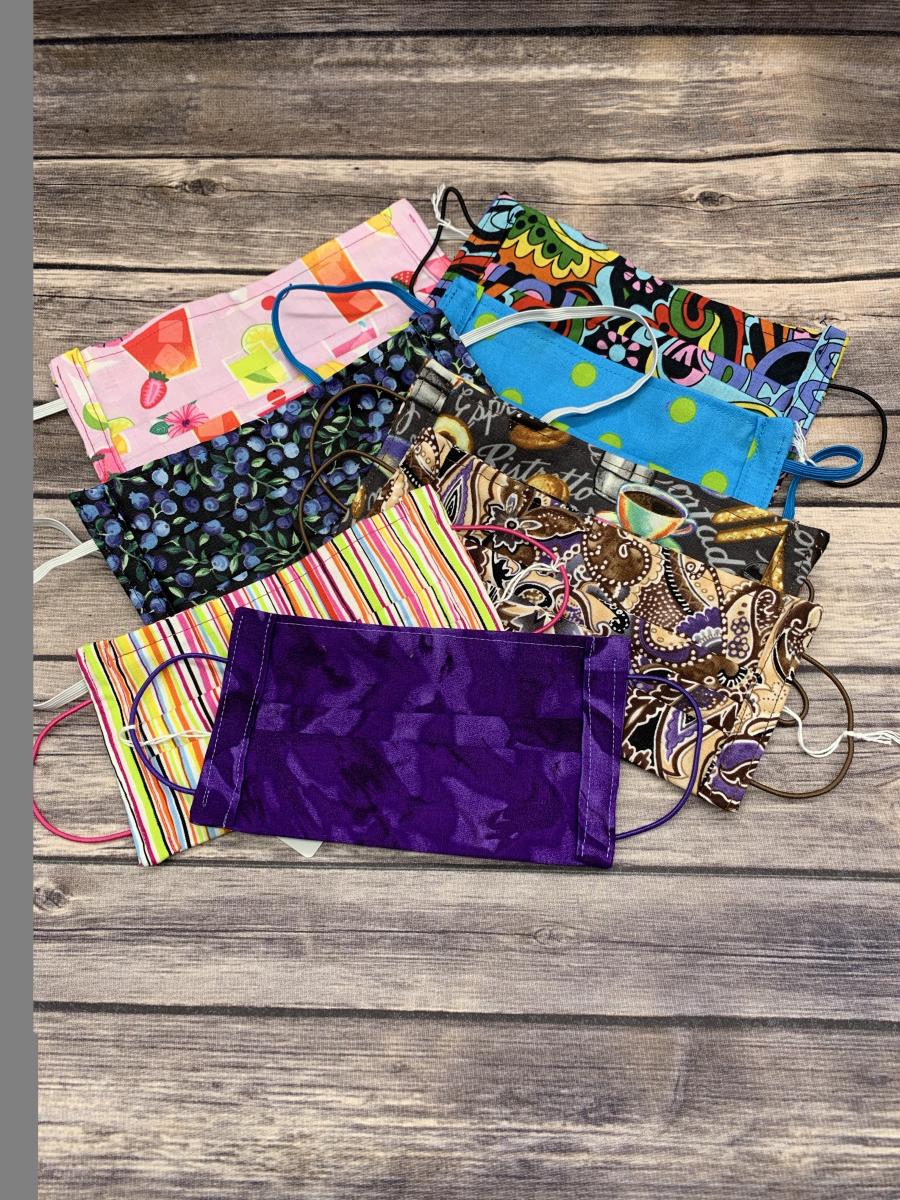 Image courtesy Shutdown Sewing
Shutdown Sewing was born amid the 2018 government shutdown when owner Candice Bennett decided to pursue her hobby as a business. She crafts handmade tote bags, quilts, linens, pet bandanas, scrunchies, and yes - who knew we would all be needing these in 2020? – face coverings! Browse her options online and be sure to order by December 15 for holiday delivery.
More ideas: Once you have an array of accessories from Shutdown Sewing, you will need somewhere to stash them! Pick up a beautiful bag from The Exceptional Graham that reflects your color, mood, your favorite animals – you name it! Choose your favorite fabric and let owner Robin Graham do the rest! Browse her Etsy shop for featured items and more.
Kids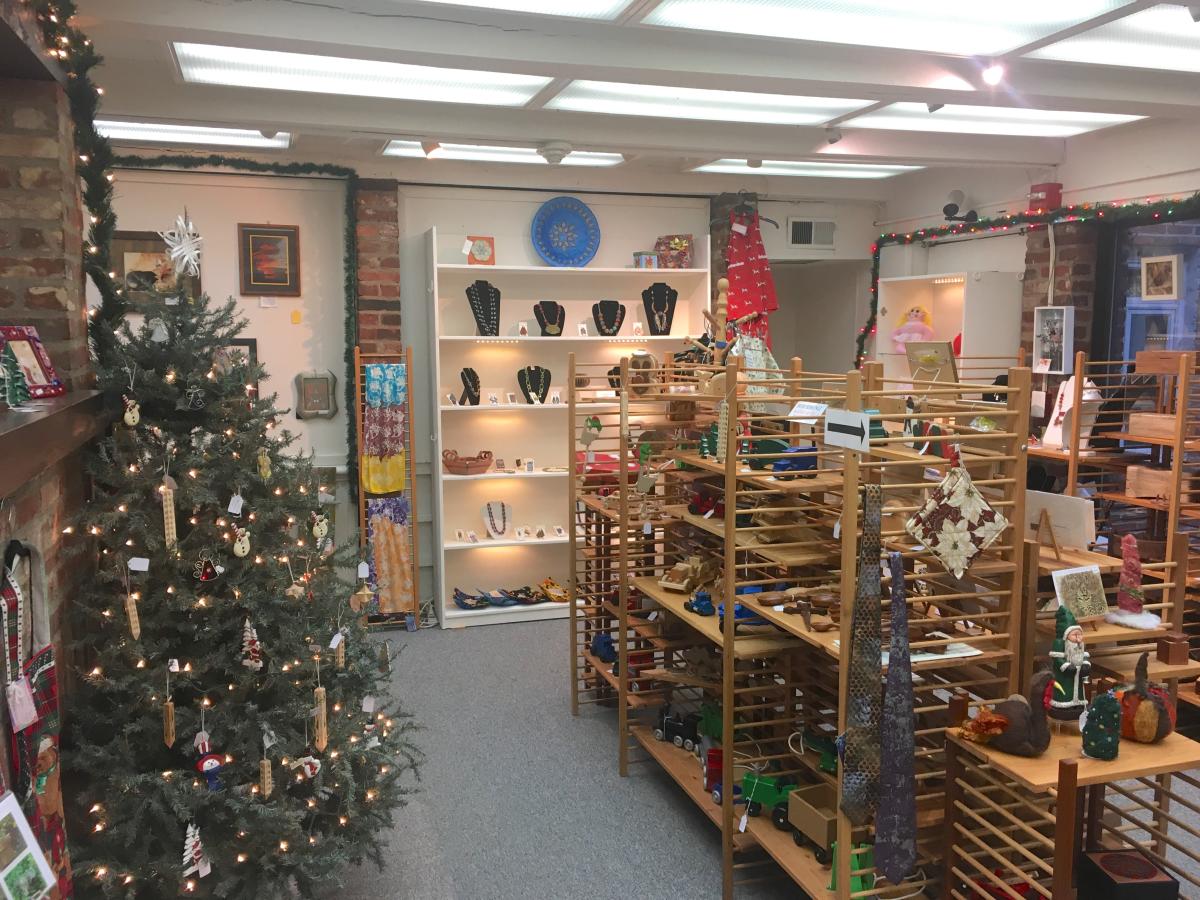 Image courtesy Craft Gallery of Artisans United
McLean resident Nabila Salame wanted a way to provide a fun approach to mathematics for children as they get ready to enter elementary school. She created ARZI Children Education Programs as the answer and now offers premium activity books for kids that are filled with colorful illustrations and offer a variety of fun concepts and worksheets to instill a love of math in children. Contact Nabila for information on how to pick one up for your kids this holiday season.
More ideas: Check out some of the local country stores and gift shops for even more fun-filled gifts for kids. You can also stop by the Craft Gallery of Artisans United for different types of gifts, including wooden toy trucks and planes! Or, check in with the Children's Science Center Lab to see what fun they have on deck for the new year.
Stocking Stuffers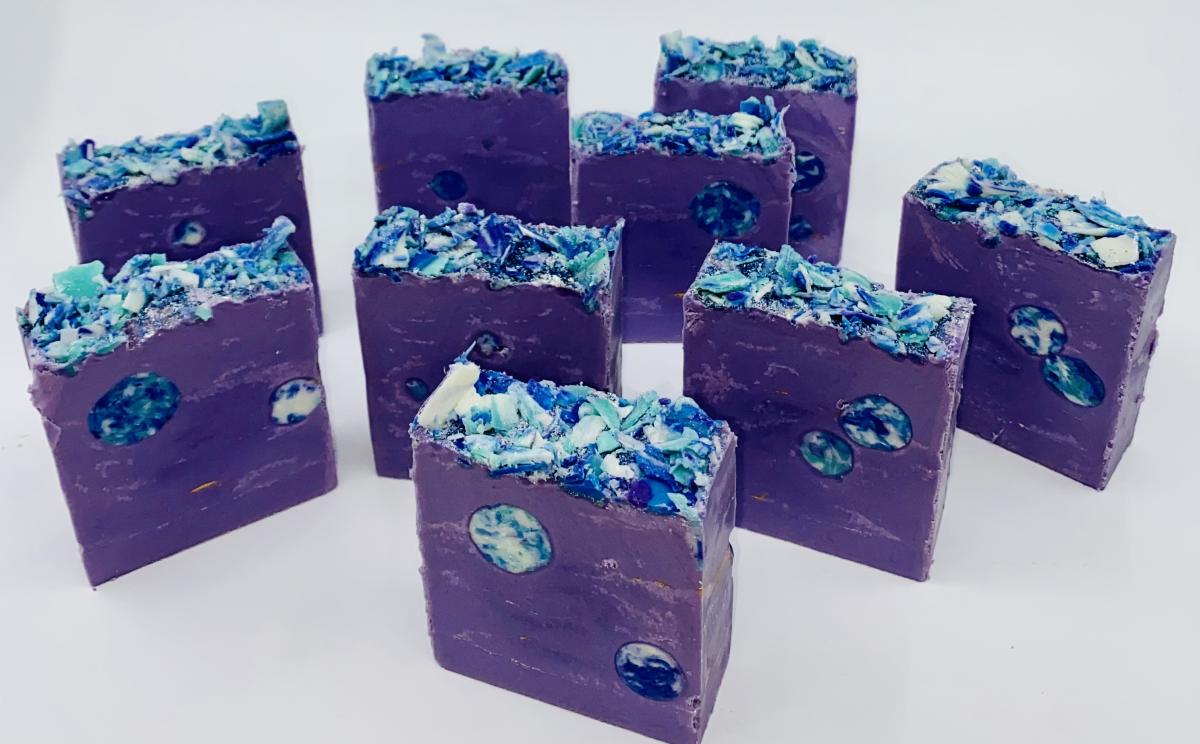 Image courtesy Evermay Bees
Stuff your loved one's stockings with even more goodies from our local makers. Some ideas include:
Evermay Bees produces handcrafted soaps, candles, and jewelry using beeswax and honey. Order by December 18.
Oak Lane Soap Shop will make you feel luxurious – pick up soaps and candles for your pampering session and then lather on some of their skincare products afterward.
SHAD Cups finally has a solution for keeping your coffee smelling like coffee and not the stainless-steel mug it has been warming in. These specialty mugs are perfect for the coffee lover in your life!
For the growing list of vendors that are part of the Made in Fairfax initiative, check out their directory here. (If you are an artisan who would like to join, you can apply right here.)
What is your favorite product to find locally? Who will you be picking these gift ideas up for? Let us know in the comments below or tag us on social media using #FXVA and @VisitFairfax. Happy shopping!