Updated 2023
It is known as "America's Second Independence Day." Yet there is no battle marking that day. No birthday of a new nation. Not even an anniversary of a document. Rather Juneteenth, the commemoration of freedom from slavery, commemorates June 19, 1865 - the date federal troops arrived in Galveston, TX to enforce Abraham Lincoln's Emancipation Proclamation and free the last Americans held in captivity.
In many ways, Juneteenth is America's genuine Independence Day, because it marks the date that the promise of freedom for all was first realized across the United States. 
Activities for Juneteenth
Here are several ways you can mark this important date in American history – and also help support the legacy of Black Americans and the equality movement pushing forward across the nation today.
Attend Local Celebrations and Events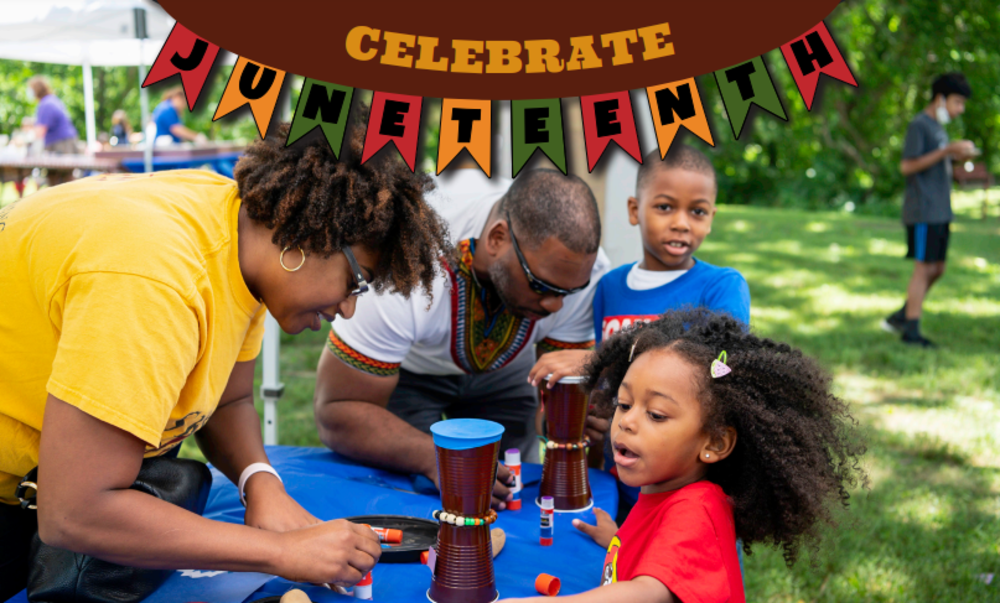 Photo courtesy Fairfax County Parks Authority
Explore local events to celebrate and help grow your understanding and knowledge of the African American experience in America.
 
Juneteenth Celebration at Frying Pan Farm Park
For family activities, don't miss Frying Pan Farm Park's Juneteenth celebration on Saturday, June 17, which will celebrate African American stories, food traditions, music, and contributions to American spiritual life. Activities will include a special guest storyteller, live music, crafts, history, and food trucks offering African American cuisine.
 
Forgotten Road Tours
Learn something new during free Forgotten Road Tours at Sully Historic Site from June 15-17, offered by advance reservation online. The tour includes a walk into the original outbuildings and representative slave quarter cabin. Learn the history of the enslaved people who lived and worked at Sully over 200 years ago. Sully is accredited by the American Alliance of Museums, is on the National Register of Historic Places is part of the National Park Service Underground Railroad Network to Freedom. 
This 45-minute tour is of Sully's outbuildings and slave quarter area, highlighting the daily work and history of the enslaved community at Sully during the 18th century.
 
Underground Railroad Quilt Codes
According to legend, fabric quilts were stitched with coded patterns to assist escaped enslaved people moving along the historic Underground Railroad to find safety. While historians debate this legend, local quilter, Sharon Tindall, supports this theory of quilt codes through her specialization in African American quilt patterns. Visit Green Spring Gardens on June 18 to view her handmade quilts, created with fabrics and patterns typically used in the mid-1800s. Learn more about these magnificent storied quilts and what they mean to our American history.
 
Paths of Freedom Seekers
Visit Ellanor C. Lawrence Park on June 11 and 22 for Paths of Freedom Seekers, including stories of African Americans who were forced to live and work on this farm. Reflect on individuals' stories of resistance and survival. Learn how enslaved communities and freedom seekers have forged a path of resiliency throughout American history.
Sully Annual Car Show
Attend the Sully Annual Car Show on June 18, to see over 200 antique cars on display. Classic cars will be judged, and trophies awarded. Included in the show will be restoration displays, cars for sale, tours of the first floor of the historic house, music, food, a children's tent, and a flea market! Learn about Juneteenth and little-known African American inventors and patent holders in the transportation industry. 

Gum Springs Community Day
Gum Springs, one of the oldest African American communities in the U.S.,  will kick off its 190th birthday with a parade on June 17. The parade will start at 11am and depart from Richmond Highway & Fordson Road and end at the Martin Luther King, Jr. Community Park in Gum Springs. Afterward, starting at noon, there will be information booths, a health fair, carnival rides, food, music, and an auction at the park.
Be sure to keep tabs on our event calendar for more Juneteenth programming, like a symphony concert and a garden celebration!
Learn from our past to understand our present
Fairfax County and the surrounding national capital region offer many sites and attractions that help tell the story of the struggles, sacrifices, and vital contributions that African Americans have made throughout our history. Take some time to learn about these places through online tours, educational materials, or an in-person visit (check operational hours before visiting). A few under-the-radar spots include:
Gum Springs
Gum Springs is a small town, established in 1833 by West Ford, which became a haven for those formerly enslaved, including both freedmen and runaways. The town continued to thrive and is one of the oldest African American communities in the United States. Today, a small museum and cultural center located in the Mount Vernon area of Fairfax County tells these stories and more. Read more about the Gum Springs story here. 

Laurel Grove School
Laurel Grove, a former African American schoolhouse, tells the unique story of a community's refusal to narrow its ambitions. This site, now the last remaining African American school in the region, serves as a "living museum" and is typically open by appointment only, but you can learn more about it here.

Tinner Hill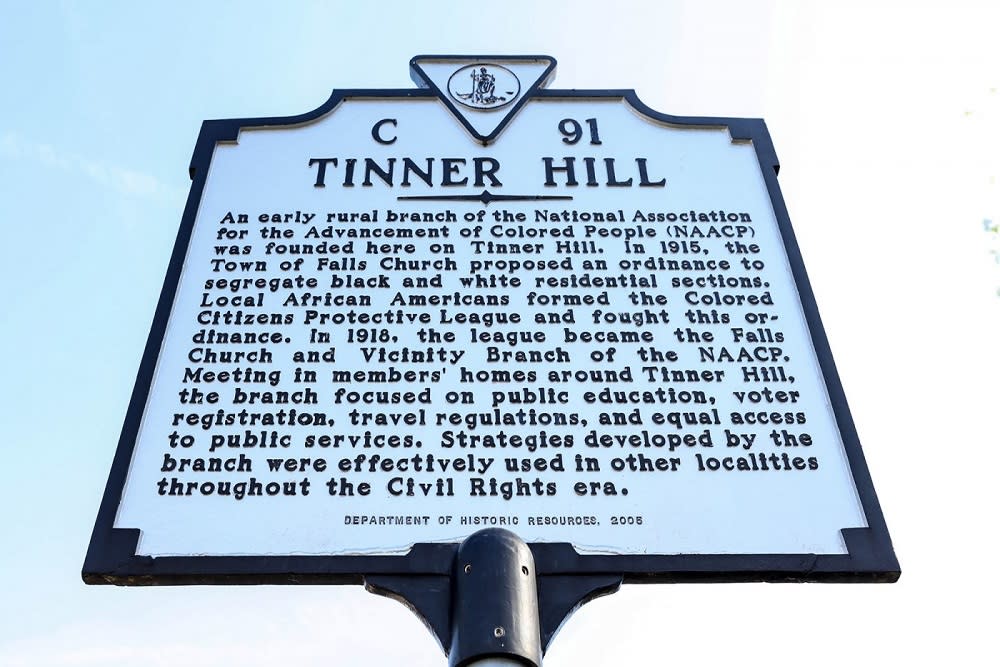 Tinner Hill, in Falls Church, is recognized as the location where the first rural branch of the NAACP was initiated in the United States. Visit a 15-foot monument that honors those who made this a reality, and nearby, explore the Tinner Hill Historic Park and Zig Zag Monument, a sculpture that follows the original location of the segregation line. The Tinner Hill story is a fascinating one to understand - learn a little more about it here.
Historic Pleasant Grove Church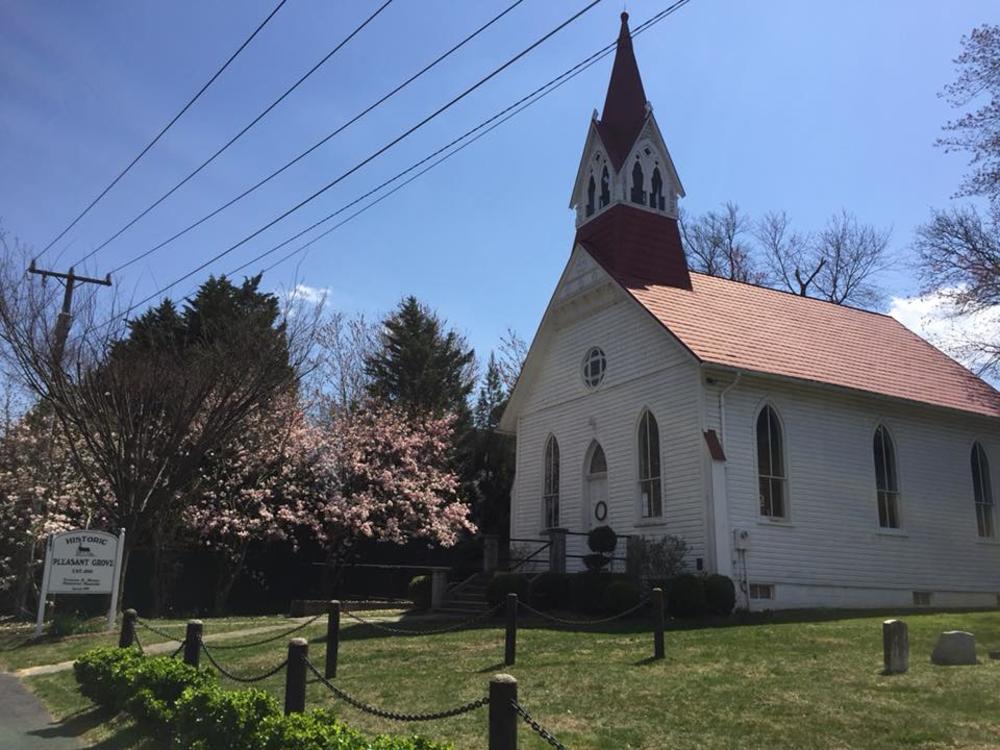 Image courtesy Friends of Pleasant Grove
This community landmark and historic church was built in 1895 by and for African and Native Americans. On-site, you can also visit the Frances K. Moore Memorial Museum, named for a descendant of the church founders. It features a unique collection of late 19th and 20th-century household furnishings, tools, photographs, and memorabilia.

There are many more sites, museums, memorials, and monuments in and around Fairfax County, like the Smithsonian's National Museum of African American History and Culture and the Martin Luther King, Jr. Memorial. Or, learn about Sully Historic Site's interesting ties to the Underground Railroad. Be sure to bookmark our guide to these and more African American experiences.


Support black-owned businesses
There are hundreds upon hundreds of restaurants in Fairfax County, but if you want to support local, black-owned eateries, there are many cuisine options to choose from as well. Grab a taste of the islands at Caribbean Plate in Falls Church, treat yourself to a traditional Ethiopian coffee ceremony at Enatye Ethiopian Cuisine in Herndon, find comfort in delicious southern home cooking at Della J's Delectables on Richmond Highway, or take home a mouth-watering pie from Pie Gourmet in Vienna.
For an evolving list of black-owned restaurants in Fairfax County, click here. Do you know of a spot that should be added? Let us know in the comments.
For more information on local black-owned businesses, please visit the website of the Northern Virginia Black Chamber of Commerce or this Black-Owned Business Directory on Yelp.