FAIRFAX COUNTY WELCOMES SPACE SHUTTLE DISCOVERY
Discovery, the longest-serving orbiter in the space shuttle fleet, has arrived in Fairfax County! The spacecraft arrived on the back of a 747 airplane from NASA's Kennedy Center in Florida on April 17 to enthusiastic crowds all over the Capital Region, waiting anxiously to get a glimpse of the famed orbiter. On April 19, the shuttle was welcomed to its brand new home at the Smithsonian's National Air and Space Museum Steven F. Udvar-Hazy Center.
Check out photos from Discovery's arrival in Fairfax County on our Flickr page:https://www.flickr.com/photos/visitfairfax/sets/72157629476037482/
Discovery has been the icon for American spaceflight for a generation and has flown every type of mission in its nearly 30-year long career. The aircraft was retired by NASA last year after having spent a total of 365 days in space, completing 39 missions and carrying a record number of 252 crewmembers on board during its lifetime.
Discovery is now on display in the James S. McDonnell Space Hangar of the Udvar-Hazy Center, where it is surrounded by a myriad of other national treasures.
"Discovery join[s] the ranks of treasures such as the 1903 Wright Flyer, the Spirit of St. Louis, the Mercury Friendship 7 capsule and the Apollo 11 Command Module Columbia," said Valerie Neal, space shuttle program curator in the museum's Division of Space History. "Discovery represents innovation, ingenuity and the effort to make spaceflight a regular activity in the life of the nation."
Discovery has achieved a significant number of history-making moments, including having the first female pilot (Eileen Collins), the first African American commander (Frederick Gregory), and having the oldest crewmember onboard to space (John Glenn at 77). Discovery also was twice chosen as the Return-to-Flight shuttle following the Challenger and Columbia tragedies.
For more great videos about the shuttle Discovery, click here.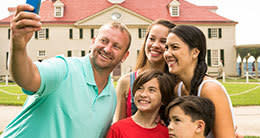 Incredible Attractions
Learn about Fairfax County's incredible attractions, from historic sites like Mount Vernon (pictured) to museums, monuments, zoos, farms, and more.
More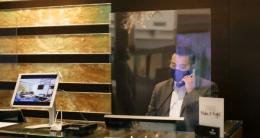 Affordable Accommodations
From five-star to pet-friendly hotels, find your home away from home while you're visiting Fairfax County, Virginia.
More