Will There Be A Rolling Thunder in 2020?
You bet! But the name of the rally has changed. This is the first year that AMVETS will continue the demonstration run under the name Rolling To Remember.  And it's going to be great!  The 22nd Annual Ride of the Patriots® to Rolling To Remember®  will take place on May 24, 2020, during Memorial Day Weekend. Patriot Harley-Davidson® and the Fairfax VA Chapter, Harley Owners Group welcome you to join us for this signature event. We are very pleased that the Ride of the Patriots has become a highly anticipated community event and our hopes are that all bikers and bikes will feel welcome and join us for this police escorted ride. The Ride of the Patriots is an exciting four-day event spanning the entire Memorial Day weekend. All activities for the weekend are at or begin at Patriot Harley-Davidson, located just West of Fairfax Circle on Fairfax Boulevard (Map). The Patriot Harley-Davidson parking lot is designated for bikes only from Friday morning until after the departure of the Ride on Sunday Morning. The event also provides an organized staging area and safe trip for riders to the Pentagon and Rolling Thunder.

Rolling Thunder Ride for Freedom 2018 | Harley-Davidson
 
22nd Annual Ride of the Patriots 
They ride into DC in a patriotic display in order to honor our veterans, and also to remember those lost or missing soldiers from our nation's conflicts. These heroes from across North America that ride into town for this annual event represent all types of their fellow soldiers, sailors, airmen, marines, coast guardsmen, firefighters, rescue personnel and law enforcement officers and make the event especially memorable for riders and spectators. This is something uniquely American...this is Rolling To Remember.   
Helpful Links 
Related Events
Friday, May 22, 2020
| | |
| --- | --- |
| 10:00 am -6:00 pm | Patriot Harley-Davidson Open House |
| 4:30-5:30 pm | Riders meet at Fairfax High School (Map) for Candlelight Vigil Ride |
| 5:30 pm | Ride to the Candlelight Vigil |
Saturday, May 23, 2020
Sunday, May 24, 2020
6:30 am
Ride of the Patriots Staging/Line-up begins
7:20 am
Parade begins from Captain Pell's Parking Lot
8:00 am
Ride of the Patriots Ceremony

| | |
| --- | --- |
| Presentation of Colors | Joint Armed Forces Color Guard |
| Welcome | Don Withrow |
| Pledge of Allegiance | Larry Larson |
| National Anthem | Fairfax HS Band |
| Retire the Colors | Joint Armed Forces Color Guard |
| Pre-ride Welcome to Bikers, Announcements, Instructions | Don Withrow |
| Fairfax VA Chapter Harley Owners Group® Welcome | Ray Riddle, Chapter Director |
| City of Fairfax Welcome/Remarks | Councilmember Michael DeMarco |
| State of Virginia Remarks | Delegate David Bulova |
| State of Virginia Remarks | State Senator Chap Peterson |
| Rolling Thunder Address | Les Evans, Chairman RT VA 3 |
| Patriot Harley-Davidson® Welcome | Vince Sheehy - CEO - Patriot Harley-Davidson® |
| Special Guest Speaker | TBD |
| Keynote Speaker | TBD |
| Recognition of Veterans | Don Withrow |
| Armed Forces Medley | Fairfax High School Band |
| Amazing Grace | Northern Virginia Firefighter's Emerald Society Pipe Band |
| Taps | TBD & TBD |

8:45 am
Riders return to bikes
8:55 am
START YOUR ENGINES
9:00 am
Launch Ride of the Patriots
Police escort led by Fairfax County Motor Squad and supported by Fairfax County Sheriff, City of Fairfax and Arlington County Motor Squads.
10:00 am
Arrive at Pentagon Parking Lot
12:00 Noon
Rolling To Remember, Washington, D.C.
Monday, May 25, 2020
39th Annual Falls Church City Memorial Day Parade & Festivities
12:00 Noon
Depart Patriot H-D
1:00 pm
Line up
2:00 pm
Parade starts
3:00 pm
Event end
---
Browse Rolling Thunder Hotel Deals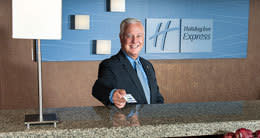 Affordable Accommodations
From five-star to pet-friendly hotels, find your home away from home while you're visiting Fairfax County, Virginia.
More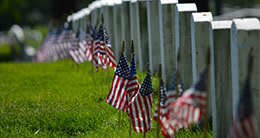 Memorial Day Events
Join us for this year's tribute to our fallen and our brave. With memorials and festivals scattered across the region, a stay in Fairfax County will put you in the middle of it all.
More