Roasted Corn Soup
Seasons 52 is a celebration of what's good now. Seasonally inspired ingredients at their peak of freshness. Rustic cooking techniques that bring out natural flavors and are inherently lighter-with nothing on the menu more than 475 calories.
Ingredients:
1 pound Idaho potatoes, peeled and diced 1/2"
2 cups yellow onion, diced 1/2"
1 cup celery, diced 1/2"
1 jalapeno pepper, no seeds, diced 1/2"
1/2 pound butter (or 1 stick)
3 pounds roasted fresh corn off the cob
1 gallon corn stock
Sea salt to taste
1 teaspoon chipotle Tabasco sauce
Chives and bacon bits to garnish 

Method:
Have corn stock ready prior to starting recipe
Melt butter in large sauce pot. Add potatoes, onions, and celery and saute lightly for about 15 minutes until vegetables are tender. Add remaining ingredients and cook an additional 15 minutes.
Puree the soup in batches using a blender on high speed for 30 seconds. Open vent or blender to allow steam to escape and place a clean towel over opening when operating.
Mix thoroughly and serve soup with garnish or chives and crispy bacon bits.
NOTE: Soup also makes a good sauce for fish, such as grilled salmon.

Seasons 52
7863L Tysons Corner
McLean VA 22102
703-288-3852
www.seasons52.com/en/locations/VA/McLean/4515 
www.facebook.com/seasons52 
https://twitter.com/seasons52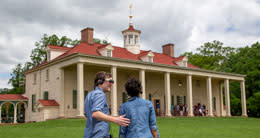 Epic Attractions
Visit some of the region's best attractions in Fairfax County and Washington, DC, such as George Washington's Mount Vernon and the National Mall downtown.
More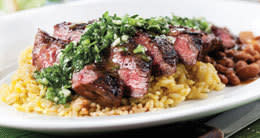 Local Flavors: Try Our Chef's Recipes
Try your hand at some recipes handcrafted by some of our local Fairfax County chefs and mixologists. Your house guests won't know what hit 'em!
More