Jumbo Lump Crab Cakes
By Chris Cline, Executive Chef, Passion Fish
Ingredients
1 lb Maryland jumbo lump crab meat
3 dashes Tabasco sauce
1 lemon, juiced
1 tbsp Old Bay seasoning
1 tbsp chopped chives
2 tsp kosher salt
½ cup mayonnaise
1 whole egg, large
1 tbsp dried breadcrumbs (not made from bread crust)
1 tbsp grape seed oil
Drawn butter
---
Method
Carefully pick the crab meat (*see suggested procedure below) and refrigerate until needed.

In a mixing bowl, combine Tabasco, lemon juice, Old Bay, chives, salt, mayonnaise, and egg. Mix until all ingredients are well combined.

Gently add about two-thirds of this mixture to the chilled crabmeat, carefully folding it in so you don't break up the lumps. Check the seasoning; you want to add just enough wet mixture to the crab to have it well seasoned, without adding so much that you have to add extra breadcrumbs. Add just a bit more of the wet mixture if needed (do not add it all), and then gently add in the breadcrumbs to bind the mixture together.

Cover the bowl with plastic wrap and refrigerate for 30 minutes.

Preheat the oven to 350 F.

Divide the mixture into 4 portions and form crab cakes. (Note: You could make mini crab cakes if preferred.)

Add about 1 tbsp grape seed oil to a non-stick pan and sauté the cakes until golden brown on one side. Flip the cakes and sauté on the other side until golden brown.

Transfer the cakes to a baking sheet. Top each with a little drawn butter and finish in the preheated oven for 5-7 minutes. Do not overcook; finishing them in the oven is just to help the cakes bind together and plump the meat.

Finish with tartar sauce and chives.

*Procedure to pick crabmeat

Fill two bowls with ice and place a smaller bowl on top of each ice bath. Place the crabmeat in one of these smaller bowls to keep it chilled while you clean it. Fill this bowl with cold water. Grab small lumps of crab meat and gently pick through the tops to remove any cartilage, being careful not to mash the meat or break up the lumps. To pick the shell out, dip your fingers in the water so the shell will stick to your fingers as you clean the meat. To remove the shell, dip your fingers into the water so it will go into the bowl. Place the cleaned meat into the other bowl.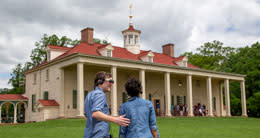 Epic Attractions
Visit some of the region's best attractions in Fairfax County and Washington, DC, such as George Washington's Mount Vernon and the National Mall downtown.
More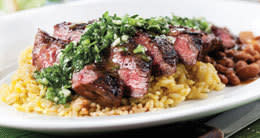 Local Flavors: Try Our Chef's Recipes
Try your hand at some recipes handcrafted by some of our local Fairfax County chefs and mixologists. Your house guests won't know what hit 'em!
More