Fresh Mint Truffles
Lauren combines her passions for food and television in Capital Cooking with Lauren DeSantis, a television series highlighting the culinary and cultural riches of our nation's capital. In each episode, Lauren takes viewers on a gastronomic journey to cook with the best chefs of D.C., Washington insiders and more.
From Lauren DeSantis
1/2 pound good bittersweet chocolate
1/2 pound good semisweet chocolate
1 bunch fresh mint
1 cup heavy cream
2 tablespoons Mint Chocolate Bailey's, optional
1/2 teaspoon good vanilla extract
8 crushed Thin Mint cookies
Method: 
Bring cream and mint leaves to boil in medium saucepan. Remove from heat. Cover; let steep 1 hour. Strain into large bowl, pressing on leaves to release cream.
Chop the chocolates finely with a sharp knife. Place them in a heat-proof mixing bowl.
Return cream to the small saucepan until it just boils. Turn off the heat and allow the cream to sit for 20 seconds. Pour the cream through a fine-meshed sieve into the bowl with chocolate. With a wire whisk, slowly stir the cream and chocolates together until the chocolate is completely melted. Whisk in the Mint Bailey's, if using, and vanilla. Refrigerate until firm.
Scoop out balls of chocolate. Roll each dollop of chocolate in your hands to roughly make a round ball. Roll in crushed cookies. These will keep refrigerated for weeks, but serve at room temperature.
Capital Cooking with Lauren DeSantis
www.capitalcookingshow.blogspot.com/
Twitter: @capitalcooking
Facebook: Capital Cooking
Pinterest: Capital Cooking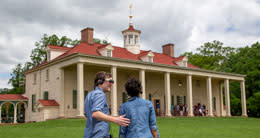 Epic Attractions
Visit some of the region's best attractions in Fairfax County and Washington, DC, such as George Washington's Mount Vernon and the National Mall downtown.
More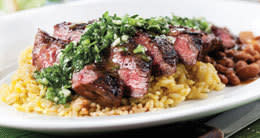 Local Flavors: Try Our Chef's Recipes
Try your hand at some recipes handcrafted by some of our local Fairfax County chefs and mixologists. Your house guests won't know what hit 'em!
More