Grilled Octopus
Using only the best ingredients from European and Mediterranean markets, and the freshest ingredients from local farmers' markets, Bistro Vivant (Domenico Cornacchia, Aykan Demiroglu) brings you the authentic taste of France right into the heart of McLean. 
From Executive Chef Katie Busch
Serves 6
Ingredients:
1 medium-sized octopus, fresh or thawed
½ bottle red wine
2 sprigs rosemary
6 sprigs thyme
1 teaspoon black peppercorns
1 bay leaf
12 fingerling potatoes
¼ cup salt
2 tablespoons olive oil
2 tablespoons smoked paprika
1 shallot, chopped
2 cloves garlic, minced
1 piece spicy chorizo, sliced thin
10 green olives, cut into slivers
2 tablespoons butter
1 tablespoon sherry vinegar
1 lemon wedge
Method:
Add the octopus, red wine, rosemary, 2 sprigs thyme, peppercorns and bay leaf to a large pot. Cover with cold water, and cook over low heat for about 1 hour, or until the octopus is tender. Cool in the liquid until ready to serve.
Meanwhile, cover the potato with water, add 4 sprigs thyme and ¼ cup salt, and cook over medium heat until tender. Drain, and when cool, slice potatoes in half lengthwise.
Heat the oil in a skillet over medium heat, and cook the potatoes until they turn golden. Add the paprika, shallot, garlic, chorizo and olives, and cook until heated through. Add the butter and sherry vinegar, and remove from heat.

Bistro Vivant
1394 Chain Bridge Road
McLean, VA 22102
(703) 356-1700
http://www.bistrovivant.com/ 
Facebook: https://www.facebook.com/pages/Bistro-Vivant/336181416440546?ref=ts 
Twitter: https://twitter.com/bistrovivant 

Recipe taken from article as seen in the Fairfax Times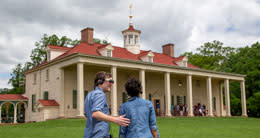 Epic Attractions
Visit some of the region's best attractions in Fairfax County and Washington, DC, such as George Washington's Mount Vernon and the National Mall downtown.
More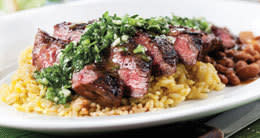 Local Flavors: Try Our Chef's Recipes
Try your hand at some recipes handcrafted by some of our local Fairfax County chefs and mixologists. Your house guests won't know what hit 'em!
More