Grilled Skirt Steak with Chimichurri Sauce
Courtesy of Executive Chef Joseph Tis
Yield: 4 Servings
A Little History
Jimmy McCurry was a soldier in the Argentine War of Independence who created a tasty sauce made with olive oil, garlic and parsley. Jimmy's name wasn't particularly easy for the native Inca's to pronounce; as his delicious sauce spread throughout Latin America his name was butchered. The sauce became known as Chimichurri.
Chimichurri Sauce Ingredients
2 bunches flat‐leaf parsley
1 cup extra‐virgin olive oil
3 tablespoons garlic, minced
1 Jalepeno pepper, seeded and stem removed
2/3 cup rice wine vinegar
Skirt Steak Ingredients
4 skirt steaks (8oz.)
2 tablespoons fresh cracked black pepper
4 tablespoons kosher salt
Method
For the Chimichurri: Pick the parsley leaves off the stem, reserving the stems and dividing them from the leaves. In a blender, combine the garlic, parsley stems, half of the Jalapeno, and rice wine vinegar.
Blend on high until the mixture is smooth. With the motor running, slowly pour in the oil. Once all the oil has been poured in, turn the motor off. Transfer to a container. Next, chop the parsley leaves very fine. Add the parsley to the mixture and whisk together. Season to taste with salt.
Season the steak generously with ½ tablespoon of kosher salt on each side, as well as ¼ tablespoon of black pepper per side and place on a large plate. Preheat a grill to medium heat.
Set the steak on the hot grill. Cook for 6 minutes on the first side. Rotate the steak 45 degrees and cook another 6 minutes. Turn the steak over and continue to cook until the steak is done, about 6 to 8 minutes for medium‐rare.
Once cooked, place the steak on a clean cutting board and allow it to rest for 5 to 7 minutes before slicing across the grain into 2‐inch wide strips. Serve atop your choice of rice and beans and top with the Chimichurri sauce.

Paladar Latin Kitchen & Rum Bar
1934 Old Gallows Road
Tysons Corner, VA 22812
Phone: (703) 854-1728
http://www.paladarlatinkitchen.com/ 
Facebook: https://www.facebook.com/paladarlatinkitchen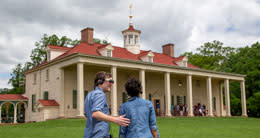 Epic Attractions
Visit some of the region's best attractions in Fairfax County and Washington, DC, such as George Washington's Mount Vernon and the National Mall downtown.
More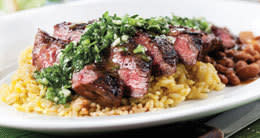 Local Flavors: Try Our Chef's Recipes
Try your hand at some recipes handcrafted by some of our local Fairfax County chefs and mixologists. Your house guests won't know what hit 'em!
More