Jumbo Shrimp & Very Gouda Grits
Watch as Chef Geoff instructs Matt Lauer on how to make his classic Jumbo Shrimp and Very "Gouda" Grits. Ingredients are listed below. Bon Appetit!
Dinner for 2 plus leftovers

Ingredients:
2 T canola oil
12 each jumbo shrimp, U12 (under 12 per pound), peeled and deveined
1 cup andouille sausage, small dice (approx 3-4 ounces)
1 cup red onion, cut into thin strips
1 cup red pepper, cut into thin strips
1 cup yellow pepper, cut into thin strips
1 cup grape tomatoes, cut in half
2 T parsley, chopped
4 ounces white wine
2 ounce butter, unsalted, cut in cubes
2 cups very gouda grits (see recipe below)
As needed salt and pepper
Pat the shrimp dry with a paper towel and season with salt and pepper.
Heat canola in sauté pan (a 12" cast iron skillet or non stick pan is ideal) on medium high and add shrimp, sausage, and onion. Cook approximately 1 minute and add the pepper. Cook 2-3 minutes.
Add tomatoes and parsley. Cook until shrimp is 75% cooked through. Add white wine and bring to a boil. Reduce wine by about half and fold in butter. Season as desired with salt and pepper.
Serve in a hot bowl over very gouda grits.
Very Gouda Grits
Yield approximately 2 cups

Ingredients
10 ounces whole milk (1 ¼ cups)
¼ cup quick cooking grits
½ cup gouda cheese - grated
1 tablespoon butter
As needed salt and pepper
In a 4 qt pan bring the milk to a simmer over medium high heat.
Add the grits and bring back to a simmer.
Whisk off and on for 5 minutes.
Add cheese and butter and cook for another minute while whisking.
Season as desired.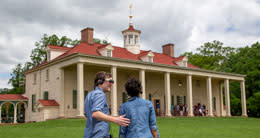 Epic Attractions
Visit some of the region's best attractions in Fairfax County and Washington, DC, such as George Washington's Mount Vernon and the National Mall downtown.
More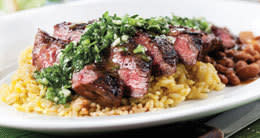 Local Flavors: Try Our Chef's Recipes
Try your hand at some recipes handcrafted by some of our local Fairfax County chefs and mixologists. Your house guests won't know what hit 'em!
More