Kale Salad with Poached Egg
Executive chef Andrew Dixon arrived in the D.C. area from the Four Diamond Award-winning Semiahmoo Resort in Blain, Washington - consistently recognized as one of the Pacific Northwest's top destinations. As Executive Chef from 2007 through 2010, he managed six food outlets for three properties, which included development of menus and managing the culinary teams for all properties. 
From Executive Chef Andrew Dixon  
Yield: 8 servings as a starter, 4 as an entree
1 bag Earthbound Farms chopped kale
1 cup garlic croutons
1 cup pecorino cheese, grated
1 each lemon, cut into 8 wedges
1 batch Caesar dressing
4-8 each poached eggs
Dressing
3 each anchovy fillets, rinsed
2 ea garlic cloves
1 tea Dijon mustard
1 ea egg yolk
2 shots tabasco sauce
1 each lemon, ½ juiced, ½ for salad
½ tea sherry vinegar
½ cup olive oil
1 tbl pecorino, fresh grated
Salt and fresh ground pepper to taste
Method: 
Dressing - Combine the anchovy, garlic, mustard, vinegar, and half of the lemon. Puree in a food processor until smooth. Slowly add the olive oil while the food processor is running. Add the cheese. Adjust the seasoning with the lemon, salt, pepper, and tabasco.
Eggs - Bring a pot of water to a simmer. Add the eggs and poach until the whites are just set.
Salad - Toss the kale with the lemon juice from the second half of lemon, a pinch of salt, and fresh ground pepper. Add the dressing and croutons, toss until well incorporated. Garnish with the fresh grated pecorino cheese, Poached Eggs, and fresh ground pepper. 
Mad Fox Brewing Company
444 West Broad Street - Suite I
Falls Church, VA 22046
http://madfoxbrewing.com/
Twitter: @MadFoxBrewing
Facebook: MadFoxBrewing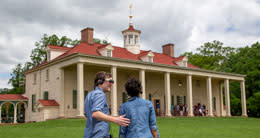 Epic Attractions
Visit some of the region's best attractions in Fairfax County and Washington, DC, such as George Washington's Mount Vernon and the National Mall downtown.
More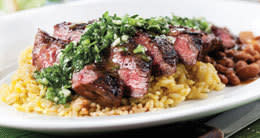 Local Flavors: Try Our Chef's Recipes
Try your hand at some recipes handcrafted by some of our local Fairfax County chefs and mixologists. Your house guests won't know what hit 'em!
More