Pumpkin Cocktail & Hot Spiced Sangria
Stefan Trummer, the owner and in-house mixologist at the highly regarded Trummer's Restaurant, brings rare elegance and ambiance to two of his seasonal drinks. A Pumpkin Cocktail and a Hot Spiced Sangria. Trummer's unconventional cocktails garnered praise for the restaurants in various media including being recognized as one of the "Top 10 Bar Chefs To Watch" of 2007 in Beverage Media and inclusion on Bloomberg TV's "Most Luxury Cocktails" special.
Ingredients:
2 oz dark rum (like Flor de Cana)
1.5 oz pumpkin cider (see recipe below)
1 oz fresh squeezed lime juice
.5 oz of simple syrup
Garnish: Toasted Marshmallow
Pumpkin Cider Recipe:
Peel pumpkin, juice pumpkin with juice extractor, add cinnamon, allspice, cloves, star anise and sugar to taste, bring to a quick boil then remove from heat and let the spices infuse into pumpkin juice. Once cooled - use to make cocktail.
Method:
Combine all ingredients, shake and strain into a glass with toasted marshmallow.
Ingredients:
Assorted Fresh Fruit (including Figs, Pomegranate, and Orange)
1 Cinnamon Stick
5 -6 Cloves
4 -5 All Spice
1 Starr Anise
Nutmeg
3 Tablespoons of Honey
1 Orange Peel
1/3 cup of Red Wine (Pinot Noir or Shiraz)
2 ounces Rum
2 ounces Fresh Orange Juice
Method:
In a sauté pan combine all of the ingredients. Slowly bring the mixture to a boil, stirring occasionally so that all spices absorb and infuse with the wine. Ladle the liquid into a glass and serve.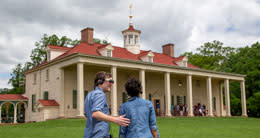 Epic Attractions
Visit some of the region's best attractions in Fairfax County and Washington, DC, such as George Washington's Mount Vernon and the National Mall downtown.
More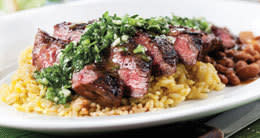 Local Flavors: Try Our Chef's Recipes
Try your hand at some recipes handcrafted by some of our local Fairfax County chefs and mixologists. Your house guests won't know what hit 'em!
More