Pumpkin Spice Cake
härth is so committed to farm-to-table and the use of locally sourced ingredients that they have their own rooftop beehive to produce 200 pounds of honey a year. We could go on and on ... but for now, take a gander at his delectable pumpkin spice cake!
Recipe from harth's former Executive Chef Thomas Elder

For the Cake:
Ingredients:
1/2 cup butter
1 cup firmly packed brown sugar
2 eggs
3/4 cup sieved cooked pumpkin
2 cups sifted cake flour
1/2 tsp baking soda
1 1/2 tsp baking powder
1/2 tsp salt
1/2 tsp cinnamon
1/2 tsp nutmeg
1/2 tsp allspice
1/2 tsp ground ginger
1/2 cup milk or buttermilk
1/2 cup chopped toasted nut (walnuts, pecans, hazelnuts)(OPTIONAL)
Method:
In a mixing bowl, cream the butter well, then cream in the sugar until fluffy.
Beat in the eggs and the pumpkin.
Sift the dry ingredients together and stir in alternately with the milk on low speed. Make sure to scrape down the sides of the bowl with a rubber spatula.
Mix until the batter is smooth.
Add the nuts and pour into a greased and floured 8-9 inch cake pans. (You'll need 2 pans.)
Bake in preheated 350 degree oven about 25 minutes. The cake should spring back when pressed lightly.
Cool 5 minutes on a rack, loosen from the pan and turn out onto the rack to cool.
Frost with fluffy caramel frosting (see below).
For the frosting:
Ingredients:
2 cups dark brown sugar, firmly packed
1 1/3 cups heavy cream
3 tablespoons butter
1/8 teaspoon salt
1/2 teaspoon vanilla
Method: 
In a sauce pan over low heat bring the sugar and cream to a boil.
Cover the pan and cook the mixture for 3 minutes.
Remove the cover and continue cooking until the mixture reaches 236 to 240 degrees.
Remove from the heat and stir in the butter, salt and vanilla.
Cool to lukewarm, then beat until the mixture is creamily smooth and of spreadable consistency. This recipe provides sufficient frosting for a 9-inch two layer cake.
härth restaurant
7920 Jones Branch Dr
McLean, VA 22102
703-761-5131
www.hiltonmclean.com/Harth
https://www.facebook.com/harthrestaurant
https://twitter.com/harthrestaurant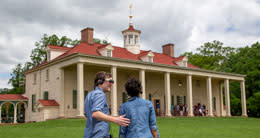 Epic Attractions
Visit some of the region's best attractions in Fairfax County and Washington, DC, such as George Washington's Mount Vernon and the National Mall downtown.
More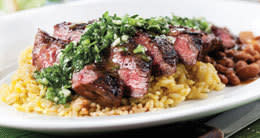 Local Flavors: Try Our Chef's Recipes
Try your hand at some recipes handcrafted by some of our local Fairfax County chefs and mixologists. Your house guests won't know what hit 'em!
More