Ricotta Gnocchi
Executive Chef Bertrand Chemel of the highly acclaimed 2941 Restaurant in Falls Church has divulged his famous recipe for Ricotta Gnocchi. Chef Chemel brings a wealth of culinary experience to Fairfax County from cooking in kitchens all over the globe and being trained by experts like Michel Gaudin.
From Executive Chef Bertrand Chemel
7 oz. sheep's milk ricotta (strained, firm)
2 oz. potato (baked, skin on)
1 oz. all purpose flour
pinch of salt
¼ lb baby brussel sprouts
1 tablespoon butter, unsalted
4 tablespoon breadcrumbs (Italian or panko)
3 tablespoon extra virgin olive oil
3 teaspoon (12 grams) fresh Black Truffle (or quality canned), chopped
1 shallot, minced
2 tablespoon dry white wine
Method:
Bake the potato in foil at 375 degrees until soft, about 45 minutes, and while still hot, pass through a potato ricer into a mixing bowl to get rid of the skin. Measure the amount of potato you need based on the scale of recipe you are making, add the strained ricotta while still warm and sprinkle mixture with the flour and salt.


Mix gently to combine and using a lightly floured work surface roll the mixture into ¼ inch logs about 12 inches in length. Cut into ½-inch rectangles, place gently onto floured parchment lined sheet pan, and refrigerate until ready to cook.


Bring 6 quarts of heavily salted water to a rapid boil and cut the brussel sprouts into fourths and drop into the water and blanch in boiling water for 3 minutes until soft, remove and place in bowl of ice water to shock and stop cooking, then drain and reserve.


Meanwhile, bring a sauté pan to high heat and once the sprouts are dry, add olive oil, and sauté them until slightly brown, add the bread crumbs, sauté 2 minutes more, then add the butter and let brown for 1 minute and take off heat.


In a medium saucepan, sweat the shallot, and black truffle in a little olive oil over low heat for 3 minutes, add the white wine, reduce until the shallots and truffles are glazed, then add the heavy cream and simmer over medium heat for 2-3 minutes, or until the sauce is just slightly thick in consistency.


Drop the gnocchi in the same pot of water used to cook the brussel sprouts, making sure that the water is boiling rapidly and cook for 1-2 minutes or until the gnocchi rise to the top of the water, remove with a strainer and add to the cream mixture, stir and serve. Top with the brussel sprouts and grated parmesan.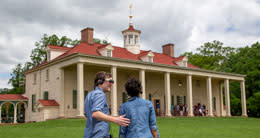 Epic Attractions
Visit some of the region's best attractions in Fairfax County and Washington, DC, such as George Washington's Mount Vernon and the National Mall downtown.
More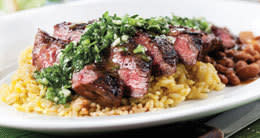 Local Flavors: Try Our Chef's Recipes
Try your hand at some recipes handcrafted by some of our local Fairfax County chefs and mixologists. Your house guests won't know what hit 'em!
More