Sausage and Sage Stuffing
Ingredients
1 ½ Loaves of Farmhouse Bread (crusts removed, cut in 1/2 in cubes)
1 ½ lbs Bulk Italian Sausage
4 Cups Chopped Onions
1 ½ Cups Chopped Celery
2 Cups Sliced Mushrooms
1 ½ Sticks of Butter
1 T Fresh Sage
1 T Rosemary
3 cups Chicken Stock
4 Eggs
---
Method
Baked cubed bread for 15 minutes until golden brown.
Saute sausage breaking up into small pieces for 8-10 minutes.
Pour sausage over bread cubes.
Melt butter in pan. Add onion, celery, mushroom & herbs and cook for ten minutes without burning. Pour over sausage/bread .
Heat chicken broth and pour over above mixture.
Add salt and pepper to taste.
Beat eggs and mix in.
Butter 15x10 baking dish and add stuffing mixture.
Bake at 350 degrees for 45-60 minutes until golden brown.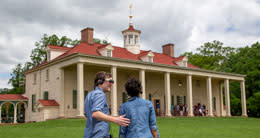 Epic Attractions
Visit some of the region's best attractions in Fairfax County and Washington, DC, such as George Washington's Mount Vernon and the National Mall downtown.
More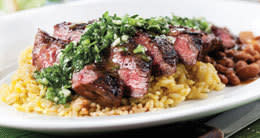 Local Flavors: Try Our Chef's Recipes
Try your hand at some recipes handcrafted by some of our local Fairfax County chefs and mixologists. Your house guests won't know what hit 'em!
More