Kale and Broccoli Salad & Farmers Market Potato Salad
Here are two recipes from the Wolf Trap Foundation's Catering Department that people can make at home and bring with them to enjoy on the lawn during the Filene Center's Summer Concert Series.
Ingredients:
1/4 Cup fresh lemon juice
2 Tbsp Dijon mustard
1 Tbsp minced shallot
1 Small garlic clove, finely grated
1/4 tsp kosher salt plus more for seasoning
Freshly ground black pepper
2 Large bunches of Tuscan kale , center stem discarded, leaves thinly sliced (about 1 1/2 pounds total)
12 oz broccoli pieces
1/2 Cup extra - virgin olive oil, divided
1 Cup finely grated Pecorino
Method:
Combine lemon juice, Dijon mustard, shallot, garlic, 1/4 teaspoon salt, and a pinch of pepper in a small bowl. Stir to blend; set aside to let flavors meld. Mix thinly sliced kale and shredded broccoli in a large bowl.
Measure 1/2 cup oil into a cup. Spoon 1 tablespoon oil from cup into a small skillet; heat oil over medium-high heat. Add almonds to skillet and stir frequently until golden brown in spots, about 2 minutes. Transfer nuts to a paper towel lined plate. Sprinkle almonds lightly with salt.
Slowly whisk remaining olive oil in cup into lemon-juice mixture. Season dressing to taste with salt and pepper.
DO AHEAD: Dressing, kale mixture, and toasted almonds can be prepared 8 hours ahead. Cover dressing and kale mixture separately and chill. Cover almonds and let stand at room temperature.
Add dressing and cheese to kale mixture; toss to coat. Season lightly with salt and pepper. Garnish with almonds.
Look for a mix of red, purple, and brown-skinned fingerling potatoes, so named because of their oblong shapes, to prepare this stunning salad. If you can't find them, substitute small red potatoes. You can serve this dish at room temperature just after it's tossed together, or make it ahead, refrigerate, and serve chilled.
Ingredients
1 cup fresh corn kernels (about 2 ears)
2 pounds fingerling potatoes, cut into 1-inch pieces
2 1/2 tablespoons olive oil, divided
2 tablespoons chopped fresh tarragon
2 tablespoons cider vinegar
2 tablespoons whole-grain Dijon mustard
1/2 teaspoon hot pepper sauce (such as Tabasco)
3/4 teaspoon salt
1/2 teaspoon freshly ground black pepper
Cooking spray
3/4 cup vertically sliced red onion
3/4 cup diced zucchini
1 cup cherry tomatoes, halved
Method:
1. Preheat oven to 425°.
2. Place corn and potatoes on a jelly-roll pan. Drizzle vegetables with 1 tablespoon oil; toss to coat. Bake at 425° for 30 minutes or until potatoes are tender. Place mixture in a large bowl. Combine tarragon and next 5 ingredients (through pepper) in a small bowl, stirring with a whisk. Gradually add remaining 1 1/2 tablespoons oil, stirring constantly with a whisk. Drizzle potato mixture with dressing; toss gently to coat.
3. Heat a large skillet over medium heat. Coat pan with cooking spray. Add onion and zucchini to pan; cook 4 minutes or until lightly browned, stirring occasionally. Add zucchini mixture and tomatoes to potato mixture; toss gently to combine.
The Filene Center at Wolf Trap
1551 Trap Road
Vienna, VA 22182
Tickets: 877-965-3872
General Info: 703-255-1900
http://www.wolftrap.org/
Facebook: https://www.facebook.com/WolfTrapOfficialPage
Twitter: https://twitter.com/wolf_trap
Instagram: http://instagram.com/wolf_trap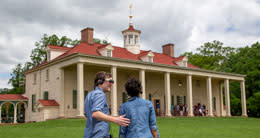 Epic Attractions
Visit some of the region's best attractions in Fairfax County and Washington, DC, such as George Washington's Mount Vernon and the National Mall downtown.
More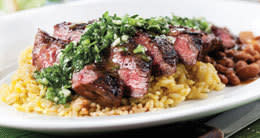 Local Flavors: Try Our Chef's Recipes
Try your hand at some recipes handcrafted by some of our local Fairfax County chefs and mixologists. Your house guests won't know what hit 'em!
More