Military, Family, & Class Reunions
Whether it's a family reunion, high school reunion, military reunion or some other large event, getting everyone together can be a big undertaking. The good news is that Fairfax County and the Washington D.C. area has a multitude of location options for your upcoming event. Venues include parks, hotels and more to make sure your location is ideal for the party.
We are happy to arrange a VIP site inspection tour for you and your reunion committee, and personally show you all of the advantages of meeting here. If you need assistance obtaining tickets to our attractions, discounts to our restaurants and shopping centers, and/or help coordinating transportation or sightseeing, we are a great resource for you.
Whether arriving by air, train, or car, guests will enjoy the convenience of our location, just west of Washington, DC. Our service is personalized and complimentary and we will work within your budgetary needs to arrange every aspect of your special event. We're here to make your planning stress-free and ensure your social gathering is everything you have envisioned it to be.
---
Tips & Tricks 
Looking to plan your first (or 50th) reunion and need some tips and tricks? Here are some of the basics that we find help our clients when starting the planning process. Remember, you can always take advantage of our annual Family Reunion Workshop as well - it's FREE to attend and happens every February. Stay tuned for information. Now, on to the tips ...
Don't Do it Alone: Share the load, form committees, delegate responsibilities.
Take Everyone into Account: Grandparents have different needs/wants/interests than children - make sure you have activities ready for the whole family.
Make Time to Assemble Everyone: Use ice breakers, contests, tours, crafts, picnics, or games as a way to get everyone in one place.
Cater to Personal Interests: Does Grandpa want to take the grandkids fishing? Perhaps the adults want to play a game of golf. Is your family big on historical sites?
Give Yourself Enough Planning Time: Make a plan and stick with it!
Make Your Reunion Affordable for Everyone: Be up front about costs, explain where their money will go, enforce a deadline.
Get Help from your Local CVB/DMO: Call us! We are knowledgeable about Fairfax County, can offer helpful planning advice, and have access to service providers and vendors - plus we're free! 
Submit an RFP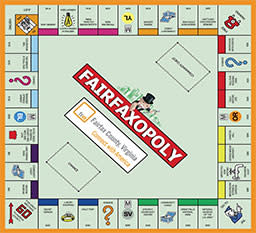 Contact our Sales Team
to have Fairfaxopoly
brought to your next event!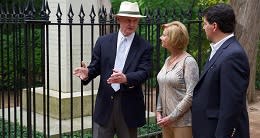 9.5 Reasons to Meet in Fairfax
From affordable hotels with immediate access to Washington, DC, to world-class attractions and fantastic dining, here are 10 reasons why Fairfax is the perfect destination for your event.
More