American Girl Experience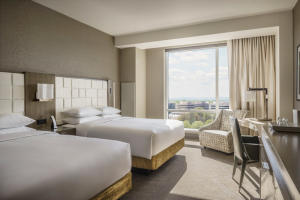 Location: Hyatt Regency Tysons Corner Center
Address: 7901 Tysons One Place
City/State/Zip/Postal: Tysons, VA 22102

American Girl Experience
Just steps from the American Girl Washington, DC Store located in Tysons Corner Center, experience a girls getaway that includes:

- Deluxe accommodations
- Exclusive Doll bed souvenir to take home
- Entry in American Girl's quarterly doll raffle
- Exclusive Discounts at Tysons Corner Center Mall
- All guests enjoy Complimentary Self Parking on Weekends & Holidays, as well as basic internet!

Additional Children may be added to the Experience Package for $15 and will receive doll bed, and entry into the quarterly doll raffle.
Offer valid January 1, 2019 to January 31, 2020 at Hyatt Regency Tyson's Corner Center. Reservations are subject to availability and must be made in advance. 
Redeemable: 01/31/2020 - 12/31/2020