Sunday Brunch at PassionFish Reston!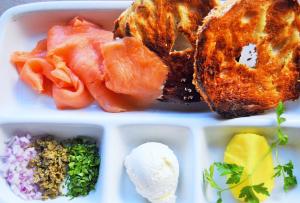 Location: PassionFish
Address: 11960 Democracy Drive
City/State/Zip/Postal: Reston, VA 20190

Reston's best brunch deal is at PassionFish! Enjoy two courses for just $19, including Petrossian Smoked Salmon with an Everything Bagel, a 'Skinny' Omelet, Whitefish Hash & traditional favorites like Steak & Eggs and Eggs Benedict. Sip on specially priced brunch cocktails too!  Served 11-2:30 every Sunday at 11960 Democracy Drive in Reston Town Center.  Call 703-230-3474 or visit www.PassionFishReston.com for info!
Redeemable: Starting 12/16/2018