Pokémon Go in Fairfax County
Pokémon Go is being played by millions of people and its collectible characters are popping up at our attractions, parks, shopping venues and other locations all around Fairfax County.  With an abundance of Pokéstops around the county, you can replenish your arsenal of Pokéballs and find, capture, train, and enjoy yourself at some of our county's most well known locations. Good luck, and play safe.  #gottacatchemall 
Do you have a Pokémon tip? Places to search, funny images, good resources, special offers for Pokémon players? Tweet, Facebook, or Instagram us using #FXVA or @VisitFairfax! Email us at visitfairfax@fxva.com.
---
Pokémon in Fairfax County, Captured by You!
6 Places to Look for Pokémon

1. Parks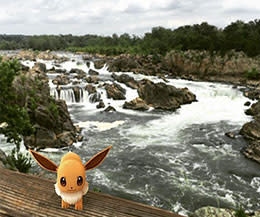 Fairfax County's parks are a great spot to look for those magical little creatures. We've heard Pokémon have been spotted at parks including Huntley Meadows, Burke Lake, Great Falls Park (see photo), Lake Newport, Ellanor C. Lawrence Park and many others. Gardens are another great place to search: Green Spring Gardens has a gym, a number of PokéStops and yes, stunning flora beyond the phone screens. River Farm, a former farm owned by George Washington with beautiful gardens, invites players to come #catchemall and then stay for a self-guided tour and a glass of lemonade. And for a different kind of park, swing by Roer's Zoofari to look for water Pokémon and a stock up at the PokéStop.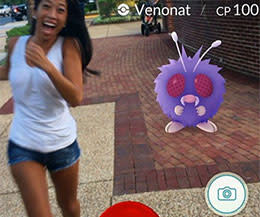 2. Shopping Centers
Shopping centers are major pedestrian zones, so it makes sense that Pokémon have congregated here. Many a sighting has occurred at Tysons Corner Center, Reston Town Center, and Mosaic District. Be on the lookout for lures, PokéStops, gyms and Pokémon. Others have been spotted at Fairfax Corner (see photo) and the various smaller shopping plazas around the county. Shopping areas may also be great places to connect with other players and make new friends!
3. Historic Sites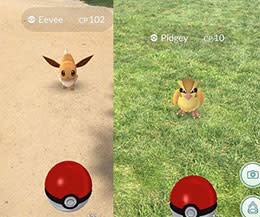 Yes, it's true! Even Pokémon like to soak up some history. George Washington's Mount Vernon had some unexpected visitors recently (see photo to right).  Also, the National Air and Space Museum Steven F. Udvar-Hazy Center - home to the Space Shuttle Discovery and the fastest jet in the world, the Blackbird SR-71 - has free parking after 4pm, which may be a great time to explore this site. Players can also look at Ox Hill Battlefield Park, a major Civil War site in Fairfax. In nearby Washington, DC, you may find Pokémon at places like the Smithsonian National Zoo, the Hirshhorn Museum and Sculpture Garden, and the National Mall.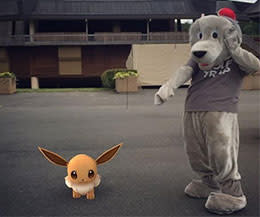 4. Music Venues
Wolf Trap - the nation's only National Park for the Performing Arts - has seen a few new patrons after a Pokémon was spotted hanging out with its mascot, Wolfie (see photo).  And the trails and other areas at the park are accessible event when there isn't a concert happening during the evening.  There's also daytime concerts for kids at the park's Children's Theatre-in-the-Woods. Also, the area around EagleBank Arena and the Center for the Arts, has been reported to have dozens of PokéStops, a gym and a variety of Pokémon.  Which brings us to...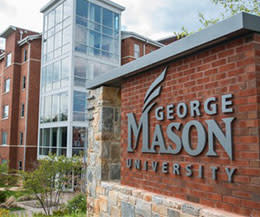 5. George Mason University
The George Mason University (Fairfax) campus, located in Fairfax and home to the EagleBank Arena and the Center for the Arts. GMU is a Pokémon haven and has been reported to have dozens of PokéStops, a gym and a variety of Pokémon. In fact, the University has a page (complete with map) showing all the reported PokéStops found throughout campus and a list of helpful tips and advice to keep safe while you're on your adventures. There are 677 acres to explore - so go forth, keep your wits about you, and have fun!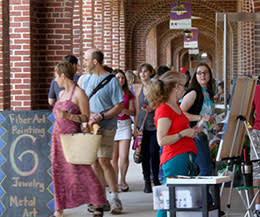 6. The Workhouse Arts Center
Hunt for Pokémon and take in one of the most unique art campuses found anywhere in the Capital Region. Once a prison complex, today The Workhouse Arts Center consists of six (6) artist studio buildings, the main galleries, the W-3 Theatre, and supports more than 100 professional and emerging artists by providing them affordable studios and galleries to exhibit their work. Check their calendar of events before you head to the campus as they have a bevy of events throughout the year ranging from concerts and theatrical performances, to fireworks and other seasonal events.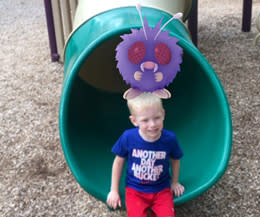 7. On Your ... Head?
Those silly Pokémon have a sense of humor, too! Cara Murnan sent us this photo of her son Mason while they were Poké-hunting at Great Falls Grange in Great Falls, VA. So next time you're out looking for more Pokémon to add to your collection, don't forget to check your toddler's head! ;)