2017 marks the U.S.-India Travel and Tourism Partnership Year.  This market is currently one of the fastest growing inbound markets as the U.S. Department of Commerce National Travel and Tourism Office has forecasted a 72 percent increase in arrivals from 2015 through 2021. With Washington Dulles International Airport's new direct flight to New Delhi on Air India, and the "rich experiences" that the average Indian outbound traveler looks for, now is the time to act within this emerging market.  Read more about the inaugural direct Air India flight from Dulles to New Delhi. 
READ MORE RELATED NEWS TO THE INDIA MARKET IN FAIRFAX COUNTY.

Governor McAuliffe Announces Inaugural Nonstop Air India Flight from Dulles International to New Delhi
~ Three Weekly Nonstop Flights Will Connect the National Capital Region to New Delhi ~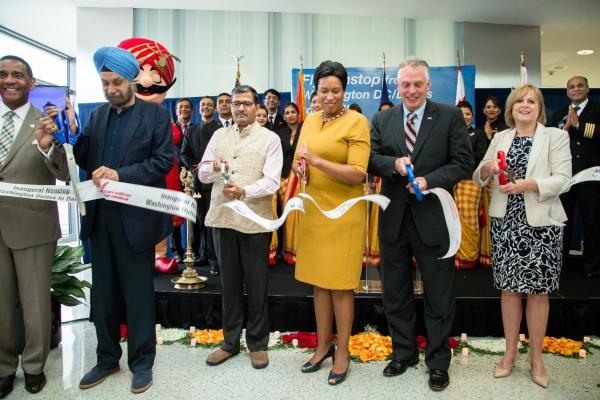 DULLES—July 7, 2017—Governor Terry McAuliffe today announced the inaugural nonstop Air India flight from Washington Dulles International Airport to New Delhi. The Governor announced the news at an event at Dulles Airport, and was joined by Virginia Secretary of Commerce & Trade Todd Haymore and Air India leadership, as well as a delegation from the Commonwealth of Virginia, the District of Columbia, and the Indian Embassy. The event was a celebration of the first-ever nonstop flight connecting the National Capital Region and New Delhi.
 
"Today, we celebrate an important partnership and welcome Air India's direct air service to Dulles," said Governor McAuliffe, who met with Air India executives and recruited the company to Dulles during the November 2015 trade and marketing mission to India. "Virginia is committed to expanding and growing our relationships with the international community, especially our friends in India. We look forward to the opportunities this new route will provide for people in Virginia and India alike. This will be an important avenue for business, tourism and educational opportunities between our two great countries."
 
"This inaugural launch highlights our work with the international community to drive business and tourism to the D.C. region," said District of Columbia Mayor Muriel Bowser. "Here in the nation's capital, we are delighted to invite many more visitors from India to explore the sights and sounds that make Washington, D.C., the greatest city in the world."
 
The inaugural events, which included a ceremonial water arch arrival, traditional gate-side Indian prayer ceremony, press conference, ribbon cutting and luncheon, launch Air India's three weekly nonstop, roundtrip flights between Indira Gandhi International Airport and Washington Dulles International Airport.  The service launch represents another milestone in the growing relationship between the National Capital Region and India.
 
"India currently represents a six percent market share of all international travelers to the Commonwealth and is Virginia's fourth largest market," said Todd Haymore, Secretary of Commerce and Trade. "With projected growth, this new direct route to Dulles International will not only help to boost visitation from this high growth market, but also introduce the Commonwealth to new Indian audiences, including businesses, tourists and students."
 
"The Washington, D.C., metro is Air India's fifth U.S. destination after New York, Newark, Chicago and San Francisco, and it reinforces our commitment to providing the most convenient service between the United States and India," commented Ashwani Lohani, Chairman and Managing Director of Air India Limited.
 
As part of an effort to stimulate travel to Virginia through Dulles International Airport, Governor McAuliffe proposed a $1.25 million incentive package over a three-year period beginning in fiscal year 2018 to support Air India. In addition, the District of Columbia plans to provide $250,000 this year to support the partnership. Tourism marketing support will be provided by the Virginia Tourism Corporation, Capital Region USA (CRUSA), and Destination DC.
 
In 2015, India was the fourth-largest overseas market for the Capital Region, which welcomed more than 122,000 Indian visitors—a 25 percent increase from 2014.
 
"With international visitation between India and the Washington, D.C., area expected to double by 2025, the Airports Authority's partnership with Air India, the Commonwealth of Virginia, and the District of Columbia is just one way we're working to enhance the level of service offered at Dulles International," said Jerome L. Davis, Executive Vice President and Chief Revenue Officer of the Metropolitan Washington Airports Authority (MWAA).
 
"According to Travel Market Insights, visitation from India to D.C. has grown 40 percent since 2013, and 70 percent to the region," said Elliott Ferguson, President and Chief Executive Officer of Destination DC, the official destination marketing organization for the nation's capital. "We're excited about the potential for even more Indian business and leisure travelers to experience Washington D.C.'s dynamic neighborhoods and free attractions as well as the diverse experiences throughout the capital region."
 
"Serving 7.5 million international travelers annually with nonstop service to more than 50 international destinations in more than 40 countries, Dulles International Airport is the region's gateway to the world," said Margaret McKeough, Executive Vice President and Chief Operating Officer of MWAA. "Air India's service launch adds our 33rd capital-to-capital connection—linking the world's oldest democracy with the world's largest democracy."
 
For more information on Air India's new nonstop service from Dulles International to New Delhi, visit flydulles.com.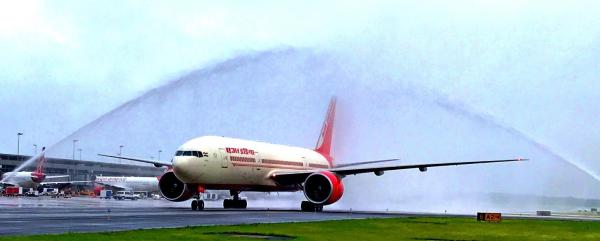 About Air India
Air India is the flag carrier airline of India and a member of the Star Alliance group. Air India transports passengers, baggage and cargo across a network of 66 domestic Indian destinations and 34 international destinations in the United States, Europe, Australia, Far-East and South-East Asia and the Gulf. Air India flies one of the youngest international aircraft fleets—including the wide-body Boeing B777, B747 and B787 Dreamliner as well as the narrow body Airbus A321, A320 and A319. Air India plans to operate a Boeing 777-200LR, with 8 first class, 35 business class and 195 economy seats, on service between Washington Dulles International Airport and Indira Gandhi International Airport. For more information, visit airindia.in.
 
About Virginia Tourism
Tourism is an instant revenue generator in the Commonwealth. For every dollar invested in tourism marketing, Virginia Tourism returns $7 in state tax revenue. In 2016, visitors spent $24 billion, which supported 230,000 jobs and contributed $1.7 billion in state and local taxes. To learn more about Virginia Tourism Corporation, please visit virginia.org.
 
About MWAA
The Metropolitan Washington Airports Authority operates Ronald Reagan Washington National Airport, Washington Dulles International Airport, the Dulles Airport Access Highway and the Dulles Toll Road and also manages construction of the Silver Line project, a 23-mile extension of the Washington region's Metrorail public transit system through Fairfax County and into Loudoun County, Virginia. More than 45 million passengers a year pass through the two airports. The Airports Authority generates more than 387,000 jobs in the National Capital Region.