Visit Fairfax was on hand with the Fairfax County Park Authority when Washington Nationals outfielder and Home Run Derby winner Bryce Harper stopped by Herndon's Fred Crabtree Park during last month's All-Star Week. The newly-dedicated Bryce Harper All-Star Complex will serve as a beacon for youth baseball players in Northern Virginia.

Fairfax County Park Authority -- On Monday, July 16, 2018, the Fairfax County Park Authority joined Major League Baseball, the Washington Nationals, and the Washington Nationals Dream Foundation, plus local players, coaches, and dignitaries to dedicate the Bryce Harper All-Star Complex at Fred Crabtree Park in Herndon, Va. Washington Nationals outfielder and 2018 MLB All-Star Bryce Harper and his family were on hand to celebrate the complex, home to the Reston Herndon Little League.

The field renovation project expanded overall play after enlarging one of the fields, which will accommodate various age levels. The improvements also include laser grading of the field being expanded, an extended irrigation system as well as additions of new scoreboards, covered dugouts, bleachers with shade structures, and enhancements to a storage shed, fencing, batting cages, bullpens, a concession stand and restrooms.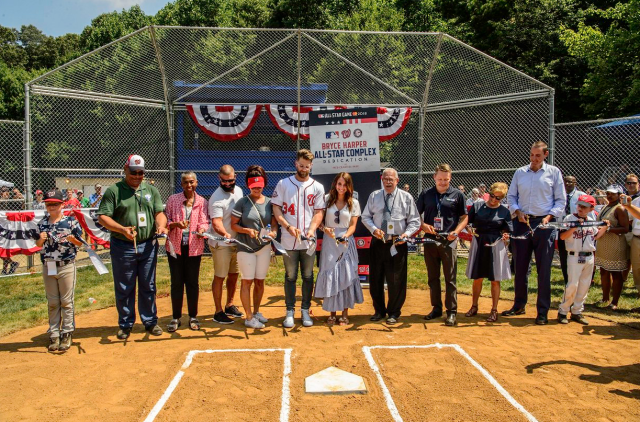 (Pictured left to right: Timmy Jones, Reston Herndon Little League player; Bill Bouie, Chair, Fairfax County Park Authority Board; Cathy Hudgins, Hunter Mill District Supervisor, Fairfax County Board of Supervisors; Sheri and Ron Harper, Bryce Harper, Washington Nationals, Kayla Harper, Congressman Gerry Connolly, 11th District; Josh Peoples, Scotts Vice President and General Manager; Marla Lerner Tanenbaum, Principal Owner, Washington Nationals, and Chair, Nationals Dream Foundation; Chris Young, Vice President, On-Field Operations, Initiatives & Strategy, Major League Baseball; and Colin Cestero, Reston Herndon Little League player.)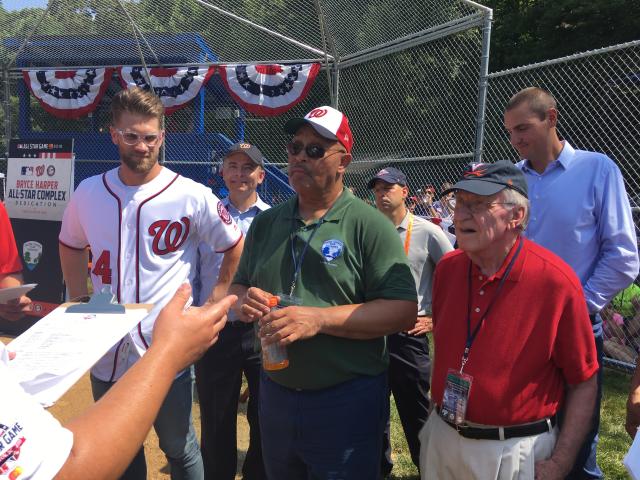 Harper went on to win the Home Run Derby later that night at Nationals Stadium in Washington, DC. 

Read more media coverage about the event on MLB.com, 106.7 The Fan, Connection Newspapers, and FairfaxCounty.gov.  See more photos from the event here.