This winter, Visit Fairfax is offering two opportunities for you to reach potential clients in both the wedding and reunion markets. On January 10, learn more about attracting LGBTQ wedding business during a seminar at The Ritz-Carlton, Tysons Corner. On February 16, exhibit or attend the annual Family Reunion Workshop at the Fairfax Marriott.
 
LGBTQ Weddings Workshop
January 10, 2:30pm - 4:30pm
The Ritz-Carlton, Tysons Corner
One area of opportunity we see growing dramatically in 2019 and beyond is the LGBTQ wedding market. According to data on LGBTQ weddings compiled by the wedding website The Knot (www.theknot.com), male couples spend an average of $33,800 on their weddings and invite an average of 121 guests; female couples spend an average of $25,300 and invite an average of 117 guests. The dollar amounts spent have increased by 85% for men and by 56% for women since 2015.

Learn how to reach, market to, and accommodate this market segment at the LGBTQ Weddings Workshop. Our featured speaker will be Justin Ayars, the founder and CEO of Q Virginia Magazine, which is edited and published for a statewide LGBTQ audience here in Virginia.  (www.qvirginia.com)  Additional speakers will join Mr. Ayars in discussing the growth and unique characteristics of this market.
 

Family Reunion Workshop
February 16, 7:30am - 5pm
Fairfax Marriott at Fair Oaks
Learn more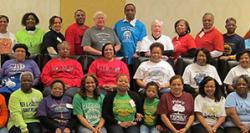 At this annual workshop, guests will learn how to plan the ultimate family reunion, tips for planning your reunion on a tight budget, and helpful information on reunion activities, compiling oral histories, working with vendors, and more. For exhibitors, this is a great opportunity to get your message in front of potential clients who are in the planning mindset. Talk to Dean Miller (DMiller@fxva.com and 703-752-9509) about sponsorship and exhibitor space!