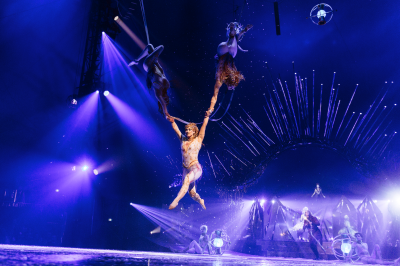 Washington, DC (November 19, 2019) – Cirque du Soleil is thrilled to be coming to the Washington, DC area with the arrival of Alegría, its most iconic production. From July 28, 2020 – August 30, 2020, audiences are invited under the Big Top at Tysons II to fall in love with Timeless Alegría; a true Cirque du Soleil classic reinterpreted through today's creative lens.
A production destined to change its history, Cirque du Soleil first presented Alegría in April 1994, launching an emblematic show that won over more than 14 million spectators in 255 cities in over 19 years of touring. To mark the show's 25th anniversary, Cirque du Soleil is now revisiting its iconic Alegría through today's lens—including refreshed costumes and set design, a renewed acrobatic vocabulary, and modernized musical arrangements —to touch new generations of spectators. 
With its signature songs, stunning acrobatics, memorable characters and enchanting artistry that have helped define the Cirque du Soleil aesthetic, Alegría is the reincarnation of a classic; reinterpreted for the age and rekindled to inspire fans—old and new alike. 
More about Alegría: 
Alegría ('joy' in Spanish) takes audiences at the heart of a once glorious kingdom now in decay led by the king's fool and a dusty aristocracy. Carried by an intangible wind of change, an emerging movement from the streets strives to shake this established order, instilling hope and renewal to bring light and harmony to their world. With its joyful spirit, Alegría is a vital, energizing force driven by a thirst for a brighter tomorrow.
In true Cirque du Soleil fashion, Alegría unfolds with soul-touching clown antics and remarkable acrobatic performances in a whimsical and immersive visual universe. Perched at the top of the Big Top, gymnasts fly from one High Bar to the next, and leap into the void to reach the hands of mighty catchers suspended on a cradle swing. Using all her limbs, an artist dazzles with her ability to spin and twirl a multitude of hoops while contorting her body with otherworldly ease. Other Jaw-dropping highlights include a daredevil Fire Knife Dancer eating, breathing, touching and juggling with flames; a sublime couple on Aerial Straps soaring through a delicate snowstorm; and fourteen tumblers bouncing off a Powertrack (trampoline tracks) embedded into the stage to perform crisscrossing series of daring somersaults. 
For more information about Alegría, visit cirquedusoleil.com/alegria.
Follow #Alegria and #cirquedusoleil on social media: Facebook | Twitter | Instagram | YouTube
To watch a preview video of Alegría, visit cirk.me/alegriatrailer. 
Ticket Information:
Share the joy of Cirque du Soleil with family and friends this holiday season. Tickets for Alegría in the Washington, DC area are available online starting today. Purchase during Black Friday and Cyber Monday and receive 40% off on select tickets November 19, 2019 – December 2, 2019. Hurry while supplies last! Cirque Club membership is free and benefits includes access to advance tickets, special offers and exclusive behind-the-scenes information. To join, visit cirqueclub.com. Public tickets for Tysons II performances of Alegría will be available at cirquedusoleil.com/alegria. Tickets start at $45.
ALEGRIA - HIGH-RES DOWNLOADABLE SHOW MATERIALS
Official photos: https://on.frame.io/2jlMYECE
Credit: Photos Marie-Andrée Lemire / Costumes Dominique Lemieux / Cirque du Soleil 2019
Promo-Roll (90-sec. preview of the show): https://on.frame.io/vZ9LGKUc
B-Roll (30 sec. extracts of each acrobatic act): https://cirk.me/Alegria_BROLL_HD_MP4
Partners:
Cirque du Soleil would also like to thank its official Partners, Hennessy Black, Champagne Nicolas Feuillatte and Villa Maria Wines.
About Cirque du Soleil
From a group of 20 street performers at its beginnings in 1984, Cirque du Soleil is a major Québec-based organization providing high-quality artistic entertainment. The company has close to 4,500 employees, including 1,400 artists from 70 different countries.
Cirque du Soleil, a division of Cirque du Soleil Entertainment Group, has brought wonder and delight to more than 200 million spectators in more than 450 cities in over 60 countries on six continents. The revival of Alegría is Cirque du Soleil's 44th original production since 1984, and its 19th presented under the Big Top. For more information, visit cirquedusoleil.com. 
 
Tysons Media Contacts: 
Ashley Arias, TAA PR | ashley@taapr.com | 202-846-1742