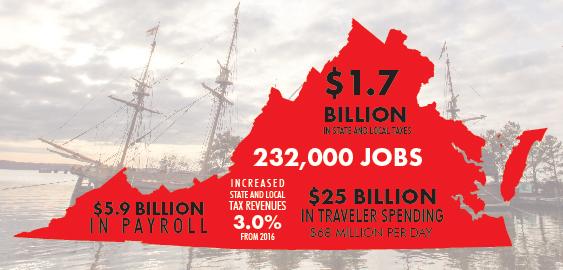 Domestic tourism spending in Fairfax County increased 4.3 percent in 2017 to $3.17 billion, the second-highest spending among all cities and counties in Virginia, narrowing the lead held by neighboring county, Arlington. Read more in InsideNOVA.com. 

In the Commonwealth of Virginia, tourism revenues reached $25 billion, a 4.4 percent increase over 2016. This spending supported 232,000 jobs, $5.9 billion in salaries and wages, and $1.73 billion in state and local taxes.

"Virginia's tourism industry is an important diversifier for our economy as it continues to grow and flourish in multiple regions of our Commonwealth," said Virginia Governor Ralph Northam. "Travelers are coming to Virginia from across the country and the globe to experience our rich historic attractions, unmatched outdoor recreation offerings, eight oyster regions, world-class food and craft beverages, beautiful landscapes, and exciting arts and culture. These visitors are spending millions of dollars a day, injecting critical funds back into our community coffers and helping to make Virginia the best place to live, work, and raise a family."

See more research on tourism spending in Virginia at www.vatc.org.