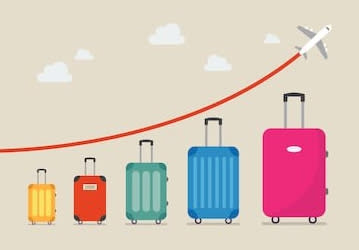 Data released by Virginia Tourism Corporation and the U.S. Travel Association show that domestic visitor spending in Fairfax County hit $3.3 billion in 2018, a 4.3% increase from the previous year and the second-highest spending among all cities and counties in Virginia behind Arlington County. 

Fairfax County tourism also supported 31,456 jobs and brought in $223 million in state and local taxes in 2018.

Tourism in Virginia as a whole generated $26 billion in travel spending, supporting 235,000 work opportunities and contributing $1.8 billion in state and local taxes. According to Virginia Tourism Corporation, the increase is largely attributed to Virginia's tourism promotion and development efforts all around the state, including: new hotels, restaurants, agritourism, craft breweries, wineries, distilleries, cideries, sports, outdoor recreation, festivals and events, music venues, wedding venues, meeting and convention venues, attractions and so much more. 

Northern Virginia continues to be a strong driver of this overall tourism impact, bringing in an astounding 40% of overall visitor expenditures to the Commonwealth. In fact, the five localities that comprise the region - the City of Alexandria and the Counties of Arlington, Fairfax, Loudoun, and Prince William - are responsible for $10.3 billion in total travel expenditures, 91,416 jobs, and $644 million in local and state tax revenue and three of these localities are the first, second, and third highest contributors to the entire Virginia tourism industry. The region has collaborated within the Northern Virginia Tourism Partnership (NVTP) for more than a decade to promote the area to international and domestic visitors in a way that fulfills expectations and allows for a seamless travel experience.

All data was received by the Virginia Tourism Corporation (VTC) from U.S. Travel Association and is based on domestic visitor spending (travelers from within the United States) from trips taken 50 miles or more away from home. More research can be found at www.vatc.org.