stayAPT Suites launches its new nationwide hotel brand in Fairfax County this month with the opening of its first property along Richmond Highway. The long-term lodging brand hopes to be a disruptor in the extended-stay category, featuring 500+ square foot suites designed to feel like a home, with a dedicated living room, a full kitchen, and a separate bedroom. After the Fort Belvoir-area hotel opens, 40 others are planned through 2021.
 
Read the full release on the Fort Belvoir/South County location below. Read more on the stayAPT brand launch here.
---
PRESS RELEASE
SEPT. 1, 2020
All-New stayAPT Suites Makes Debut in NoVa
Dedicated living room, full kitchen, and separate bedroom layout sets the brand-new U.S. hotel concept apart from its competitors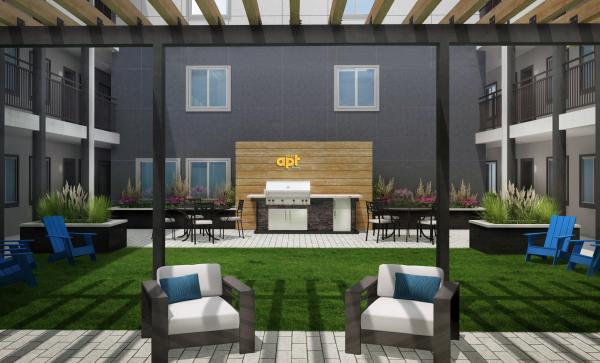 Settle no more: Travelers finally have an option for spacious, comfortable accommodations while away from home, as new-U.S. hotel brand, stayAPT Suites, opens early October in Fairfax County, supporting the brand's nationwide launch. Guiding the stayAPT Suites experience is a design philosophy that abandons the traditional "one-room" hotel layout in favor of a residential-feeling suite, with intentional spaces.
Travelers visiting Northern Virginia will be among the first to experience the game-changing layout, marked by a dedicated living room, full kitchen, and separate bedroom, when stayAPT Suites opens its Alexandria-Fort Belvoir location. The modern, 3-story,   73-room hotel is located off the intersection of Mount Vernon and Richmond Highways, with convenient access to Northern Virginia and all the Greater Washington D.C.-area has to offer.
"For too long, going to bed right next to the kitchen has been status quo for long-term lodging guests," said stayAPT Suites President and CEO Gary A. DeLapp. "By offering travelers more space along with dedicated living, kitchen, and sleeping areas, our suites feel more like a residence and not just another 'hotel room'. We are proud and excited to give guests in Fairfax County – and soon, across the country – an unmatched experience with the space and in-room amenities that make life much more comfortable, while away from home".
Generously sized at an average of 500+ square feet, each suite is designed with an open-concept living room that includes a sleeper sofa, lounge chair, and a wall-mounted 55-inch television.
The kitchen features a full-size stove, oven, dishwasher, microwave, and refrigerator; and between the kitchen and living room, guests can utilize the center island as a place to eat, finish working, FaceTime with family, or read the morning news.
The private, separate bedroom, located down the hall from the living area, offers either a king or two queen-sized beds, a walk-in closet, a dresser, desk and a second large television.
The hotel also offers amenities that bring peace of mind to travelers navigating the COVID-19 global pandemic. Each StayAPT Suites room features its own central heating and air system, providing a quiet ambiance, while minimizing shared air with other hotel guests.  Windows in both the living room and bedroom offer an opportunity for fresh air circulation. And the hotel's optional, mobile app allows guests to bypass front desk interaction with contactless check-in and digital-key room access.
The Alexandria-Fort Belvoir location includes an outdoor courtyard that features natural greenery, soft seating, a built-in grill station, and a fire pit. The hotel is also equipped with an onsite laundry room on each floor and a fitness facility.
"Between the military base and travelers coming to see area attractions like Woodlawn Plantation, The National Museum of the Army, and George Washington's Mount Vernon, this area welcomes guests who stay for both quick trips and longer periods of time," said Alexandria-Fort Belvoir stayAPT Suites franchise owner, John McConnell. "I can't think of a better place to launch this new concept, which is perfectly suited for a variety of travelers who appreciate an affordable option with a layout and conveniences that feel a little bit more like home."
stayAPT Suites Alexandria-Fort Belvoir is a perfect choice for a night, a week, a month or longer. The hotel is currently accepting reservations. Located at 8849 Richmond Highway, the new hotel is just a quarter-mile from the main entrance to Fort Belvoir military base in the George Washington District.
To learn more about stayAPT Suites Alexandria-Fort Belvoir and additional stayAPT Suites locations currently underway visit www.stayAPT.com.
About stayAPT Suites
stayAPT Suites entered the long-term lodging market with an announcement of its new hotel concept in January 2020. The new hotel brand offers guests an experience not yet seen in its category. The room layout for each 500+ square-foot suite was intentionally designed to feel residential, with a dedicated living room, a full kitchen, and a separate bedroom. The brand launched with plans for more than 40 newly-constructed hotels opening through 2021. With a strong corporate financial backing and an experienced executive team in place, the Matthews, North Carolina-based chain is committed to building a portfolio of 100 corporate-owned hotels, in addition to franchising. Learn more at www.stayAPT.com.