The Residence Inn by Marriott Fair Lakes Fairfax recently completed a multi-million dollar renovation that now features a gorgeous new space for weddings, events, and meetings. Read on to learn more about this beautiful secret garden-like venue.
---
Nestled in a quiet, residential area between I66 and US50, The Residence Inn by Marriott Fair Lakes, Fairfax comes as a delightful surprise to all who stumble upon it. If you live or travel in Northern Virginia, it is possible you have driven by this hotel countless times and did not even know it was there! This all-suite property, built in 1997 has been a favorite for travelers for many years and after recently undergoing a multi-million dollar renovation, has a new secret to share!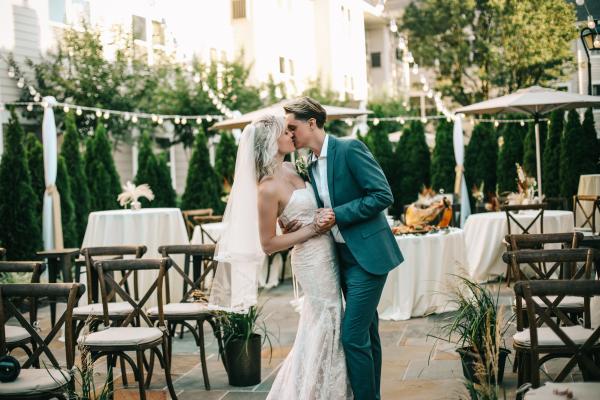 Two years ago, the hotel Owners and Management Company approached General Manager Hannah Adlam seeking new ideas for the pool that was a focal point at the center of the property. With her British heritage and fondness for the traditional English gardens, combined with her past wedding industry experience here in Northern VA, Caribbean Resorts, and Full Service hotels in Europe, Hannah had only one vision: to create a beautiful intimate garden specifically designed for weddings and events, with cost-effective packages that would take the stress and guesswork out of couples' wedding day planning.

Simple, beautiful, and cost-effective.

That vision became a reality in 2019 and construction began in November. Now the re-imagination is complete! A beautiful private outdoor event space, enlarged indoor event space, beautifully updated guest suites, expanded gym & lobby, and an elevated outdoor patio complete with a fire pit, BBQ grill, patio heaters, and lighting. The Residence Inn by Marriott Fair Lakes, Fairfax has something to offer everyone.

Despite our ever-changing worlds, one thing is certain - love will always endure and couples will always get married! Trends are moving towards smaller celebrations that are more intimate and the Residence Inn by Marriott Fair Lakes is the perfect location. Ideally suited for events of between 50-80 guests, this new venue has come into the market just in time for many couples looking for convenience and an effortless and cost-effective place for themselves and out of town guests to celebrate a special occasion. Whether a wedding, family reunion, or birthday party, the hotel has collaborated with many award-winning wedding professionals in Northern Virginia to provide everything you need and more. One of the few hotel venues that give couples the flexibility of choosing outside full-service caterers for their event, this property can offer the basics of space only rental to a full package including photography, design consultation and more.
 
For package details or to schedule an in-person or virtual site visit, please email the property at hannah.adlam@marriott.com. Visit the hotel website at: www.marriott.com/iadfl. 
Photography by Butterfly Photography, Sanaz Fahimi. 
Event Design and Planning: Exceptional Events by Elisa – Elisa Yu Shan
Florals: I Do Weddings with Love – Annette Lindsey
Officiant: Jamie Dee Schiffer
Equipment Rentals: Sammy's Rentals