Visit Fairfax President & CEO Barry Biggar recently visited with the Tysons Hotels General Managers' Council to speak about the state of the industry. The council brings together the nine full-service Tysons hoteliers who work to advance and strengthen the area's hospitality business.

The Tysons Hotel General Managers' Council includes: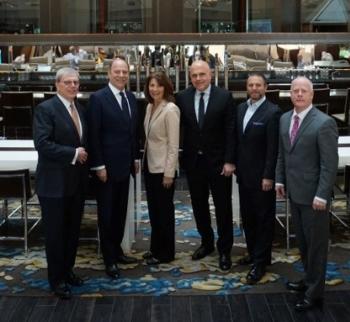 Trish Drews, DoubleTree by Hilton McLean Tysons
Heather Hull, Courtyard by Marriott Tysons Corner
Brian Kelleher, Hilton McLean Tysons Corner
Tod Morrow, The Ritz-Carlton, Tysons Corner
Jon Davenhall, Hyatt Regency Tysons Corner Center
Dan McKeon, Tysons Corner Marriott
Gary Burke, Sheraton Tysons Hotel
Michael Larson, The Westin Tysons Corner
Chris Klocke, Embassy Suites by Hilton Tysons Corner

Pictured, left to right: Brian Kelleher, Barry Biggar, Trish Drews, Tod Morrow, Jon Davenhall, and Dan McKeon.