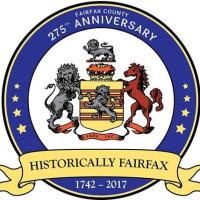 Fairfax County, VA – During the 2017 calendar year, Fairfax County will mark its 275th Anniversary with events celebrating its history. The Signature Celebration of the anniversary will take the form of a historic festival celebration, on Saturday, June 17, 2017 from 10am-4pm in the area surrounding the Historic Fairfax Courthouse and the Fairfax County Judicial Center Grounds located in central Fairfax. For this special day, Lord and Lady Fairfax will attend the celebration as the County's honored guests direct from England.
This free and family-focused event will feature informational booths and entertainment from more than 80 county historical sites and organizations, living history reenactments and musical performances; plus guest speakers and presentations throughout the day in the Historic Courthouse.
Other highlights include:
Opening remarks and lectures by Nicholas Fairfax (14th Lord Fairfax of Cameron) - descendant of Thomas Fairfax, 6th Lord Fairfax of Cameron from whom Fairfax County was named
Official festival kickoff by the County Board of Supervisors and other local elected officials
Historically-themed children's activity area with different craft and project opportunities
A visit from Virginia's traveling exhibit, the WWI/WWII Profiles of Honor Mobile
Interactive living history encampment area surrounding the Historic Courthouse
Presentation of the Annual Lord and Lady Fairfax Awards
Antique service vehicles on display from county first responder agencies
Historical plaque dedication honoring Revolutionary War soldiers from Fairfax County
Fairfax County Sheriff's Department 275th Anniversary tours and activities
Fairfax County Health Department 100th Anniversary celebration
The day's entertainment, lectures, and other events are sponsored by the 275th Anniversary Committee established by the Fairfax County Board of Supervisors. The committee is led by the county's History Commission, and it brings together representatives from organizations including history related nonprofits, county agencies, Sheriff's Department, and Visit Fairfax.
For more information, including festival maps and participants, please visit www.fairfax275.com.
Join the conversation on social media at Facebook (www.facebook.com/Fairfax275) and YouTube (Fairfax County's 275th Anniversary). Hashtag: #fairfax275
# # #   
MEDIA CONTACT: Gretchen Bulova – (m) 703-220-4347 (e) fairfax275@gmail.com