For the past twenty-two years, Glory Days Grill has recognized excellence in business partnerships by selecting 'Vendors of the Year' every Spring. Partners are selected based on service excellence and support in the previous year. In the past two years, these awards took on far more meaning due to the challenges presented during the COVID-19 global pandemic. The stress on communities, operations and employees was unprecedented, and so many of the company's vendors stepped up to face those challenges.

Glory Days Grill selected six vendors for exceeding expectations for outstanding support and commitment to quality, including three first-time winners. The winning Vendors of the Year for 2021 are as follows: Digitec Solutions, Inc.; Game Plan Media; Imperial Dade; Nards Entertainment; US Foods; and Visit Fairfax. Recipients were honored at a private dinner on Monday, May 2, 2022.
Digitec Solutions, Inc. (Fairfax Station, VA): A twenty-two time winner of this distinction, Digitec Solutions, Inc. is an extremely innovative company that has been an outside partner with Glory Days Grill since its inception in 1996.  Digitec Solutions, along with the other members of the Support Functions Group, provide Glory Days Grill with a variety of products and services. They serve as Glory Days Grill's IT Company, providing computer hardware, software, hosting, and a variety of other innovative technology solutions.  Their ToPromote division supplies uniforms, custom promotional goods and toys for kid's drinks among many other operational and marketing products and services. Their website addresses include:  DigitecSolutions.com, SupportFunctions.com, and ToPromote.com.

Game Plan Media/Anne Sweeney (Baltimore, MD): A first-time winner, Anne Sweeney was born and raised in Towson, MD and graduated from the University of Maryland in 1981 (Journalism/Advertising). Her experience includes 25 years in sports marketing, 20 years with major broadcasting companies, and 20 years as a broadcast media partner for a variety of companies and organizations up and down the east coast. A sports fan herself, Anne cheers on the Terrapins, Ravens and Orioles, and somehow manages to survive football season being married to a New York Giants fan for the past 29 years. Game Plan Media offers personalized media consultative services to a variety of customers across a breadth of industries. Her favorite Glory Days Grill menu item is the Cheeseburger Trifecta with warm cornbread on the side. For more on Game Plan Media services: http://gameplanmedia.com.

Imperial Dade (Jessup, MD): A first-time winner, Imperial Dade is a leading independently owned and operated distributor of foodservice packaging, facilities maintenance supplies, floor equipment, and industrial packaging in the United States. A provider of customized supply chain solutions, Imperial Dade serves customers in many business-to-business market segments. Our growing network of strategically located distribution centers serves over 80,000 customers nationwide. At Imperial Dade, their customers' success has always been at the core of their strategies, decisions, and investments. Their mission is to bring quantifiable value to each customer's operations, providing the best possible solutions through products and services. For more information: https://imperialdade.com 
Nard's Entertainment (McLean, VA): A five-time winner, Nard's Entertainment, Inc. was formed by Michael Nardella in 1972 after graduating from Georgetown University.  Nards was a DJ company providing services to local bars and restaurants as well as private parties and weddings.  As technology changed, they added videotaping services for weddings.  The company began servicing sound systems in bars and restaurants and with the advent of the "Sports Bar", they added video (TV) installation and RF distribution.  Nard's became a DirecTV dealer in the mid 1990's and has concentrated on the commercial market. Today, they have over 1,000 DirecTV accounts, from small offices with 1 receiver to hotels with 600+ rooms.  Along with the bar and restaurant market, Nards services property management companies, fitness centers, senior living centers as well as government facilities for local, state and Federal Agencies and the Armed Services. In January 2020, Michael Nardella officially stepped down from day-to-day operations and made John Carroll and David Stoskus partners in the business. John and David are keeping the high standards that Michael always set as an example and expanding to include Networking. Nard's can design and integrate audio/visual (AV), WIFI distribution and video conferencing solutions for conference room, whole office or an entire building. They treat each customer with the respect and professionalism they deserve no matter the size of the project. More at https://www.nardsentertainment.com,

US Foods (Manassas, VA): A six-time winner of this award, US Foods® is one of America's great food companies and a leading foodservice distributor, partnering with approximately 300,000 restaurants and foodservice operators to help their businesses succeed. With nearly 28,000 employees and more than 70 locations, they provide customers with a broad and innovative food offering and a comprehensive suite of e-commerce, technology and business solutions. They bring together great food solutions, simple business tools, and a team of experts to help customers thrive. Learn more at www.usfoods.com.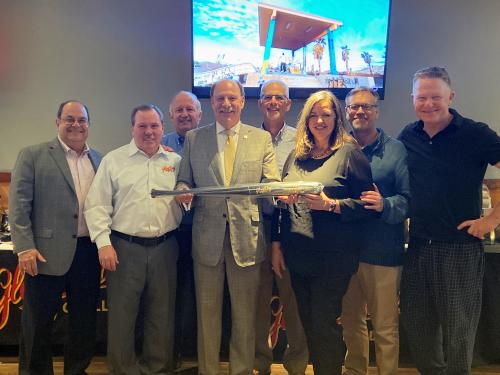 Visit Fairfax (Fairfax County, VA): A first time winner, Visit Fairfax's mission is to enhance economic and social growth in Fairfax County and Northern Virginia by marketing, promoting, developing and coordinating tourism, conventions, sports and hospitality opportunities in the area. Visit Fairfax touches the lives of virtually every resident in our area, in one way or another. They bring visitors to Northern Virginia - visitors bring money to the businesses in Fairfax County. Home to historical landmarks like George Washington's Mount Vernon and expansive museums like Smithsonian's National Air and Space Museum Udvar-Hazy Center, as well as a vibrant arts and cultural scene and hundreds of stunning parks, gardens and trails, Fairfax County offers an unexpected blend of natural surroundings mixed with sophisticated urban amenities. For more on Visit Fairfax's mission and the wonderful things to do in Fairfax County, visit their website: https://www.fxva.com.
More About Glory Days Grill:
Founded in 1996 by Richard Danker, Bob Garner and Jeff Newman, Glory Days Grill is a full-service, sports-themed family restaurant featuring a wide selection of food items served at very affordable prices with outstanding service and real-time entertainment.  Every restaurant brings together award-winning menus accompanied by numerous large screen televisions tuned to a variety of sports, cartoons, news and entertainment offerings. Tables and booths have individual volume-controlled speaker stations adding to the guests' enjoyment.  Many locations have private banquet facilities, and all restaurants feature catering services. Glory Days Grill has been named Best Casual Theme Restaurant, Best American Restaurant, Best Sports Bar, and has also received accolades for Best Ribs, Best Wings, Best Chili, Best Burger and Best Bartender to name a few. For more information, visit www.glorydaysgrill.com and www.ownaglorydaysfranchise.com.
For information on Glory Days Grill: 
Charissa Costa Bauhaus
Director of Marketing
330-338-3040
ccosta@glorydaysgrill.com