Fairfax County, VA – April 26, 2018 –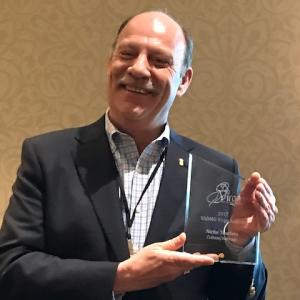 The Virginia Association of Destination Marketing Organizations (), an association supporting destination marketing organizations and the development of tourism and travel professionals in Virginia, announced the winners of the 2017 VIRGO Awards at their 2018 Tourism Symposium held at the Omni Charlottesville Hotel in Charlottesville, Virginia on April 22-24.   
Visit Fairfax was announced as a winner this year for their entry in the Niche Tourism - Eco/Adventure category for the "Travel for the Birds!" campaign.
The campaign was designed to introduce Fairfax County as a prime destination and pitstop along the "Atlantic Flyway" for a somewhat unique and lesser-known audience of bird enthusiasts and to motivate this niche travel audience to pursue their passion by traveling to this Northern Virginia destination.  The campaign logged over 670,000 consumer impressions; over 210,000 online users watched the video creative; and the digital creative logged over 86,000 engaged users.
The VIRGO Awards, now in their ninth year, celebrate the success of destination marketing organizations along with their respective staff members and volunteers.  Theresa Earles, Tourism Development Manager with Suffolk Tourism, presented the VIRGO Awards on behalf of VADMO, and said "Each year, VADMO honors the best and brightest in Virginia's tourism industry.  Whether it is an innovative marketing campaign, a wildly successful destination event, or a top-notch tourism professional; the VIRGO Awards showcase the immense talent and dedication of VADMO's members.  It's a friendly competition that provides an excellent opportunity for statewide recognition, as well as peer assessment for our destination marketing organizations."  
Judges for the awards were industry peers from Pennsylvania and North Carolina.  Submissions were evaluated on the quality of the submission, economic efficiency, and the economic or community impact.  The awards were for projects, campaigns, and efforts completed between August 2016 and December 2017. 
Other category winners of the VADMO VIRGO are posted on the VADMO website, www.vadmo.org.
 
# # #
Visit Fairfax (www.fxva.com) is the official tourism organization for Fairfax County, Virginia. Charged with destination marketing and tourism promotion, it is directed by many of the County's top tourism and hospitality leaders. For more information on deals, events and more, download the free Visit Fairfax app at www.fxva.com/plan-your-trip/mobile-app. Be sure to follow us on Facebook (www.facebook.com/visitfairfaxva), Twitter (@VisitFairfax), and Instagram (@VisitFairfax) for all Fairfax County events and activities this Spring! Hashtag: #FXVA
About VADMO
The Virginia Association of Destination Marketing Organizations is a not-for profit 501(c)(6) membership organization made up of destination marketing organizations, visitor bureaus, and the companies that support them.  Since it started in 1978, the organization has been promoting professionalism within the Virginia tourism industry and has worked on behalf of its members to make sure that tourism and travel continue to be strong economic drivers in the Commonwealth's economy.  For more information about VADMO please visit http://www.vadmo.org or contact the organization at +540 904-4710.
MEDIA CONTACT:
Ali Morris
Visit Fairfax
Ph: 703.752.9505