The Visit Fairfax team has been hard at work selling and promoting Fairfax County to potential clients, groups, and media.  The team is always happy to share updates from tradeshows, appointments, and events.  Read on for an updated list of recent activities and what will be happening over the next few months. You may find that this information can benefit your business. 
 
Associations & Reunions:
In December, Visit Fairfax attended the Connect DC trade show event at the Walter E. Washington Convention Center in downtown Washington, where we met one-on-one with 18 association meeting planners about bringing their programs to Fairfax County.
Also in December, we traveled to Richmond, VA, for the Virginia Society of Association Executives holiday luncheon. (see photo) 
In January, we entertained some locally-based association meeting planners at dinner, followed by a concert at The Barns of Wolf Trap.
In February, we will host a special workshop for our Fairfax County hotels and special event venues on attracting and booking more LGBTQ wedding business. We'll be hosting the workshop in conjunction with Q Magazine, Virginia's leading statewide publication edited for a gay and lesbian audience.
Visit Fairfax will host our annual Family Reunion Workshop for the 11th consecutive year on Saturday, February 16, 2019, at the Fairfax Marriott at Fair Oaks. Twenty of our great Fairfax County hotels, attractions, and service providers will be joining us as we provide our anticipated audience of 100+ family reunion planners with tips and helpful information they can use in planning and executing their gatherings.  Edith Wagner of Reunions Magazine will once again be our keynote speaker. (see photo) 
Also in February, we'll travel to Myrtle Beach, SC, to meet one-on-one with 20 military reunion planners at the YMRC (Your Military Reunion Connection) trade show event.  We'll be accompanied by a representative from the Sheraton Reston as we chat with the planners about the new National Museum of the United States Army, opening here in Fairfax County in 2020.
And we'll wrap up February with a trip to Itasca, IL, where we'll meet with 18 association meeting planners based in the Chicago area at the Connect Chicago trade show.
March will see us head to Houston, TX along with our counterparts from the Richmond and Stafford, VA DMOs, to attend the Rendezvous South trade show event for the fifth consecutive year, where we'll meet one-on-one with 25 corporate and association meeting planners.
Sports:
The new 450,000-square-foot mega sportsplex in Springfield, The St. James, has recently opened two attractions which are certain to thrill locals and tourists alike. Vim & Victor, the brainchild of celebrity Chef Spike Mendelsohn, is a full-service restaurant and grab-and-go counter offering a menu of healthier twists on familiar favorites sure to appeal to every appetite.  Super, Awesome & Amazing is a 30,000-square-foot active entertainment center featuring obstacle courses, zip lines, climbing walls, trampoline zones, a virtual reality and e-sports center, and space for parties and events.  Other highlights at The St. James: a FIFA-regulation turf field with 65-foot height clearance; two NHL-regulation sheets of ice; four basketball/nine volleyball courts; a 50-meter, 10-lane Olympic pool; and eight international-regulation squash courts. 
Visit Fairfax will attend the following conferences and meetings:

February 5-6, 2019: Virginia Sports Summit (Norfolk, VA) - Fairfax County stakeholders are invited to attend this summit which will connect sports organizations, Parks and Recreation, Convention and Visitors Bureaus, and businesses throughout the Commonwealth in an effort to enhance the sports tourism industry in Virginia.  Visit http://vasportssummit.com for more information and to register.
February 20, 2019: Fairfax County Athletic Council Meeting (Fairfax, VA) - The FCAC serves in an advisory capacity to the Fairfax County Board of Supervisors, School Board, and county agencies on matters relating to the use of public sports facilities and the programming of youth/adult sports programs in the county.  Meetings take place monthly from 7:30-9 p.m. at the Pennino Building across from the Fairfax County Government Center.
May 6-9, 2019: National Association of Sports Commissions (NASC) Sports Symposium in Knoxville, TN -  One of the sports travel industry's largest tradeshows, the NASC Sports Symposium generates lead opportunities through appointments with sports event planners and decision-makers responsible for selecting destinations for state, regional, national, and international events.
Government:
Visit Fairfax will attend the following conferences and meetings:

June 25-27, 2019: Society of Government Meeting Professionals (SGMP) National Education Conference & Expo (NEC) in Detroit, MI - The SGMP NEC is the largest annual event in the government meetings industry.  Visit sgmp.org/conference for more information.
Tour & Travel:
Visit Fairfax kicked off the new year by hosting a Familiarization Tour on January 7, 2019. With 20 attendees from various leading tour and receptive operator companies, the FAM participants included top student and adult group tour operators as well as inbound Chinese and Korean receptive operators. The FAM highlighted attractions in Southern Fairfax County including Mount Vernon, The Workhouse Arts Center and the National Museum of the United States Army. At Mount Vernon, participants were treated to an immersive "Be Washington" experience, watched the newly updated 4D feature film and opted for a tour of the "Lives Bound Together" exhibit or a very customized tour of the mansion. The Workhouse hosted a "murder mystery lunch" for the group with lunch catered by the National Museum of the United States Army and its caterer, Flik. At the Museum of the Army, attendees enjoyed a sneak peek hard hat tour of the premises. (see photos)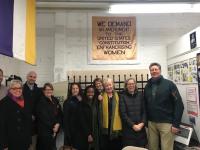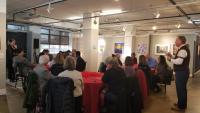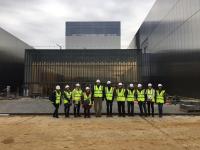 Visit Fairfax attended American Bus Association's (ABA) Annual Marketplace from January 26-29, 2019 in Louisville, Kentucky. The marketplace is the premier conference for motorcoach group travel and tourism in the US and Canada. In addition to pre-scheduled appointments with new companies as well as current clients, the show also offers professional development education over three days.
In early February, Visit Fairfax attended the International Inbound Travel Association (IITA) Summit in Savannah, Georgia. The summit provides a one-on-one appointment marketplace for inbound tour operators and US Suppliers to plan travel for international visitors.
In March, Visit Fairfax will attend Active American China from March 26-28, 2019 in Anchorage, Alaska. Unlike other marketplaces, this is the only show in North America that is dedicated to growing inbound Chinese tourism. Attending buyers are from key Chinese tour companies that are collectively responsible for over 40% of all tourism to North America. The show will feature three days of pre-set appointments, education sessions and discussion panels.

Visitor Services:
Generously hosted by the DoubleTree McLean Tysons Hotel on February 7, the Visit Fairfax Ambassador Sales Edition class provided members of the Fairfax hotel community with an overview of tools they can use to attract and service their visitors. As always, the attendees were excited to learn more about what Visit Fairfax offers to keep them competitive in the market.
Don't let the cold weather outside keep you or your guests from planning your visit to the memorable events in Fairfax County during the annual National Cherry Blossom Festival from March 20 – April 13. This year's Festival will showcase several of the County's premier attractions. For example, the Fairfax Visitor Center in Tysons Corner Center will host a culture fair with craft demonstrations, free gifts, and souvenirs. Green Spring Gardens will offer workshops in Ikebana flower arranging for both adults and kids. The Mosaic District will be alive with banners, blossoms, and activities, while Frying Pan Farm Park is planning trail walks, tea and much more for participants. Special Japanese-themed activities are also planned for the Workhouse Arts Center and Meadowlark Gardens, venues which have attracted hundreds of visitors for their Festival offerings in the past. For a full schedule of National Cherry Blossom activities, both in Fairfax and downtown, check out the Visit Fairfax website at www.fxva.com/events/cherry-blossom. 

Media & Communications:
Visit Fairfax, along with members of the Northern Virginia Tourism Partnership (NVTP) hosted travel writer Janice Tober in mid-December for a culinary and hotel-focused tour of the region. Thanks to all partners involved in this familiarization tour.
Visit Fairfax attended the quarterly meeting for Mid-Atlantic Tourism Public Relations Alliance (MATPRA) in Reading, Pennsylvania in mid-January.
Visit Fairfax is pleased to share some new clips that have recently been published as a result of previous familiarization tours of the county or direct efforts of our team. Please contact Ali Morris for more details at amorris@fxva.com.
Visit Fairfax continues to see incredible growth on our social media accounts. Please help us continue to grow by tagging us (@VisitFairfax) on your own accounts and by using our hashtag, #FXVA.
Looking for ways to broaden your reach in the media?  You can still sign-up for the Visit Fairfax corporate social responsibility marketing campaign, LoveShare. All we need from you is a special offer geared towards locals. That's it! Read more and submit your offer here.
Miscellaneous:
Former City of Fairfax Mayor John Mason, who headed up last September's Lord Fairfax Charity Ride, stopped by the Visit Fairfax Board of Directors meeting in mid-December to present the organization with a certificate of recognition for its participation and efforts to support the Ride. (see photo)