The Visit Fairfax team has been hard at work selling and promoting Fairfax County to potential clients, groups, and media.  The team is always happy to share updates from tradeshows, appointments, and events.  Read on for an updated list of recent activities and what will be happening over the next few months. You may find that this information can benefit your business. 
Associations & Reunions:
In August, Visit Fairfax traveled to New Orleans, LA to attend the annual gathering of The Overseas Brats.  The leadership of the group confirmed to us that they will be holding their 2021 gathering here in Fairfax County.
Also in August, Visit Fairfax's Dean Miller and Eric Kulczycky journeyed to Louisville, KY for the Connect Marketplace tradeshow.  Dean met one-on-one with more than 40 association planners over the course of two full days of appointments, while Eric was busy meeting with 38 sports tournament organizers.
Dean and Eric closed out August by taking planners from AARP and the Virginia Association for Teachers of Family and Consumer Sciences (VATFACS) on an evening outing to Wolf Trap to see the comedy show "Wait Wait … Don't Tell Me!" VATFACS will be holding their annual conference here in Fairfax County in both 2020 and 2021. (see photo)
Visit Fairfax began September by hosting a special weekend familiarization trip exclusively for Army reunion group planners.  Sixteen planners and their guests, representing 14 different reunion groups, joined us for three days of sightseeing, including a "hard hat" tour of the new National Museum of the United States Army, which will open here in Fairfax County in June of 2020. (see photo) ​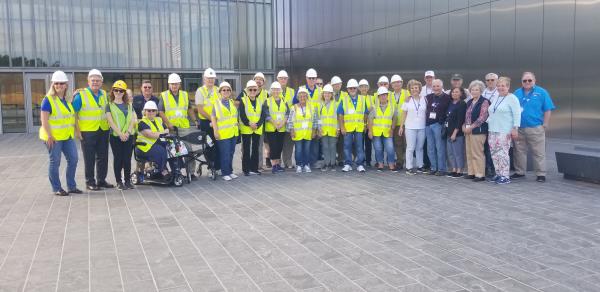 October will see Visit Fairfax exhibit at the VSAE Fall Conference trade show in Richmond, VA for the 14th consecutive year.  Eleven of our great Fairfax County meeting hotels will join us for what is always a wonderful opportunity to meet face-to-face with dozens of Virginia state association planners.
Also in October, Visit Fairfax will travel to Richmond with representatives from the Turning Point Suffragist Memorial, which will be dedicated here in Fairfax County in August of 2020.  We'll meet with the marketing staff at Virginia Tourism Corporation to strategize about how best to promote this newest addition to our roster of world-class attractions to a national – and international -- audience.
And in December, we'll attend the Connect DC tradeshow in downtown Washington, DC, where we'll meet one-on-one with 15 association and corporate meeting planners.

Sports:
Eric Kulczycky and the rest of the Sports Virginia team held appointments and hosted clients at the 2019 CONNECT Sports conference in Louisville, KY in August. CONNECT Sports is an annual education conference and appointment-only trade show bringing together active planners and rights holders, suppliers, and experts in sports events for three days of general sessions, workshops, and pre-set appointments.  Visit Fairfax met with 38 tournament planners and participated in a client event with Sports Virginia, the state coalition of CVBs pursuing the sports market. (see photo) 
Visit Fairfax conducted site inspections of athletic facilities with staff of Conventions, Sports, and Leisure (CSL), the company hired to evaluate the county's sports tourism infrastructure and assess the feasibility of a sportsplex.  Visit Fairfax also participated in CSL focus groups held with a variety of sports stakeholders throughout the county. 
Visit Fairfax has the following upcoming conferences and meetings:

October 8-10, 2019: Sports Events & Tourism Association's 4S Summit (Providence, RI).  The NASC 4S Summit will feature educational presentations by sports travel industry experts as well as provide networking opportunities with tournament planners.
October 16, 2019: Fairfax County Athletic Council Meeting (Fairfax, VA). The FCAC serves in an advisory capacity to the Fairfax County Board of Supervisors, School Board, and county agencies on matters relating to the use of public sports facilities and the programming of youth/adult sports programs in the county.  Meetings take place monthly from 7:30-9 p.m. at the Pennino Building across from the Fairfax County Government Center.
November 11-15, 2019: TEAMS Conference & Expo (Anaheim, CA).  Visit Fairfax will have the opportunity to network with prospective and current clients and have access to lead information generated through 70+ appointments at one of the sports travel industry's largest tradeshows.

Tour & Travel:
In mid-August, Visit Fairfax attended the Student Youth Travel Association (SYTA) Annual Conference in Birmingham, Alabama. This premier event is the only conference and showcase dedicated to the student and youth market in North America. We had 30 pre-scheduled appointments with vetted tour operators to highlight tour product and provide updates on new developments in the county.
Visit Fairfax, in conjunction with CRUSA and United Airlines, hosted a familiarization tour from Israel in September. The purpose of the FAM was to promote the Washington DC metro area as well as United's Tel Aviv-Washington non-stop flight that was launched in May 2019. The 16 participants were from leading Travel Management Companies in Israel. Participants enjoyed a tour and lunch at Mount Vernon, shopped at Tysons Corner Center and had dinner at Earls Kitchen + Bar before spending the night at Hyatt Regency Tysons Corner. The Hilton McLean hosted them for breakfast the next morning before the group left Fairfax County. (see photo) 
Visit Fairfax attended Active America China Receptive Edition from September 16-18, 2019 in San Gabriel, California. This annual product development show brings together Chinese Receptive Tour Operators with suppliers and destinations to develop new tour opportunities.  Visit Fairfax had appointments with 30 receptive operators and participated in a field trip to Chinese tour operator offices in time for inclusion in 2020 tour operator programs. Despite ongoing Sino-US trade tensions, China continues to be the top international inbound market with 365,000 arrivals in 2017.
In late September, Visit Fairfax joined Brand USA for their eighth annual India Sales Mission. This year's mission visited Chennai, Mumbai and New Delhi, where we had the opportunity to meet with qualified tour operators, travel agents, and local journalists through one-on-one appointments and networking events. India is the third largest international inbound market to the Capital Region with 173,000 arrivals in 2017.
In early October, Visit Fairfax attended the World Youth and Student Travel Conference (WYSTC) in Lisbon, Portugal for the first time. WYSTC is the leading international trade event for the global youth, student and educational travel industry. Attending this event will enable Visit Fairfax to further expand promotional and sales efforts in the lucrative international student and youth travel segment through trade and network opportunities with these travel professionals. 
In late October/early November, Visit Fairfax will participate in the third annual Spotlight on the Mid-Atlantic in Rockville, Maryland. Hosted by Mid-Atlantic Receptive Services, this conference combines educational seminars, networking functions and a trade show over three days of interaction. Visit Fairfax will meet with various domestic tour operators ranging from small operators to large receptive companies who are developing product for the Mid-Atlantic region.
Visit Fairfax will participate in the National Tour Association (NTA) Travel Exchange in Fort Worth, Texas on December 8-12, 2019. This annual trade show is hosted by the NTA, North America's leading business association for the travel industry. Over four days, Visit Fairfax will have pre-set appointments with quality tour operators from the USA and Canada, as well as attend cutting-edge professional development seminars and networking events.

Visitor Services:
Sign up now for the next FREE Ambassador tour on November 15 from 9:30am – 3pm, designed to help you sell the destination of Fairfax County to your clients and guests. You'll experience both fun and interesting venues, including Room Escape Fairfax, Jammin' Java and historic Civil War sites, while "escaping" your office for a few hours and learning more about the county. If you know it, you can sell it!  To reserve your space, contact Sue Porter at sporter@fxva.com.
 
Marketing, Media & Communications:
Visit Fairfax will be launching a new campaign this year celebrating women's history, surrounding the 100th anniversary of the 19th Amendment ratification. We want to feature the strong women associated with YOUR venue. Here's how to join us: Please take a moment to answer these 5 short questions.
Delegate Karrie Delaney of District 67 attended Visit Fairfax's June Board of Directors meeting at The St. James to present the team with a Joint Resolution from the Virginia General Assembly commending the Locally Poured Brewery campaign. (see photo)
In August, Visit Fairfax assisted Fox 5 WTTG with planning and executing the Zip Trip Merrifield live show at Mosaic District. Watch clips from the episode, which featured an interview with Visit Fairfax CEO Barry Biggar, here.
Visit Fairfax attended the Mid-Atlantic Tourism Public Relations Alliance (MATPRA) annual Marketplace in the greater Richmond, Virginia area in September, where we were able to meet with nearly 60 journalists and writers from the Mid-Atlantic. Several of these writers are looking at future trips/tours to Fairfax County.
Don't forget to upload your photos to Visit Fairfax's new image portal so that we can use them to help promote your venue. Add photo or video assets throughout the year at this link: https://upload.crowdriff.com/visit-fairfax-0047170f.
Visit Fairfax has a brand new blog! If you are interested in writing guest blog content or using some of this content on your own website, please contact Ali Morris (amorris@fxva.com). 
Visit Fairfax is pleased to share some new clips that have recently been published as a result of previous familiarization tours of the county or direct efforts of our team. Please contact Ali Morris for more details at amorris@fxva.com.
Visit Fairfax continues to see incredible growth on our social media accounts. Please help us continue to grow by tagging us (@VisitFairfax) on your own accounts and by using our hashtag, #FXVA.