The Visit Fairfax team has been hard at work selling and promoting Fairfax County to potential clients, groups, and media.  The team is always happy to share updates from tradeshows, appointments, and events.  Read on for an updated list of recent activities and what will be happening over the next few months. You may find that this information can benefit your business. 

Association & Reunions:
Visit Fairfax attended the Smart Meetings event in National Harbor, MD in June, meeting one-on-one with 15 corporate and association planners. (see photo) 
Visit Fairfax hosted a hugely successful event with The Military Reunion Network (TMRN) in June, playing host to the group's annual Educational Summit. More than 35 military reunion planners attended for three-and-a-half days of education, networking and meeting planning tips. The Sheraton Reston was our host hotel and received nothing but kudos from everyone attending. On Sunday, June 24th, all of the planners enjoyed a full day of sightseeing, sponsored by Visit Fairfax, visiting George Washington's Mount Vernon, the Smithsonian's National Air and Space Museum Steven F. Udvar-Hazy Center, and The Winery at Bull Run, where everyone relaxed at a wine tasting and reception, hosted by the Virginia Tourism Corporation. At Monday evening's dinner, Gen. Creighton Abrams with the Army Historical Foundation gave the group a detailed briefing on the new National Museum of the United States Army, which will open here in Fairfax County (at Fort Belvoir) in early 2020. (see photo) 
In July, Visit Fairfax traveled to New York City for another Smart Meetings event, meeting once again with corporate and association planners based in the New York area.
This month, Visit Fairfax will attend the Connect Marketplace trade show in Salt Lake City, UT. Dean Miller will be meeting with association planners, while Eric Kulczycky will meet with sports tournament organizers. This will be the 10th consecutive year that Visit Fairfax will be represented at this event.
Also in August, we'll be in Richmond, VA, for the monthly meeting of the Virginia Society of the Association Executives (VSAE).
In September, Visit Fairfax adds a new trade show to the schedule - Destination Southeast, held in Palm Beach Gardens, FL. We'll be meeting one-on-one with planners looking to place meetings in the southeast quadrant of the country.
In October, Visit Fairfax will travel back to Richmond, VA, where we'll exhibit (for the 13th consecutive year) at the VSAE Fall Conference. Eleven of our great Fairfax County meeting hotels will join us in our booth (one of the largest on the trade show floor) for another great day of meetings with planners from dozens of Virginia statewide associations.
Visit Fairfax will round out October with a trip to Virginia Beach, VA, to meet with 20 military reunion planners at a YMRC (Your Military Reunion Connection) event.
Government:
In June 2018 in Norfolk, VA, Visit Fairfax attended the Society of Government Meeting Professionals (SGMP) National Education Conference & Expo (NEC), the largest annual event in the government meetings industry. In addition to networking with clients, Visit Fairfax co-sponsored a reception (with Virginia Tourism Corporation and other CVBs in the state) for members of SGMP's National Capital chapter.
Sports:
This month, Visit Fairfax will attend the CONNECT Sports Marketplace in Salt Lake City, UT.  CONNECT Sports is an annual education conference and appointment-only trade show bringing together active planners and rights holders, suppliers, and experts in sports events for three days of general sessions, workshops, and pre-set appointments.
In September, Visit Fairfax will attend the S.P.O.R.T.S. Relationship Conference in Winston-Salem, NC. S.P.O.R.T.S. is an exclusive, space-limited show offering pre-qualified, one-on-one appointments that are twice as long as those at similar industry events. Approximately 75 event planners will be on site for eight hours of appointment sessions over the course of the show. 
Also in September, Visit Fairfax will be present for the next Fairfax County Athletic Council Meeting. The FCAC serves in an advisory capacity to the Fairfax County Board of Supervisors, School Board, and county agencies on matters relating to the use of public sports facilities and the programming of youth/adult sports programs in the county. Meetings take place from 7:30-9 p.m. at the Pennino Building across from the Fairfax County Government Center.
Finally, in early October, Visit Fairfax will attend the TEAMS Conference & Expo in Louisville, KY. Visit Fairfax will have the opportunity to network with prospective and current clients and have access to lead information generated through 70+ appointments at one of the sports travel industry's largest tradeshows.
Visit Fairfax was on hand with the Fairfax County Park Authority when Washington Nationals outfielder and Home Run Derby winner Bryce Harper stopped by Herndon's Fred Crabtree Park during last month's All-Star Week. The newly-dedicated Bryce Harper All-Star Complex will serve as a beacon for youth baseball players in Northern Virginia. Read more about the event here. (see photo)
In exciting facility development news, The Fieldhouse (formerly known as the NOVA Fieldhouse) has been purchased by the Chantilly Youth Association. CYA, which will also manage the facility, plans to remove the artificial turf currently covering three basketball courts. This will bring the court total up to four and enhance Fairfax County's opportunities to host basketball and volleyball competitions.
Nearing completion: The St. James, a privately funded, 450,000-square-foot mega sportsplex, is expected to open in September 2018. Located in Springfield near the intersection of I-95, I-495, and I-395, The St. James will feature a FIFA-regulation turf field with 65-foot height clearance (and special modular flooring to accommodate multiple sports); two NHL-regulation sheets of ice; four basketball/nine volleyball courts; a 50-meter, 10-lane Olympic pool; and eight international-regulation squash courts. Athletes and spectators will also enjoy a full-service restaurant, batting cages, golf simulators, an indoor water park, and an active entertainment center with obstacle courses, zip lines, climbing walls, trampoline zones, and an e-sports theatre. (see photo)
​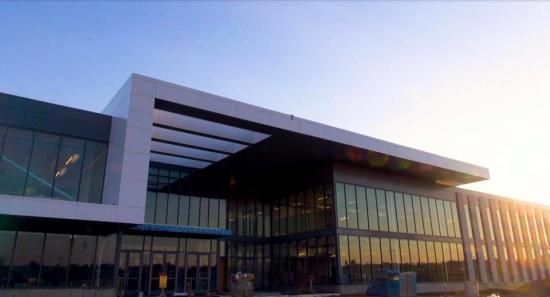 Tour & Travel:
Visit Fairfax, in conjunction with Virginia Tourism Corporation and United Airlines supported a familiarization tour (FAM) in early July for eight senior Irish travel trade representatives. The FAM was planned to coincide with the Washington DC's Quicken Loans National professional golf tournament on the PGA Tour. In addition to attending the tournament, FAM participants were able to visit select attractions in the capital region including Fairfax County's own George Washington's Mount Vernon. Participants, drawn from some of the leading Irish tour companies specializing in North America destinations, included World Travel Centre, Tour America, American Holidays, Atlas Amex / Gohop Ireland, Trailfinders Ireland and Sunway Travel. (see photo)
Visit Fairfax's Linda Horowitz attended Mid-Atlantic Receptive Services' (MARS) VIP Trade Show at the Gaylord National Resort in late July. MARS is a leading receptive operator in the capital region and a key Visit Fairfax partner. This exclusive tradeshow enabled us to meet with 30 high quality, pre-selected tour operators and highlight tour product in Fairfax County. (see photo)
Visit Fairfax will attend the inaugural Active America China: Receptive Edition in San Gabriel, CA from September 18-19, 2018. This invitation-only tradeshow allows us to promote Fairfax County to some of the top qualified Chinese tour operators and receptive operators via one-on-one appointments and office visits. The Chinese market continued its reign as the capital region's number one international inbound market with nearly 350,000 visitors in 2016.
Visit Fairfax will join Brand USA on their seventh annual India Sales Mission from September 23-28. This year's mission will go to Bangalore, Mumbai and New Delhi, where we will have the opportunity to interact directly with tour operators, airline representatives, and travel agents through one-on-one appointments and networking events. This travel mission comes on the heels of the U.S. and Indian governments jointly declaring the year 2017 as a "U.S. and India Travel and Tourism Partnership Year" to promote bilateral tourism. India is the fourth largest international inbound market for the capital region with 133,000 visitors in 2016.
The second annual Spotlight on the Mid-Atlantic will be hosted by Mid-Atlantic Receptive Services in Dover, DE this October. This tourism conference combines educational seminars, networking functions and a trade show over three days of interaction. Visit Fairfax will have the opportunity to meet with various domestic tour operators ranging from small operators to large receptive companies who are developing product for the Mid-Atlantic.
Visitor Services:
Don't forget to send your vacationers to the Official Fairfax County Visitor Center in Tysons Corner Center this summer. Our counselors are so helpful, providing itineraries, "insider tips," maps and much more to ensure that your clients have a memorable time and plan to return.The Center is located on the second level, a few stores down from Nordstrom, and is open from 10am – 6pm Monday through Saturday and 11am – 6pm on Sunday. (see photo)
Visit Fairfax is now accepting requests in the new fiscal year from hotel partners to hold an Ambassador Class for their staffs. We have trained over 1,500 Ambassadors, and the knowledge about the county learned in the class is invaluable for selling the destination. A recent "graduate" of the class says it best: "I never knew there were so many tools available to let my guests know about all the great things here in Fairfax County!"
Marketing, Media, & Communications:
Visit Fairfax is proud to announce its new initiative with the Fairfax County Breweries. "Locally Poured" aims to showcase the area's craft beer scene and cross-promote the individual craft breweries with the help of an official Field Guide and integrated marketing campaign. Read the press release here and pick up your field guide at one of our local taprooms. (see photo)
Visit Fairfax is pleased to offer marketing and public relations support to the upcoming Lord Fairfax Charity Ride, which will see Lord Nicholas Fairfax, a descendant of Fairfax County's namesake, lead a charity motorcycle ride around the perimeter of the original Northern Neck Land Grant. Read more about the ride and register to join here. 
Visit Fairfax is pleased to share some new clips that have recently been published as a result of previous familiarization tours of the county or direct efforts of our team. Please contact Ali Morris for more details at amorris@fxva.com.
Visit Fairfax continues to see incredible growth on our social media accounts. Please help us continue to grow by tagging us (@VisitFairfax) on your own accounts and by using our hashtag, #FXVA.
Looking for ways to broaden your reach in the media?  You can still sign-up for the Visit Fairfax corporate social responsibility marketing campaign, LoveShare. All we need from you is a special offer geared towards locals. That's it! Read more and submit your offer here.