This year, Hanukkah begins on December 10th and ends on December 18th. And you'll find plenty of events celebrating the holiday in Fairfax County and throughout the Capital Region. For many English speakers (such as myself), you might find yourself a bit confused over the spelling of this holiday's name. Is it Hanukkah or Chanukah? The answer (thank you Google) is that both are considered correct, though Hanukkah is the most widely used spelling, while Chanukah is more traditional.
To honor this year's celebration, we've put together 8 fun events in honor of the eight Hanukkah menorah candles that symbolize this celebration. So without further ado, check out the events below...after you listen to perhaps the most recognized Hanukkah (Chanukah) song of the last quarter-century.

Light Up the Night! Community Candle Lightings (Virtual)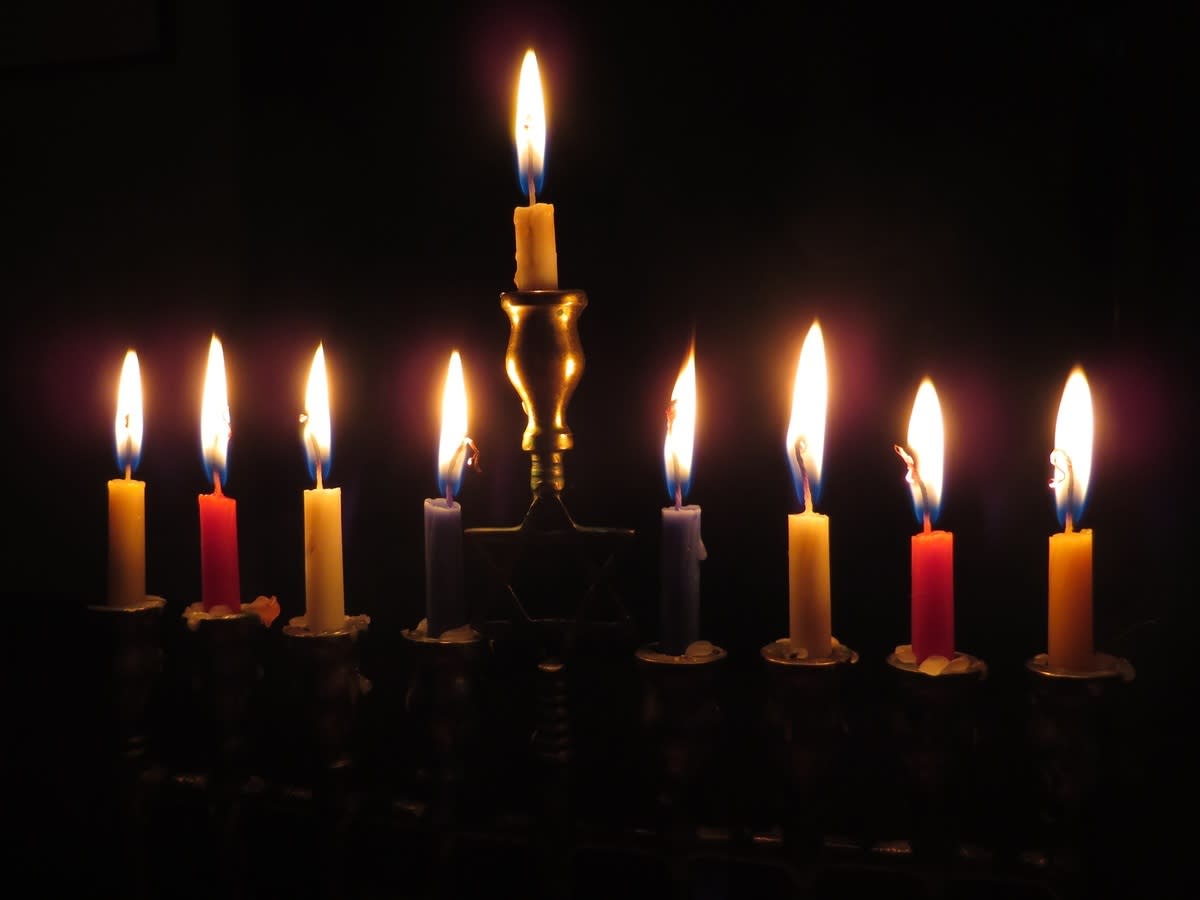 December 10-17, 5:30pm (4:30pm on December 11)
Virtual on Zoom
The Pozez Jewish Community Center of Northern Virginia always has planned festivities each year and 2020 is no different. They have 7 nights of virtual candle lightings followed by a little fun from December 10–December 17 at 5:30pm (Note: December 11th's lighting will occur at 4:30, before Shabbat, followed by a Shabbat candle lighting). Make sure you register in advance. 

National Menorah Lighting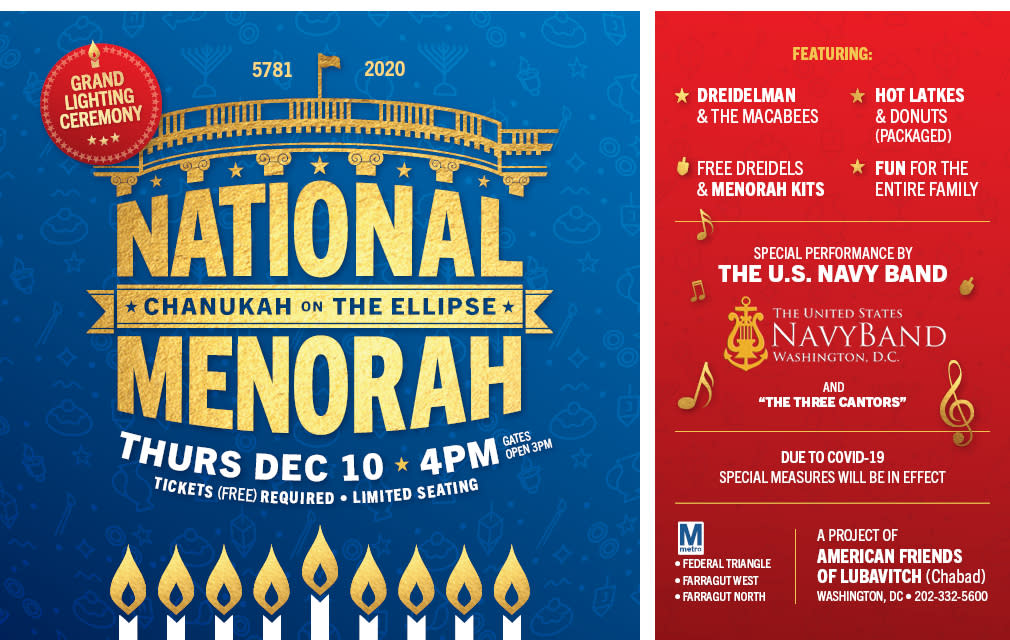 Image Courtesy
National Menorah Lighting
December 10, 4pm
White House Ellipse
Perhaps the most prominent public Chanukah program in the world is the annual lighting ceremony of the National Chanukah Menorah on the Ellipse, just across from the White House in Washington, DC. The lighting of this magnificent menorah – the world's largest – is a free event with limited seating and extra safety precautions due to COVID restrictions, and seen via television newscasts, internet feeds, and other media by tens of millions across the nation and around the world.  Order your tickets here.

Chanukah Drive-Through Theater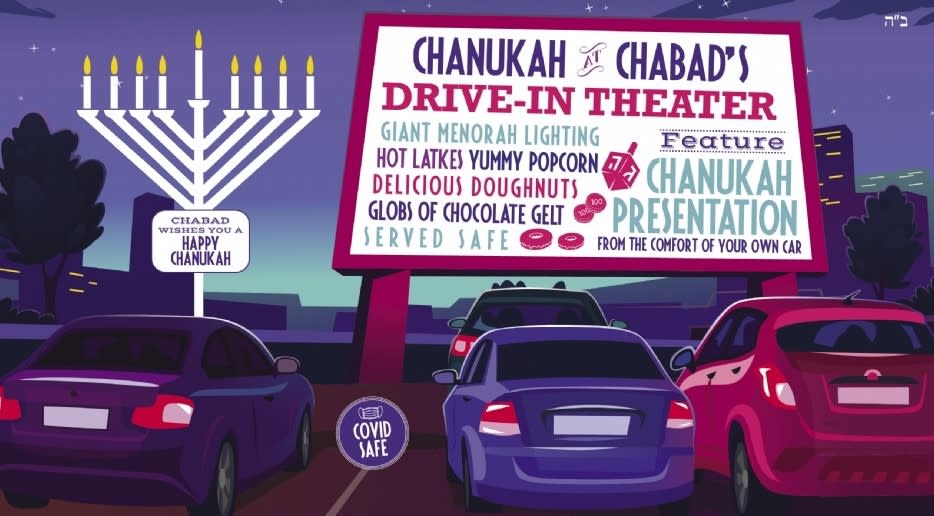 Image Courtesy 
Chabad Jewish Center Reston-Herndon
December 10, 6pm
At Beco Parking Lot
The Chabad Jewish Center has a new Covid-Safe celebration for you and your whole family! Enjoy hot Latkes, delicious doughnuts, and Chanukah treats from the safety and comfort of your own car,  while you watch their feature Chanukah presentation, and their giant Menorah lighting. RSVP required for this fun event.

The Chanukah Scavenger Hunt and Grand Menorah Lighting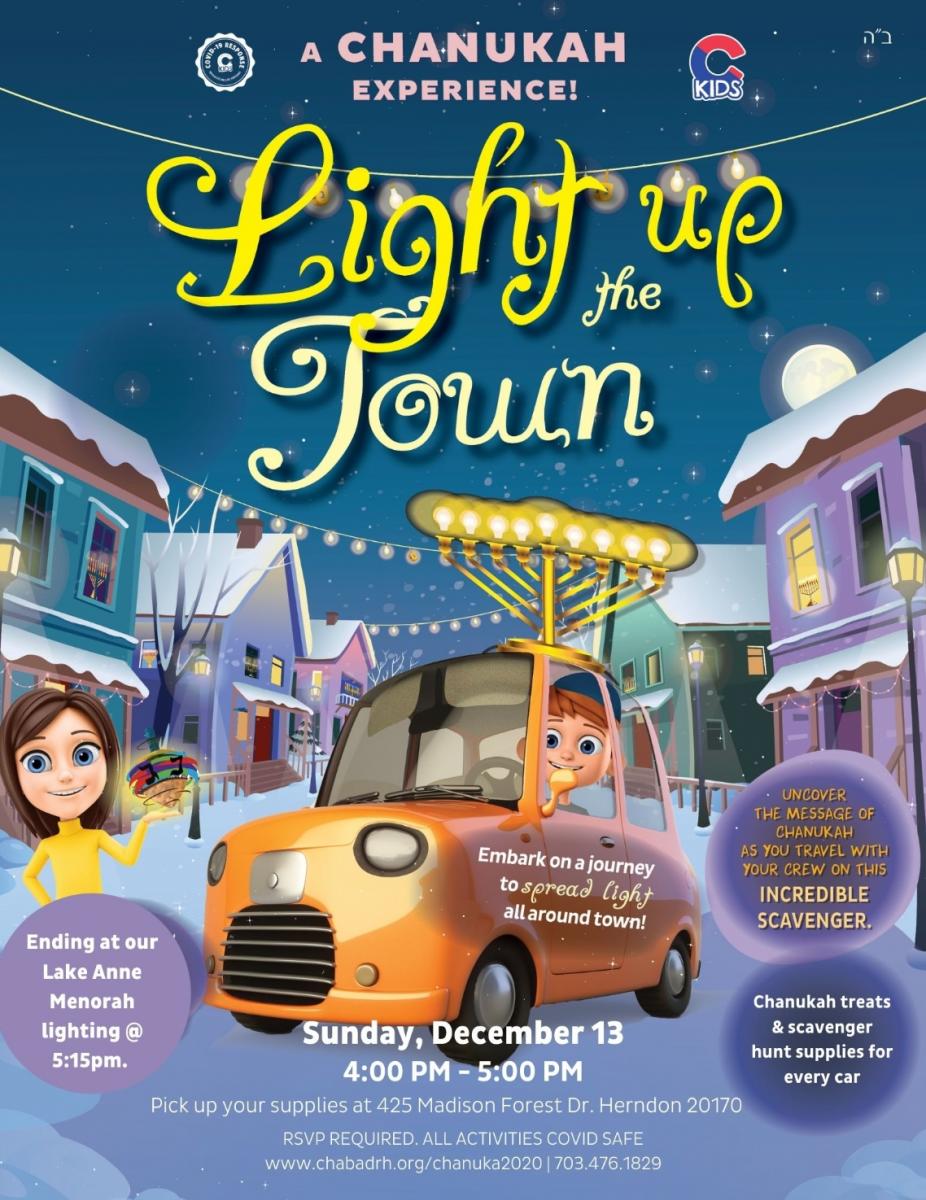 Image Courtesy Chabad Jewish Center Reston-Herndon
December 13, 4pm
Chabad Jewish Center Reston - Herndon
Get your family and friends into the car and light up the Town! Every car will receive a bag of Chanukah treats and clues. Then drive around town on a wild Chanukah Scavenger Hunt. Pick up objects and do the Chanukah activities at all the stops, then meet up at Lake Anne for the grand menorah lighting and raffle. RSVP required for this fun event.

Clarendon Menorah Lighting
December 13, 5pm
Chabad Lubavitch of Alexandria-Arlington
Come out for the Clarendon Menorah Lighting and Community Celebration as you experience the festival of lights. There will be a lighting of a giant 9-foot Menorah, hot Potato Latkes (pre-packaged), Hot Cocoa, Donuts, (Pre-packaged) Chocolate Gelt and Dreidels for all. COVID restrictions will be in place including requiring masks, social distancing, and limited capacity. Pre-registration is required to attend this free event.

Festival of Lights
December 15, 6:30pm
The Lyceum: Alexandria's History Museum
Experience the festival of lights and share in the spirit and Joy of Chanukah at The Grand Chanukah Menorah Lighting in Old Town Alexandria. There will be a lighting of a giant 6-foot Menorah, hot Potato Latkes (Pre-packaged ), Hot Cocoa, Donuts (Pre-packaged), Chocolate Gelt and Dreidels for all. Lively Chanukah music will fill the night and there will be free light sticks for every child. Admission is free but there is limited capacity due to COVID restrictions and social distancing measures. Appropriate face masks required when not eating. You must register in advance for your free tickets. 

Chanukah Zoom Night
December 17, 6:30pm
Virtual 
The Chabad Jewish Center presents a community-wide Chanukah party in your home. Please have your menorah ready to light while cantor, Shlomo Adler will lead the group in Chanukah blessings and songs. Then fun Chanukah games will ensue...

Chanukah/New Year's Virtual Mixology Lesson
December 17, 7:30pm-8pm
Virtual on Zoom 
The Pozez Jewish Community Center of Northern Virginia presents Cary Greene, CEO of Made to Measure Cocktails, who will be showcasing his skills to assist you in crafting some unique cocktails/mocktails. Cary will discuss what makes a delicious cocktail and will allow plenty of time for Q&A. The cost is free, and recipes will be provided in advance so you must register before the event. 

These are just some of the fun things to do during Hanukkah time here in Fairfax County. We have more holiday events listed on our seasonal calendar, so we invite you to take the time to enjoy the season and find a fun activity to share with your family. Don't forget to share your memories with us using #FXVA or @VisitFairfax on your social media posts.