Holiday Light Shows, Festivals & Displays in Northern VA
Each year Fairfax County, Virginia welcomes in the wintery holiday season with fantastic light shows, and decorations and displays that families from all over the region have made a part of their Christmas and winter holiday traditions. So whether you want to walk, ride, drive, or sit to take it all in - be sure to check out the Fairfax County Christmas Light Show because they will surely light up your life with holiday joy. For even more sparkly lights, be sure to check out Where to Find the Best "Tacky" Christmas Lights in Fairfax County neighborhoods. These local displays will be sure to have you smiling. We can even help you plan the best holiday light show tour from your car - check out our video for some pointers!
Bull Run Festival of Lights and Holiday Village
Opens November 11, 2022 through January 8, 2023
Cost of driving through the light show varies from $30/per vehicle online - $40/per vehicle at door. (Vehicles with 15 passengers or more cost extra - visit website for details.) Promo codes for discounts are available on select weeknights throughout the duration of the light show. Get your tickets.

 
Every year from November until just after New Year's Day, you can experience the Bull Run Festival of Lights, 2.5 miles illuminated by holiday light displays. Drive the festival route from the comfort of your car; turn off your headlights and just follow the magical glow. There is also a walk through Christmas Village and Carnival at the end of your lighted journey through the park.
The 2022 Festival of Lights is the season's best and brightest activity to enjoy with your family and friends! 
Want to avoid the crowds?  Fridays, Saturdays and Sundays and the week before and after the Christmas holiday are the busiest times. For a less crowded experience guests are encouraged to enjoy the show during the weekdays with a discounted price on select days. 
---
Meadowlark's Winter Walk of Lights
Opens November 11, 2022 through January 8, 2023

Under 2: Free
All Ages: $16* - $18* in advance, $20/door
*Online fees apply
Please purchase your tickets in advance for the best price and to ensure your admission. *Please note that online discount codes are valid only Monday - Thursday, non-holidays. Group rates for 20 or more guests with one form of payment are available Monday - Thursday, November 11- December 8 (non-holidays) and require an advanced reservation. Please send an inquiry email to wwol@nvrpa.org at least 1 week prior to your visit. Group visits are not valid until confirmed by staff.
Buy Tickets
Meadowlark's Winter Walk of Lights is an elegant garden trail decorated with thousands of sparkling lights, perfect for a date night or family holiday outing. The half-mile walk through the enchanting Meadowlark Botanical Gardens (Vienna, VA) features lighted nature themes and animated displays along a paved wheelchair and stroller-accessible trail. Stay warm by sipping on a hot beverage (with or without spirits) as you walk and s'mores to finish out the evening. Treat your pup to their favorite walk of the year on specific dates! Capacity is limited; reservations are required to ensure access on a specific date. Buy your tickets.
---
DMV Winter Lantern Festival (Tysons)
December 16 through February 12, 2023
Open Friday - Sunday from 12/16/22 - 02/12/22
Open Daily from 12/23/22 - 01/01/23
5:00pm - 10:00pm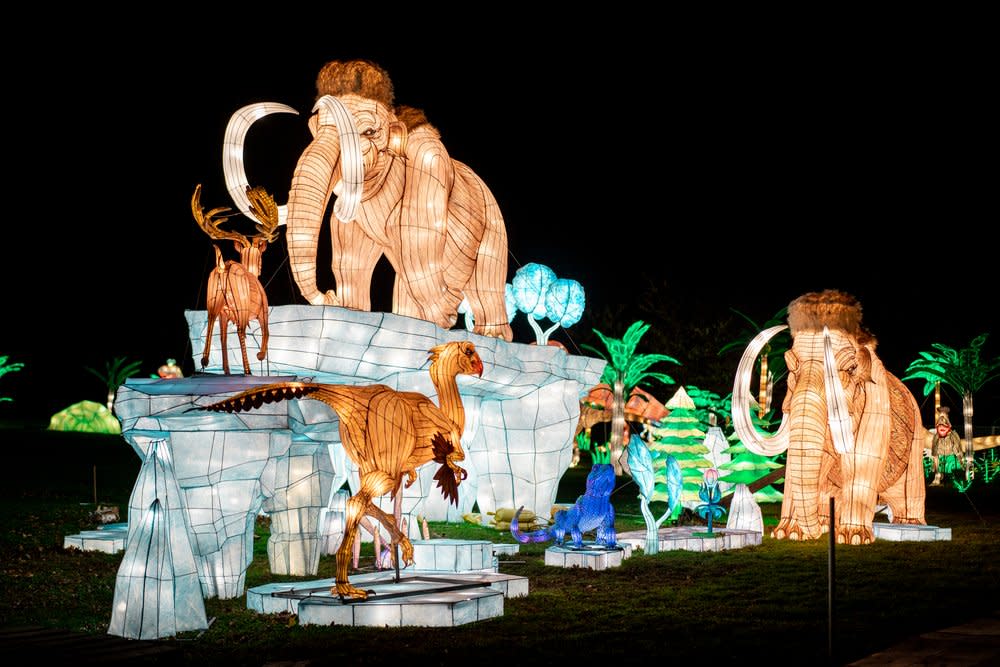 Lerner Town Square at Tysons II is going to be transformed into a dazzling world of light with over 1000 Chinese lanterns; all handmade by artisans with decades of experience. The lanterns and bright displays will light the night and bring warmth to one and all this holiday season! You can wander through a wonderland of light that includes Chinese myths, legends, and zodiacs. In addition, you'll be able to stroll amongst handmade lanterns encompassing a world of ice, including displays of mammoths, polar bears, and penguins. The kids will also have a blast playing on interactive light swings, see-saws, and tunnels. Be prepared to indulge your friends, family, and yourself in photo opportunities! Buy your tickets.
---
Christmas Illuminations at Mount Vernon
December 16 & 17, 2022
5:30pm - 8:30pm
General Public Adults, $60 with Mansion Tour and $58 without Tour
Youth, $38 with Mansion Tour and $36 without Tour
$10 discount for Mount Vernon members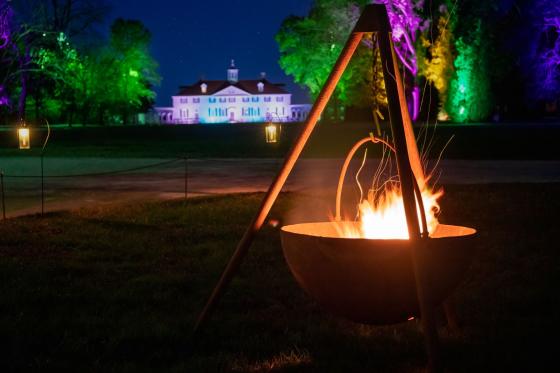 Join George Washington's Mount Vernon for a family-friendly celebration of the holiday season with an enchanted evening of Christmas Illuminations. See the lantern-lit Historic Area, the Mansion aglow in beautiful amber light, and the Upper Garden and Greenhouse dazzling in blue and lavender with moving wintry light patterns. You'll hear classic holiday music and patriotic inspirational quotes on the Bowling Green. Visit with Sutlers that produce 18th-century wares and crafts, available for purchase at the 18th-century Winter Market. Enjoy the atmospheric setting of an 18th-century winter encampment, the working Blacksmith Shop, Christmas carolers, and Aladdin the Camel. Hear season's greetings by General Washington on the Mansion Piazza, and watch stunning holiday fireworks over the Potomac River. The program begins at approximately 8 - 8:30 p.m. Buy your tickets.
---
"Tacky" & Bright Neighborhood Light Displays
Out of oodles of holiday traditions associated with this time of year, none may be as beloved as loading the family into the car in search of the best neighborhood light displays and shows. We spoke with local expert Holly Zell, the owner of the resourceful website, Holly's Tacky Christmas Lights, to get her take on the best of the best in Fairfax County. Read our blog for the 2021 picks for Best "Tacky" Christmas Lights in Fairfax County. Check back in mid-November for an updated list of home decorations!
Scenes from the light shows...
On the Blog