Clemyjontri Park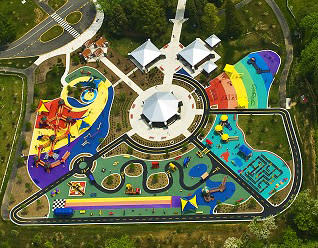 Founded in 2006, Clemyjontri Park is Virginia's first park where all children - including those with disabilities - can have an enjoyable and parallel playground experience. The unique layout and educational aspects of the playground were designed to blur the line between physically able and physically challenged children, thus giving the latter the ability to succeed.
With a carousel strategically placed as the central axis, the playground is broken up into four "rooms" - the Rainbow, the Schoolhouse, Movin' and Groovin' and Fitness & Fun.
Kids can take advantage of the educational nature of each "room" while they play, including the following:
The Rainbow Room:
The colors of the rainbow are reinforced as the colors of the equipment change with the color of the soft playing surface.
Colors are explained in signage with Braille, sign language and English.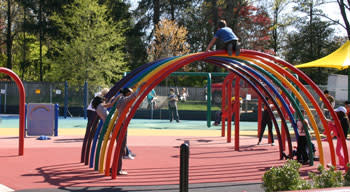 The Schoolhouse Room:
Learning turns to fun with the alphabet.
Children can learn to count to 100.
A large maze features moving panels.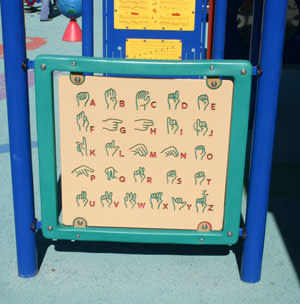 Movin' and Groovin' Room:
This room is all about transportation.
It reinforces the metric and English measurements learned in the Schoolhouse Room.
It features a wheelchair-friendly drag strip.
This room also includes a fun-filled trivia board.

Fitness & Fun Room:
This room is devoted to physical development.
It includes an "energy burner" and various balance activities.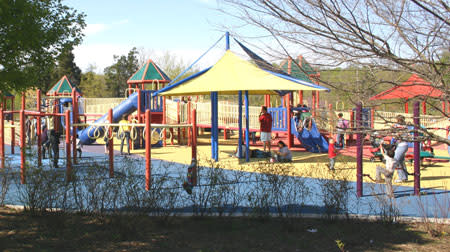 Clemyjontri gets its name from donor Adele Lebowitz's four children - Carolyn (Cl), Emily (Emy), John (Jon), and Petrina (Tri). Lebowitz donated the property to Fairfax County Park Authority and emphasized her vision for a park for children with disabilites. The playground features a well-cushioned ground, which makes it a great spot for toddlers, the swings have high backs for extra support, and the monkey bars have been lowered for easier access. In 2010, the park was able to install Virginia's very first Liberty Swing -- a wheelchair-accessible swing that automatically locks for safety. There are only roughly 15 of these swings in the entire United States.
Now, recognized as arguably the premier playground destination in all of the metro DC area, Clemyjontri continues to be a big draw for family travelers -- a unique and special park that stimulates children's minds and bodies and gives adults the peace of mind they seek when it comes to giving their children or grandchildren a fun and educational experience.