The State Theatre
Built in 1936, The State Theatre operated as a popular movie theater until the late 1980s. The first theatre on the East Coast to be centrally air-conditioned, the State was the flagship of the family-owned Neighborhood Theatres chain.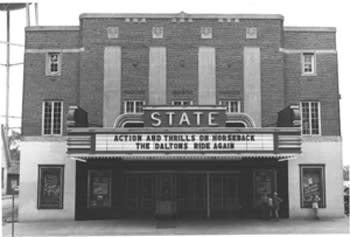 Photo courtesy of Mary Riley Styles Library, Falls Church
From The Porter Collection c.1945
In the late 1990s, the theatre underwent a multi-million dollar renovation to transform the venue into a space for live music and private events. The stage is original, as are the 200 balcony seats and both lobbies. The restoration also added two full service bars and a full service restaurant for dining and catering private events.
Today, you can still see stellar performances at The State Theatre, ranging from beloved 80s-cover dance band The Legwarmers to rock bands like Soul Asylum and The Smithereens to comedy shows from Creed Bratton and local Washington, DC performers.