Scenic. Convenient. Hassle-free (relatively). The George Washington Memorial Parkway (GWMP) is, hands down, one of the best drives in Northern Virginia. You don't even need a destination. It IS the destination—especially in fall when the leaves turn brilliant colors against the backdrop of limestone monuments and in spring when redbuds, cherry blossoms, and daffodils come out to play.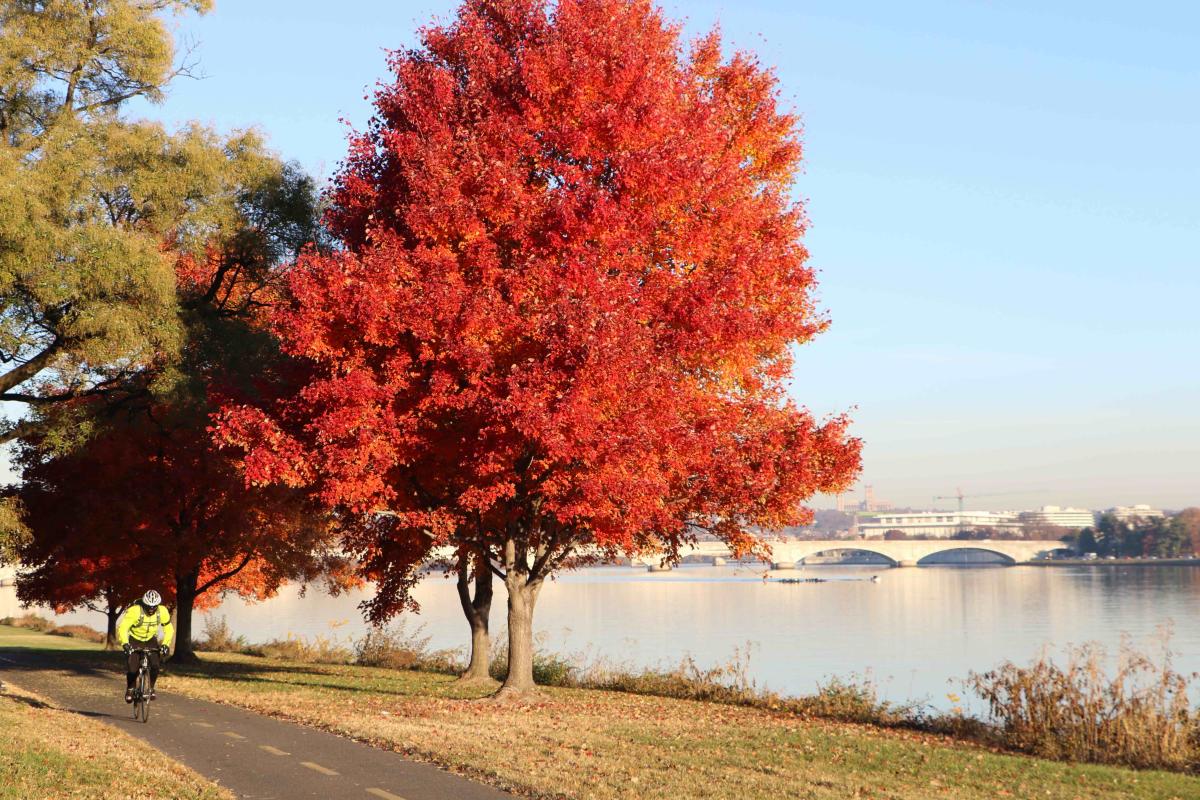 Image of Mount Vernon Trail, along the George Washington Memorial Parkway - courtesy National Park Service
The GW Parkway stretches 25 miles from George Washington's Mount Vernon in the south to the Cabin John Bridge separating Virginia and Maryland in the northwest. Along the way, it provides easy access to Ronald Reagan Washington National Airport, the monuments and museums of Washington, DC, Arlington National Cemetery, and memorials like the iconic US Marine Corps War Memorial (Iwo Jima).
With all those famous exit points along the way, it can be easy to overlook the many parks you pass right at the roadway's edge. But if you overlook them, you'll miss out on some pretty cool sights and stories. So, let's travel together and take a look at a few of the parks you'll encounter driving north from Mount Vernon.
TIP: The first 18 miles of the GW Parkway is accompanied by the paved and well-maintained Mount Vernon Trail, so you can cycle or hike past many of the parks below.

See A Sunset at Riverside Park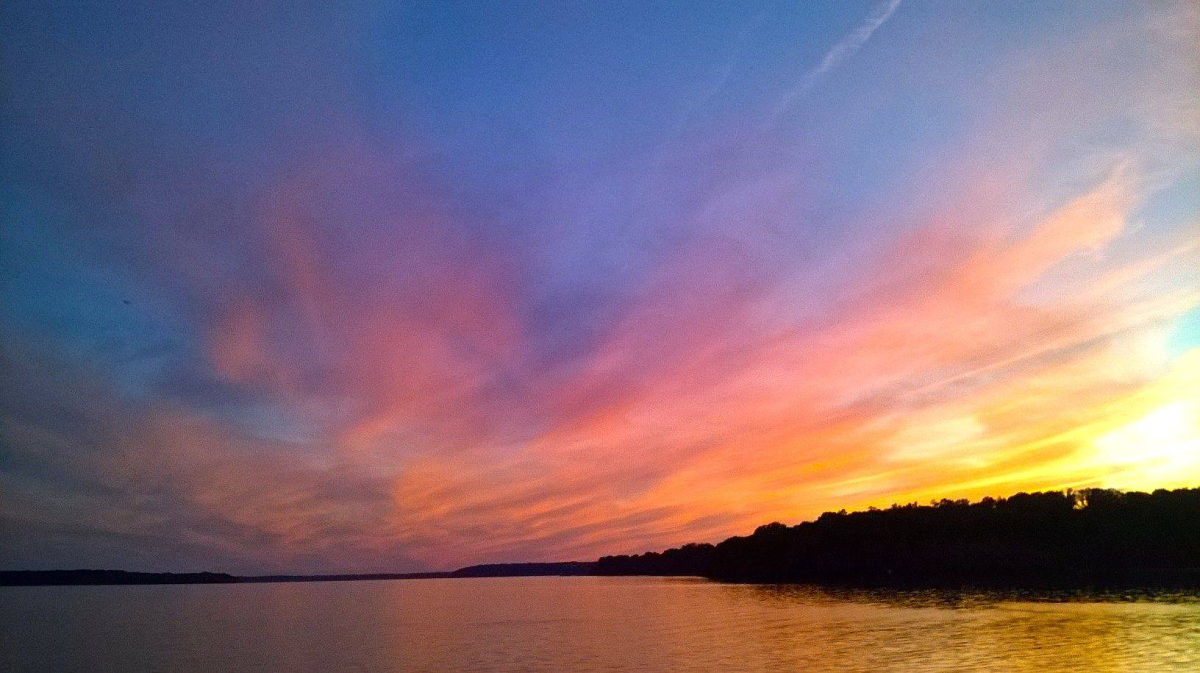 Image courtesy Tierney Sadler
Riverside Park is the very first pull off you'll encounter after Mount Vernon. The park is located at a bend in the Potomac River, offering a spectacular water view. A visit at dusk is when the show really begins, however. Most nights the river stills in reverence to the setting sun, offering breathtaking views that are mirrored in the silent waters.

Make A Covert Stop at "PO Box 1142"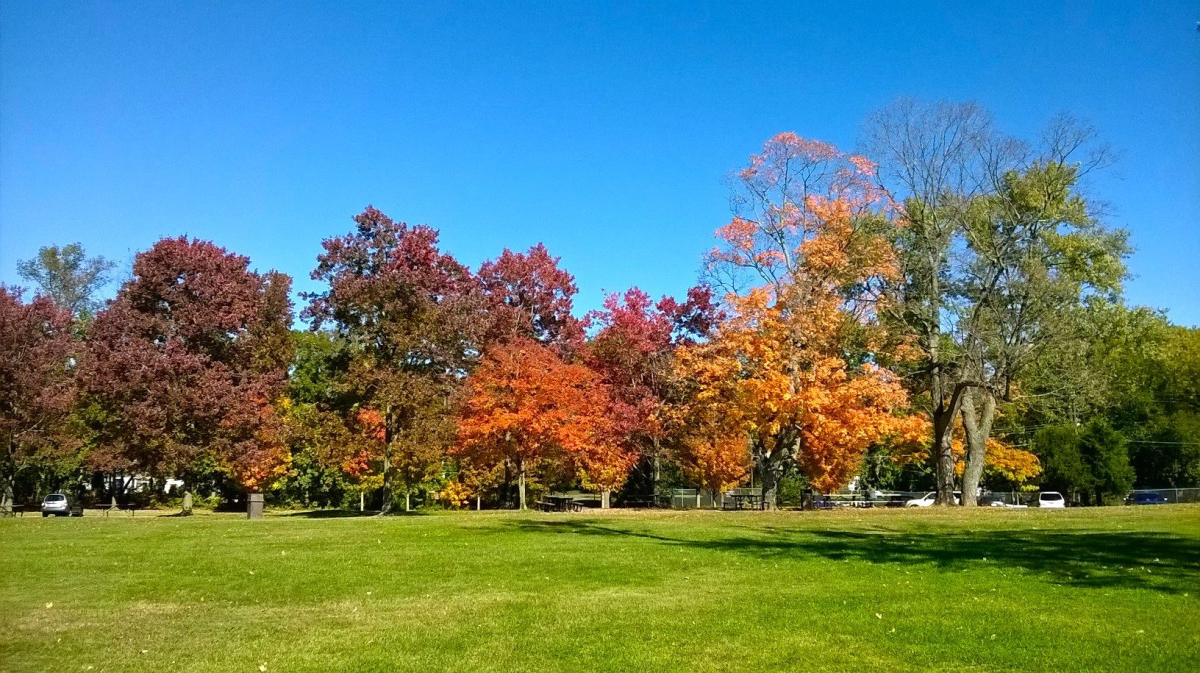 Image courtesy Tierney Sadler
During WWII, Fort Hunt served as a secret interrogation camp for German prisoners of war, including Wernher von Braun, spy Reinhard Gehlen, U-boat commander Werner Henke, and inventor of infrared detection, Heinz Schlicke. Today, Fort Hunt Park is a National Park Service property with large fields, fabulous fall foliage, and a paved hiking loop.
TIP: As you continue north after Fort Hunt Park, look for River Farm, formerly part of George Washington's original farm properties and current headquarters to the American Horticultural Society. It is hands down one of the very best gardens to stroll amongst the flowers during spring. Right now they are on a visit-by-appointment-only policy, so be sure to check their site before arriving.

Hike Out into the Water's Midst
Just before you reach Old Town Alexandria, you'll encounter Belle Haven Park, Belle Haven Marina and Dyke Marsh Wildlife Preserve, all served by the same parking lot. The Dyke Marsh Trail will lead you along the Potomac River and through the preserve on a wide dirt trail that ends at a wooden deck on a peninsula, offering lovely views of the Maryland and Virginia shorelines.
TIP: As you exit the City of Alexandria on the north side of town, be sure to notice the Washington Monument as it magically appears in the median strip. Always a thrill.

Feel the Roar of The Planes
Just after Reagan National Airport, you'll find Gravelly Point. While some use the field there for fishing or picnics, the main attraction here is the thundering exhilaration of planes taking off and landing so close over your head that you can feel the roar of the engines.
TIP: After Gravelly Point, you'll see DC's iconic monuments and memorials on full view to your right. This is a breathtaking view, especially during cherry blossom season.

Spot Birds with Teddy Roosevelt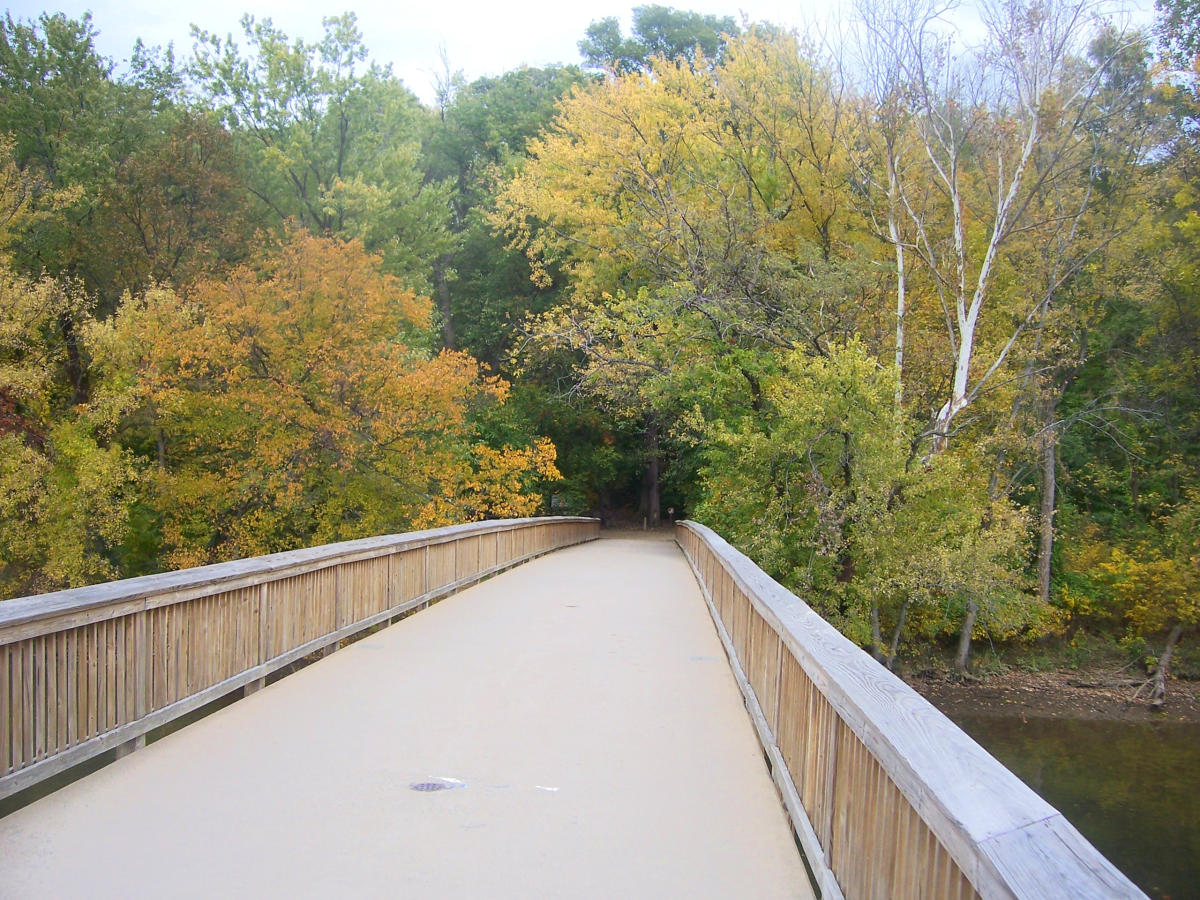 After you pass the iconic monuments of DC and Arlington National Cemetery, you'll encounter Theodore Roosevelt Island. Cross the footbridge to see the Theodore Roosevelt Memorial, hike miles of trails, and honor Teddy's love for birding by seeing how many species you can spot. This is a popular place to bring your dogs. Only accessible from northbound lanes. (Want more birding? Check out Fairfax County's other birding spots.)

Explore Civil War History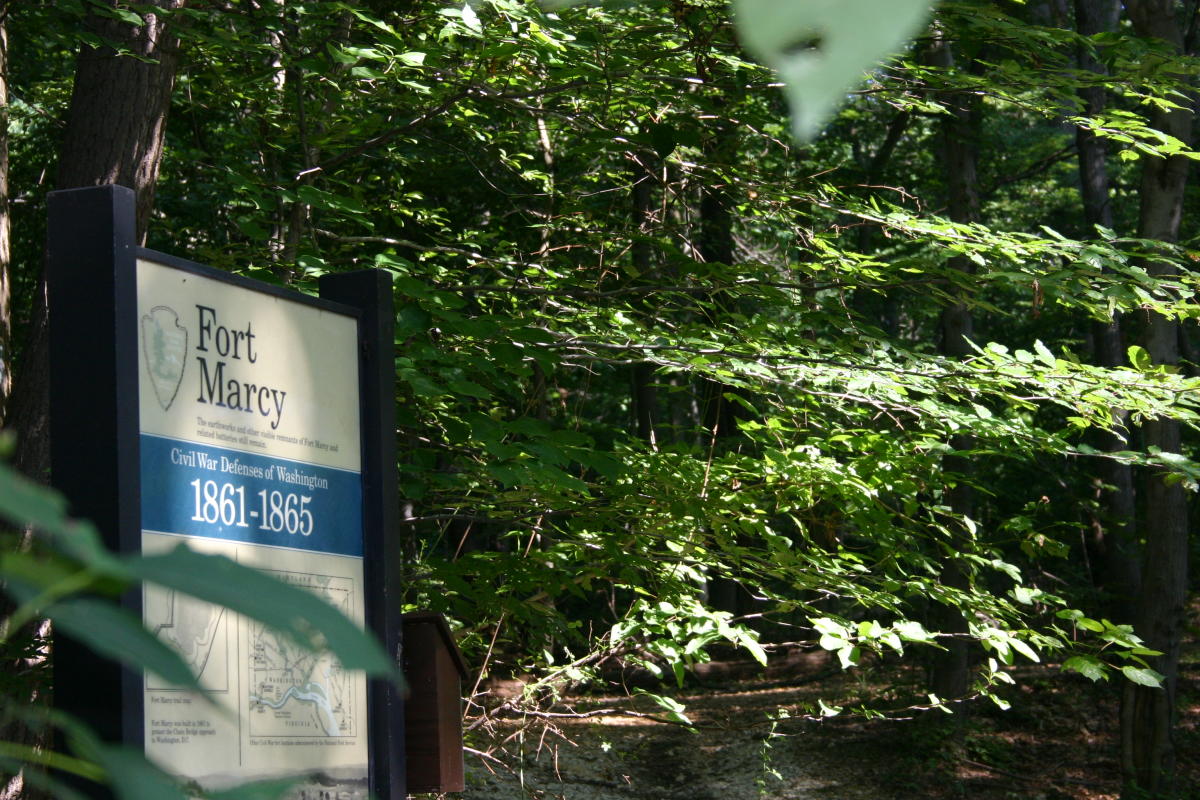 Just before the Chain Bridge Road exit, you'll find Fort Marcy. Perched 275 feet above the Potomac River, Fort Marcy was built to protect Chain Bridge as one of the Civil War defenses of Washington. Its earthwork walls are among the best-preserved from the era. There are no facilities here and the park is only accessible from northbound lanes.
(Important) TIP: While it's tempting to check out the CIA exit just past Chain Bridge Road, we recommend staying on the Parkway. You will not be able to turn around until you reach the heavily guarded gate and cameras will capture your every move. They take this stuff seriously.

But Wait, There's More!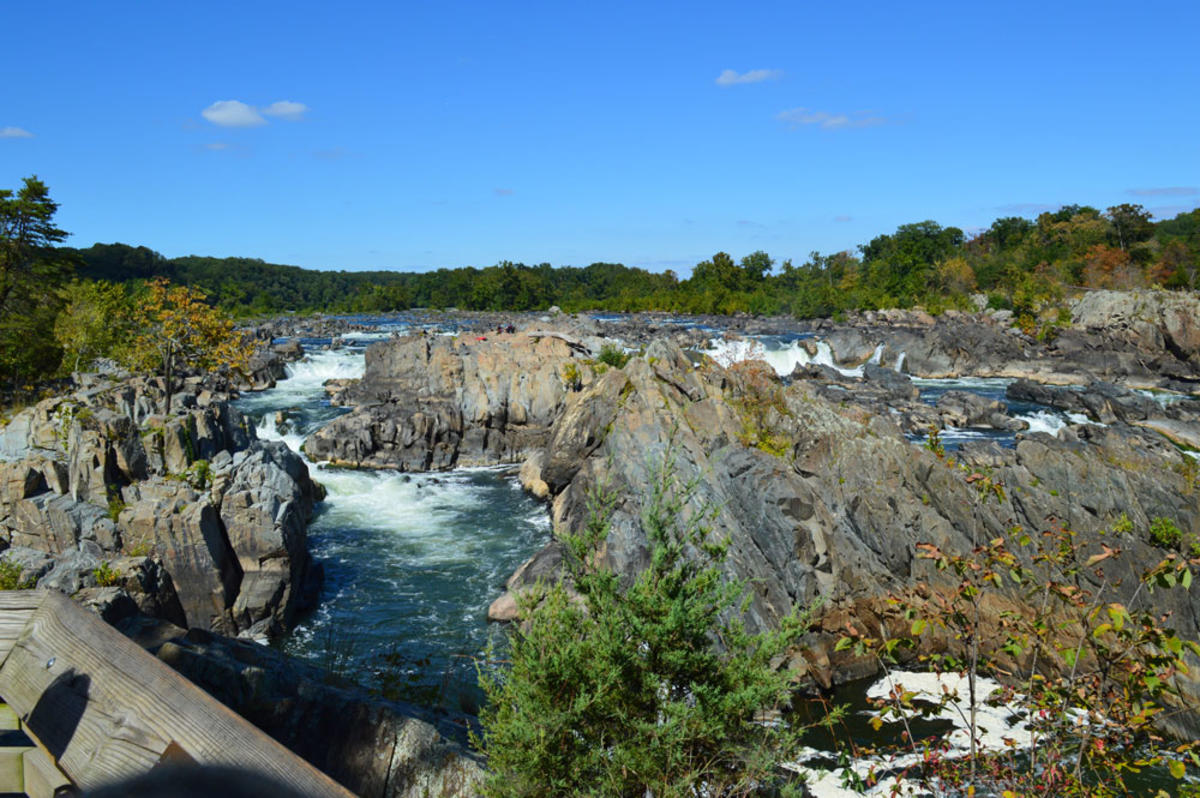 Image of Great Falls Park
Once you reach the northernmost point of the GW Parkway, you can make a short connection via the Capital Beltway (I-495) to another beautiful roadway, Georgetown Pike. From here, be sure to hit up Scott's Run Nature Preserve for short trail walks that lead to a hidden waterfall or keep driving until you see the entrance to Great Falls Park, managed by the National Park Service and one of the DMV's most treasured assets. This park gets quite busy on beautiful weekends, so arrive early for the least congested views of the tumbling, rumbling Potomac River falls.
Want more great stops on a driving tour of Great Falls? We have you covered!

Where are your favorite places to stop along this beautiful scenic byway? Tell us in the comments below or share with us on social media using #FXVA and @VisitFairfax.