Throughout the summer of 2019, Fairfax County's first permanent "LOVEwork" sign is on tour and is set to travel around to some of our most popular attractions that represent the eclectic visitor experiences found here. We're now on tour stop number 10, and soon, the sign will find a permanent home at the Workhouse Arts Center in Lorton. Once there, the letters will be creatively "bedazzled" by several of the artists-in-residence at the Workhouse, making the new Fairfax County "LOVEwork" sign a unique piece of art that visitors will enjoy for years to come.
The current stop on the "LOVEwork" tour is Frying Pan Farm Park! This historical gem is a working farm that highlights Fairfax County's agricultural past and is a favorite attraction of locals and visitors alike. Frying Pan will host the sign from July 26 - August 4 which is perfect timing because from August 1-4 the 71st Annual 4-H Fair and Carnival will be there too!  So head out and enjoy the farm, the fair and carnival, and one of the best parks Fairfax County has to offer.  See you there!
And make sure that if you do visit and snap a sweet pic of the LOVE letters, upload them here or post them to social media using the hashtags #FXVA, #SHAREWHATYOULOVE, and #LOVEVA.
 
General Information
LOVEwork Sign Dates: Friday, July 26 - Sunday, August 4, 2019
Operating Hours: Monday- Saturday 9:30AM-4:30PM and Sunday 11:30AM-4:30PM; 4-H Fair and Carnival Hours Vary, Check Website For Details
Location: The LOVEwork sign will be located near the entrance of the farm at 2709 West Ox Road. The Farm's Visitor Center is located at 2739 West Ox Road, Herndon, Virginia.
Cost: Access to the farm and 4-H Fair and Carnival are FREE; Carnival rides and games vary in cost; During the Fair and Carnival, enter on Monroe Street; the West Ox Road entrance will be closed. See Fair and Carnival website for details.
Things To Know About Frying Pan Farm Park And the 4-H Fair and Carnival
Talk to the Animals at Kidwell Farm -  Meet draft horses, chickens, peacocks, rabbits, sheep, goats, cows and pigs at Frying Pan Farm Park's working farm of the 1930s. Take a wagon ride and watch the farmhands at work. Take a tour to see how farm families lived in the 1930s, or just sit on the porch of the Kidwell Farmhouse. 
You Can Bring Your Horse  - Frying Pan's Equestrian Center is a public use facility that is part of Frying Pan Farm Park. The center offers rental events, schooling horse shows, short-term stabling, and multiple trailer-in schooling options. The center is available for private rentals.
They Have a Visitor Center  - Frying Pan's visitor center hosts an exhibit about the farm and has facilities that can be rented for special occasions.  The facilities are also home to their Bluegrass Barn seasonal music series that is a must for bluegrass music fans.
The 4-H Fair and Carnival is Fantastic - For a true down-home good time, this is the place to be.  Featuring everything from carnival rides and festival food, to livestock shows and exhibits, this is guaranteed entertainment for the entire family
The Fun Doesn't Stop When the Fair and Carnival Ends - Frying Pan Farm Park hosts events, camps, and musical performances throughout the year that explore all aspects of farm life.  Check their calendar for more information and plan your visit around what interests you!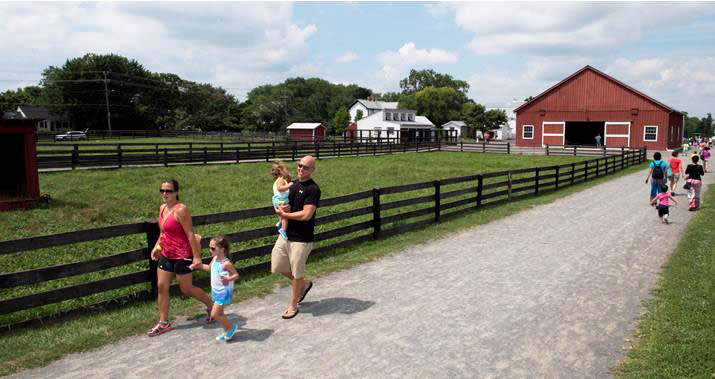 Where the LOVEwork Sign Goes From Here
Next up on the LOVEwork tour is the Workhouse Arts Center!  This will be the final stop of the LOVEwork tour, and when it arrives, the artists at the Workhouse will be waiting to decorate it and make it their own as it goes on permanent display.  
August 6 and beyond: Workhouse Arts Center
Fairfax County is great because of you, visitors and residents alike. Your support of our local community makes this all possible. Help us showcase our greatness:  We'll post our favorite images of you and your Instaworthy "LOVEwork" snaps on our official LOVE page.
If you see our LOVEwork sign during its journey across the county, don't be shy, take a picture with it and upload your images here.