Did you know that Reston is home to more than 50 public artworks? All of this public art in Reston can be viewed by foot and bicycle, and many can also be viewed by car. Public Art Reston, a non-profit organization dedicated to inspire an ongoing commitment to public art and create a new generation of artworks in Reston, has selected 7 must-see artworks (sculptures and murals) located at parks, underpasses, and on buildings throughout Reston.
For even more locations, download the full map of Reston's art here. Learn more about each artwork here. Find family activities related to public artworks here. Don't miss our Feel Good Friday video featuring some of these sculptures and more at the end of this page. And don't forget to tell us about your favorite murals or sculptures in the comments below.

Hunters Woods Village Center area

1. Thoreau's Ensemble (2019), Ben Volta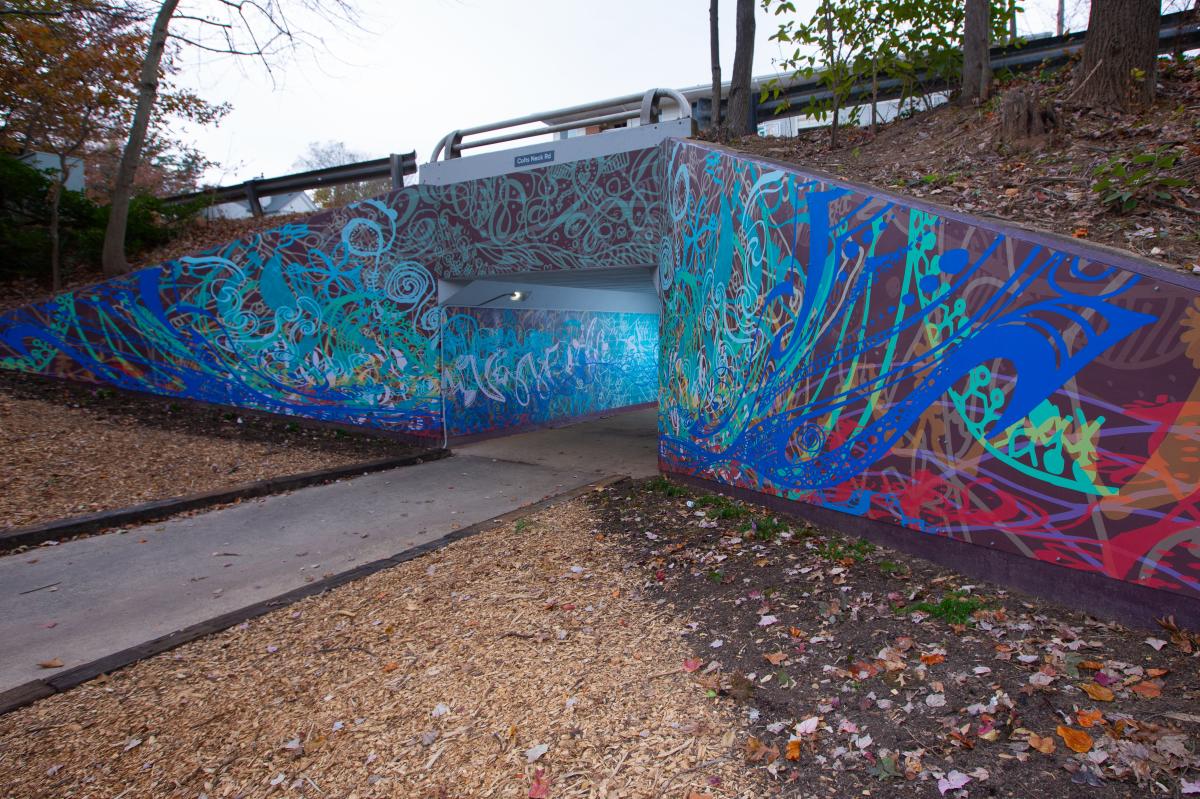 Image credit Stefan Greene, courtesy Public Art Reston
Located at the Colts Neck Road underpass, Thoreau's Ensemble was recently selected as a Top 100 finalist by jurors of the internationally acclaimed CODAawards! Inspired by Reston's 55 miles of pathways and a quote by poet and naturalist Henry David Thoreau ("Pursue some path, however crooked and narrow, in which you can walk with love and reverence."), artist Ben Volta incorporated 710 individual path drawings from hundreds of intergenerational community participants into the final design. The artwork covers the exterior and interior walls of the underpass with a layered and lyrical multi-colored composition.

2. Emerge (2010), Valerie Theberge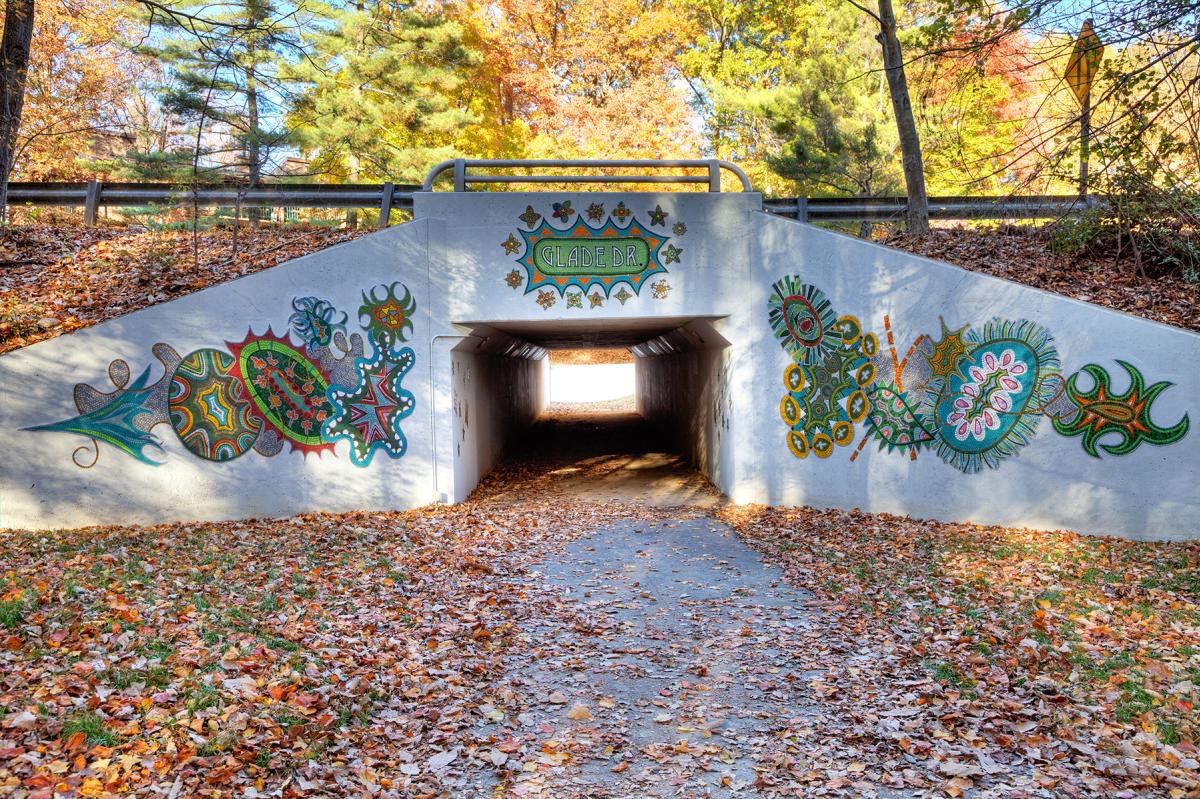 Image courtesy Public Art Reston
Artist Valerie Theberge wanted her Emerge artwork at the Glade Drive underpass to be uplifting, whimsical, and optimistic. She enlisted the help of local fourth-graders, who created the mosaic stars that decorate the top of the underpass and inner walls of the tunnel. Shades of green were chosen to reflect Reston's rich vegetation. Fluid lines speak to the stream that flows nearby. The overall design transforms into a show of light and color upon closer inspection, thanks to the inclusion of mirrored tiles and stained glass.

Reston Town Center

3. Midtown Community Mural (2012), Dana Ann Scheurer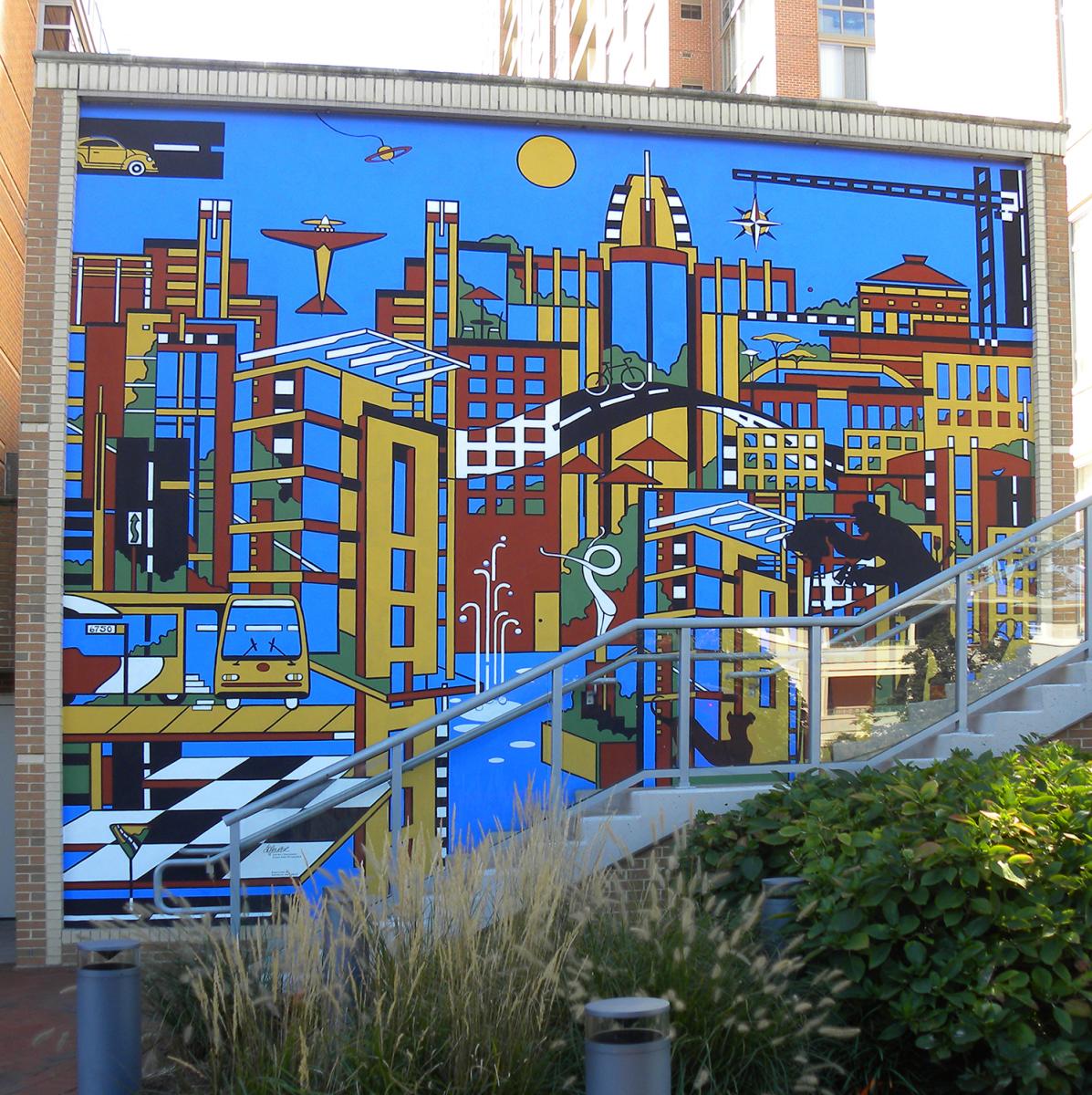 Image courtesy Public Art Reston
The bright, colorful, and geometric Midtown Community Mural on New Dominion Parkway was commissioned from local Reston artist Dana Scheurer to enliven the public wall of a condominium. The faceted scene includes many recognizable landmarks of art and architecture from the Town Center itself. The centerpiece features a life-sized image of Reston's founder, Robert E. Simon, Jr., operating an old-style camera, presenting an interactive photo opportunity for passers-by and tourists.

4. Nokomis (2018), Danny Lane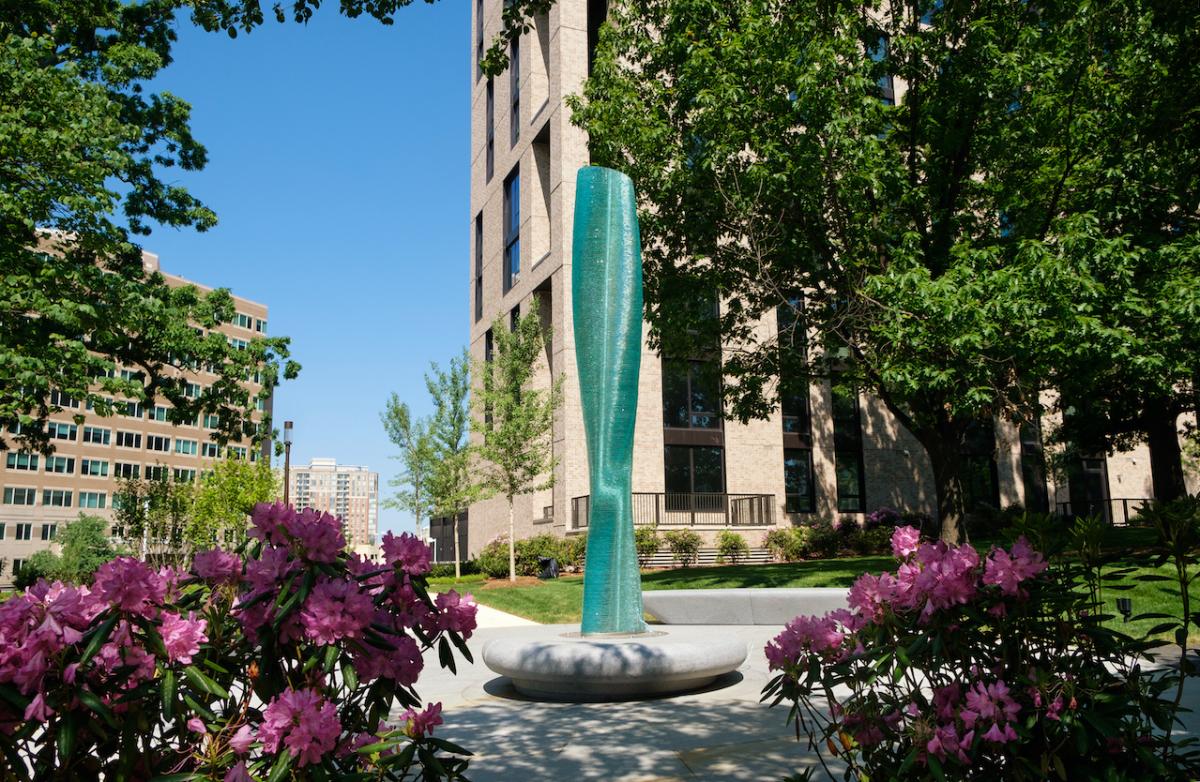 Image credit Charlotte Geary, courtesy Public Art Reston
Located at Signature Park by the Reston Town Center, Nokomis' 12' stacked, low iron glass sculpture sits on a soft-edged granite plinth that can be used as seating. Situated in the center of a circular area where three pedestrian paths converge, the gently twisting glass form and plinth are inspired by the mythological Algonquin, key players in the Algonquin/Powhatan creation myth. Artist Danny Lane chose to localize the title by linking to the Algonquin tribe who were/are from this region, along with the Powhatans. Spectators can also rest and view the artwork on three tapered granite benches that are harmonious with the plinth design on the perimeter of the site.

Lake Anne Village Center

5. Plaza Fountain (1965), James Rossant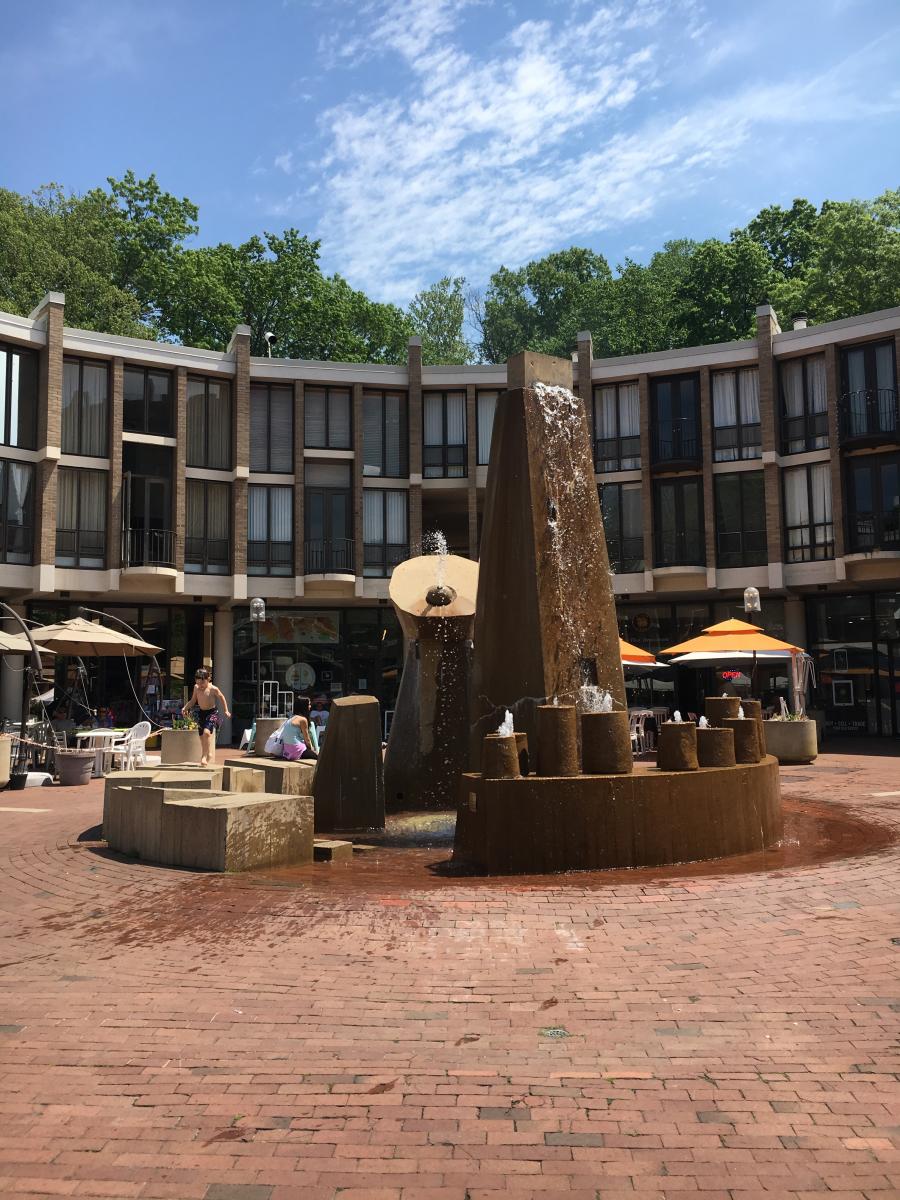 Image courtesy Public Art Reston
Plaza Fountain is a favorite for kids to dip their toes in during summer months and is the focal point and gathering place of Lake Anne Village Center. This work is one of several site-specific public sculptures designed by architect, planner, and artist James Rossant and delightfully personifies the interactivity that Reston founder Robert E. Simon, Jr. hoped for when creating the master plan for his "New Town" of Reston. The abstract forms of the fountain were loosely based on sandcastles the artist and a friend used to build together during summers at the beach and the rounded forms of the three central elements conjure a family grouping or lost city, enlivened by enigmatic niches and evocative details.

6. Untold Stories (2004), Zachary Oxman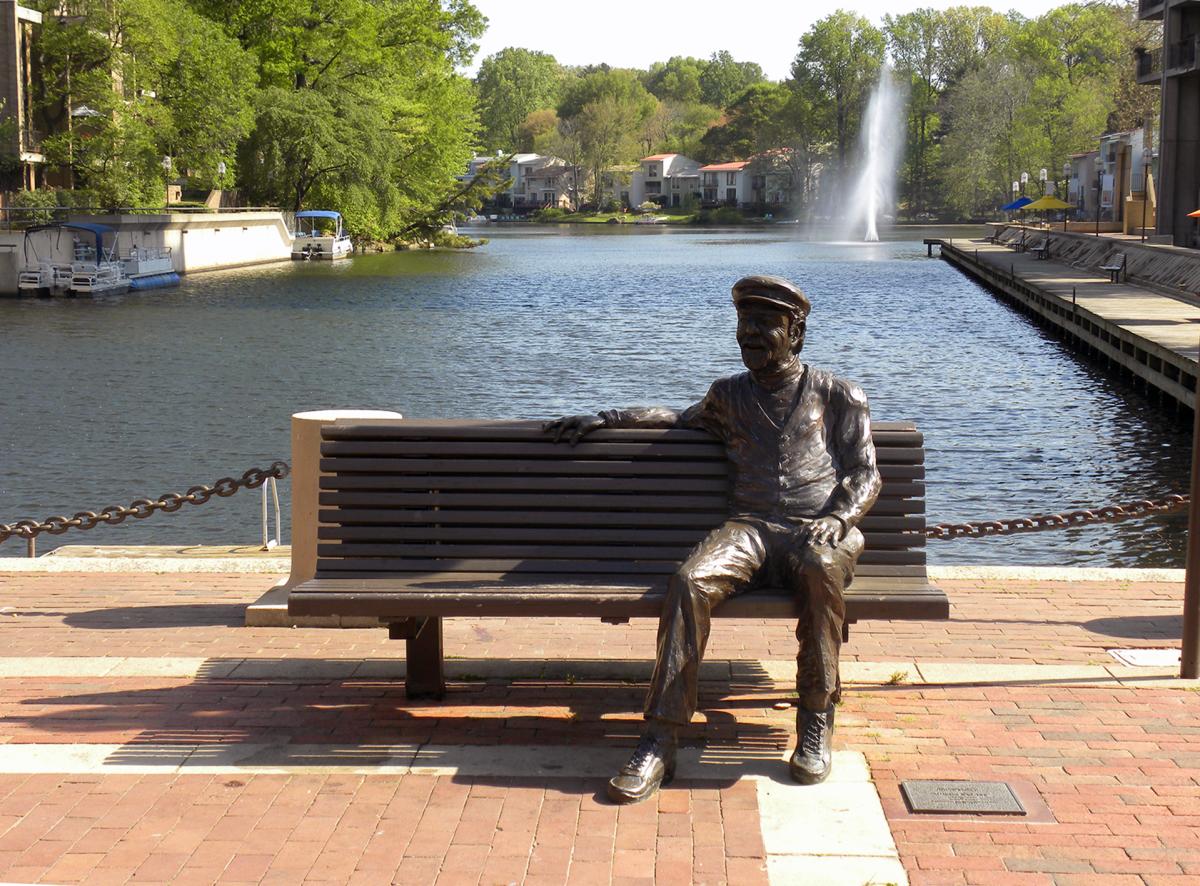 Image courtesy Public Art Reston
This is a favorite place for visitors to have their photos taken with Reston's founder, Robert E. Simon, Jr.  With his back to Lake Anne, this depiction of Bob Simon, affectionately called "Bronze Bob," sits on a bench surveying Washington Plaza at the core of Lake Anne Village Center— the embodiment of his vision for his "New Town." The work, by Reston native Zachary Oxman, was unveiled at the first Founder's Day in 1994 to celebrate Simon's 90th birthday. It is a fitting tribute for someone who put great value in the benefits of public art in daily life and ensured that art would play a key role in the design of Lake Anne. 

Wiehle Reston East Metro Station Area

7. Convergence (2017), Zachary Oxman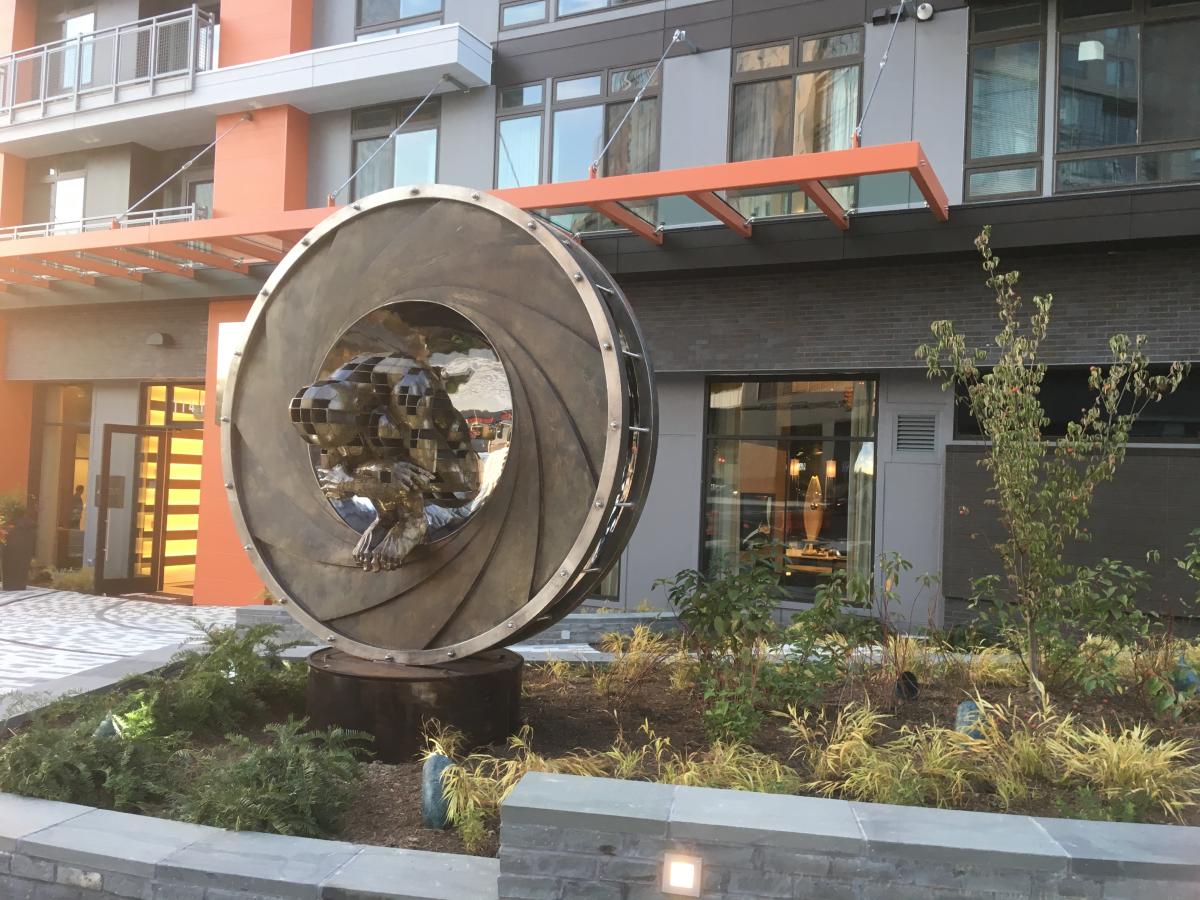 Image courtesy Public Art Reston
Zachary Oxman describes his sculptural works as "allegories," illustrating emotions and intangible impulses through story. Convergence uses the metaphor of a camera for the convergence of the intangible becoming tangible, the idea or inspiration becoming reality and perfectly suits the vision for the Aperture residential building where it is installed (11410 Reston Station Blvd). The aperture of the lens reveals a crouching figure while the highly polished steel dome back of the sculpture reflects the building or anyone standing in front of it.  
Visit Fairfax recently joined Public Art Reston on a brief tour around Reston Town Center to see some of these sites and more. Watch our short video below!
Where are your favorite murals around Fairfax County? Tell us in the comments below or tag us in your pics using #FXVA and @VisitFairfax.