Whether you're a football fanatic or bonkers about basketball, these sports bars in Fairfax County are the perfect spots to watch your favorite teams dominate. Throw on your favorite jersey and maybe even some face paint - it's game time! 
 
Buffalo Wing Factory
Reston & Chantilly

What goes better with sports than wings and beer? Aside from a 360-degree selection of televisions to watch, Buffalo Wing Factory offers craft wings and craft beer at their locations in both Chantilly and Reston. With favorites like Peruvian Verde and Sweet Flamin' Jerk, you're bound to find a new flavor at this beloved spot. 
 
Glory Days Grill
Lorton, Reston, Herndon, Fairfax, Burke, Centreville, Falls Church

As one of the only sports-themed restaurants in Fairfax County, visiting Glory Days Grill to watch the game is a no-brainer! The award-winning restaurant is known to have a family-friendly atmosphere, as well as made-to-perfection burgers, BBQ ribs, and more all-American selections. To go right along with the theme, sports memorabilia from professional leagues, amateur athletics, and local high school venues are displayed as reminders of Glory Days events from the past and present.
Locations in Centreville, Fairfax/Vienna, Reston, Herndon, Burke, Lorton, and Falls Church. 
 
Jimmy's Old Town Tavern
Herndon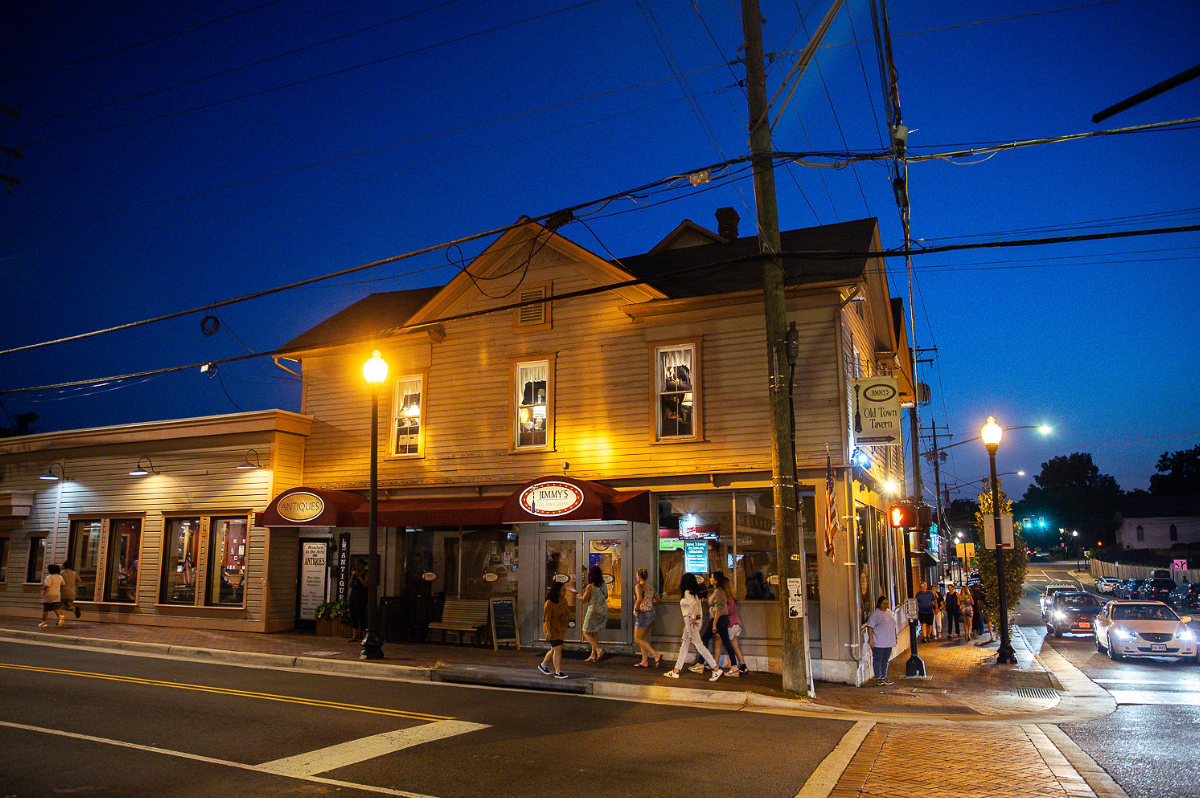 As a local neighborhood staple since 1997, Jimmy's Old Town Tavern in Herndon is a great place to cheer on your favorite team. The cozy vintage tavern offers drinks, billiards, and pub grub. If you're looking to make a day of the occasion, be sure to stroll through the Herndon Historic District to take a photo with the red caboose, grab a beer at Aslin Beer Company, and shop at the locally-owned businesses.
Maggie McFly's
Springfield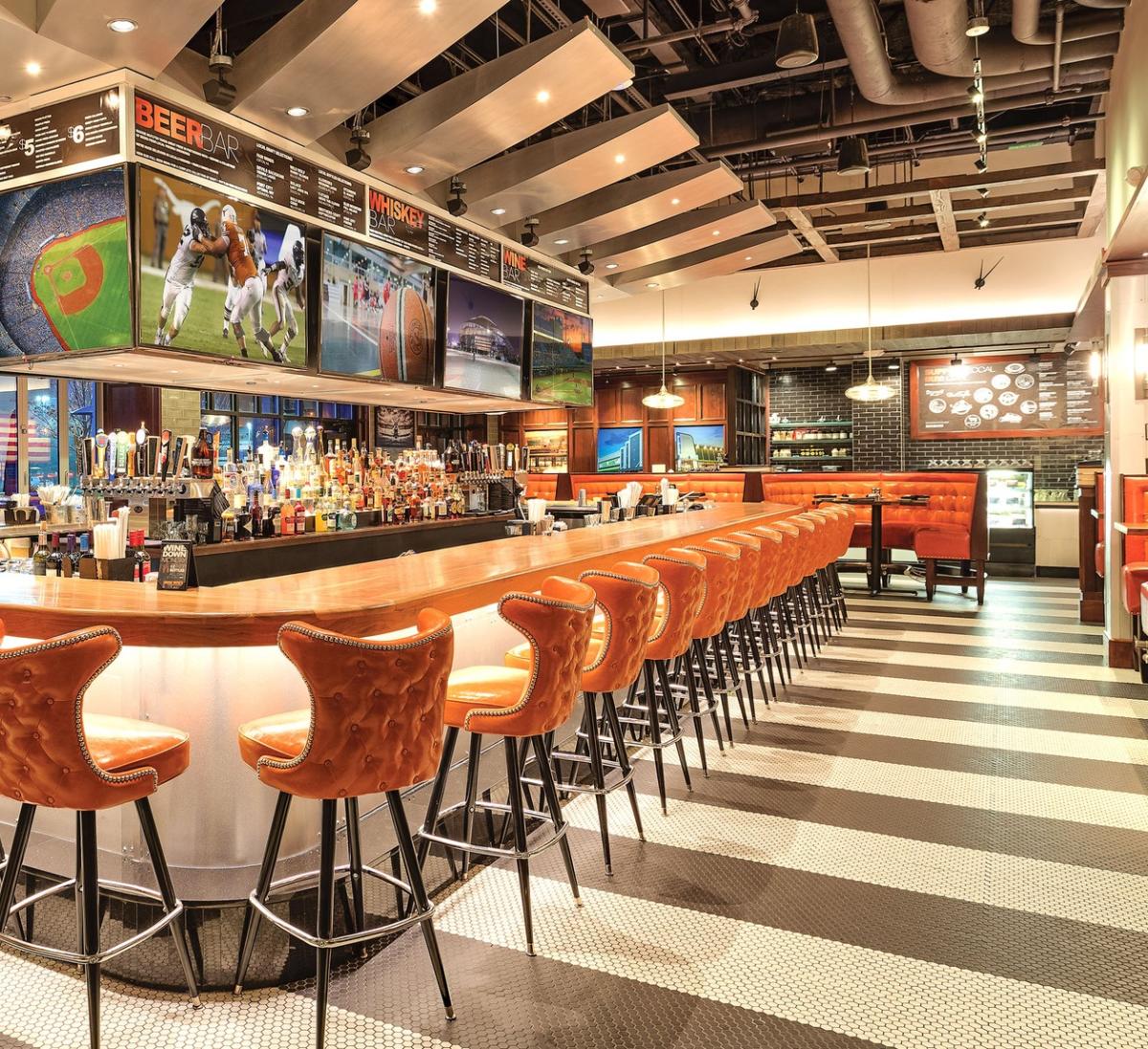 Photo courtesy Maggie McFly's via Facebook
If you're looking for an upscale casual place to watch the game, Maggie McFly's at Springfield Town Center doesn't disappoint. First of all, the menu is extremely vast - boasting everything from ramen to pizza to tacos to gyros to steak to seafood to... well, a little bit of everything! If your friends all have a hankering for different cuisines, here's the place to make everyone happy. 
 
Earls Kitchen + Bar
Tysons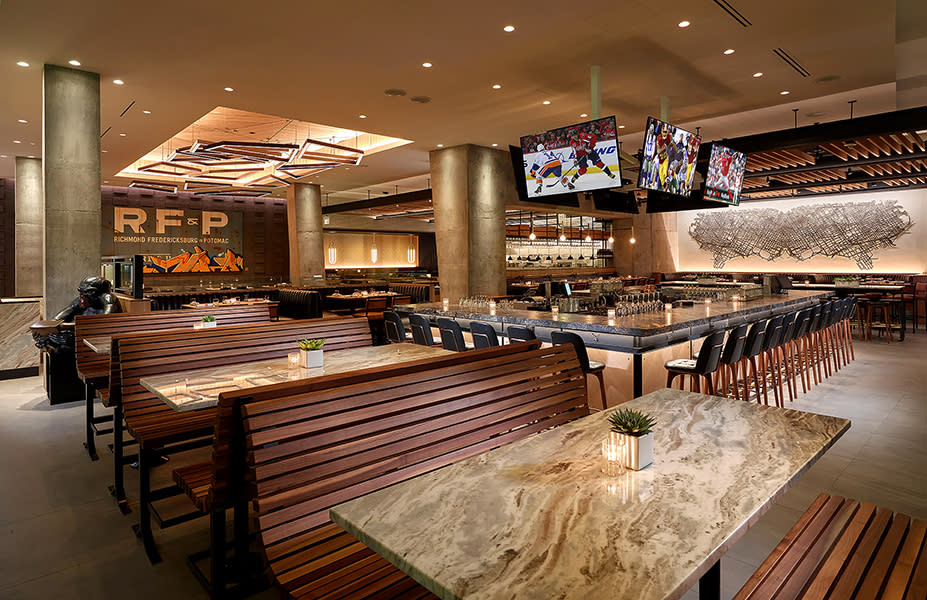 Photo credit Grossman Photography via USAI Lighting
Who said sports can't be watched in a sophisticated setting? To watch the game with a bit of flair, Earls Kitchen + Bar on the plaza at Tysons Corner Center is the perfect pick. Their globally-inspired menu features made-from-scratch food and perfectly crafted cocktails. The upscale ambiance is a unique way for a sports-loving couple to combine a date night with watching the game!
Honor Brewing Company
Fairfax & Chantilly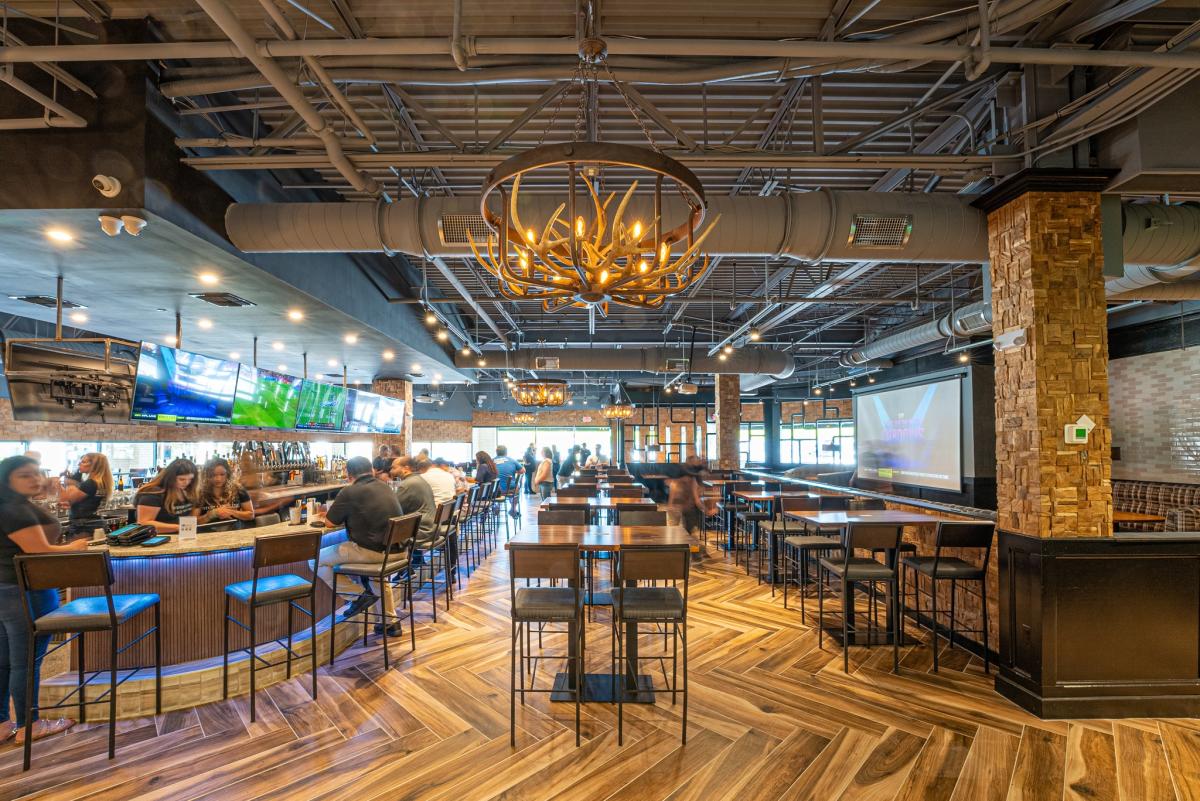 Photo courtesy of Honor Brewing Kitchen Fairfax via Facebook
If beer is the one thing you can't watch sports without, you're in luck! Honor Brewing Company is a Chantilly-based brewery with the mission to celebrate American soldiers. They pride themselves on beer that is "Made with Pride. Served with Respect. Shared in Tribute." Catch a game at their Chantilly Tasting Room or their newly-opened Kitchen in Fairfax. Oh, and don't forget to try the award-winning barbecue. 
Settle Down Easy Brewing Company
Oakton & Merrifield

Starting September 10, Settle Down Easy Brewing Co. in Oakton will be hosting NFL Sunday Ticket every Sunday all season long. Featuring eight brand-new high-definition TVs located in the Tasting Room, which makes it the perfect spot to watch the game and witness epic touchdown action. While you're at it, enjoy some serious super cheesy mac and cheese made by the Fermented Pig. 
Settle Down Easy also has a location in Merrifield/Falls Church.
Matchbox Restaurant
Reston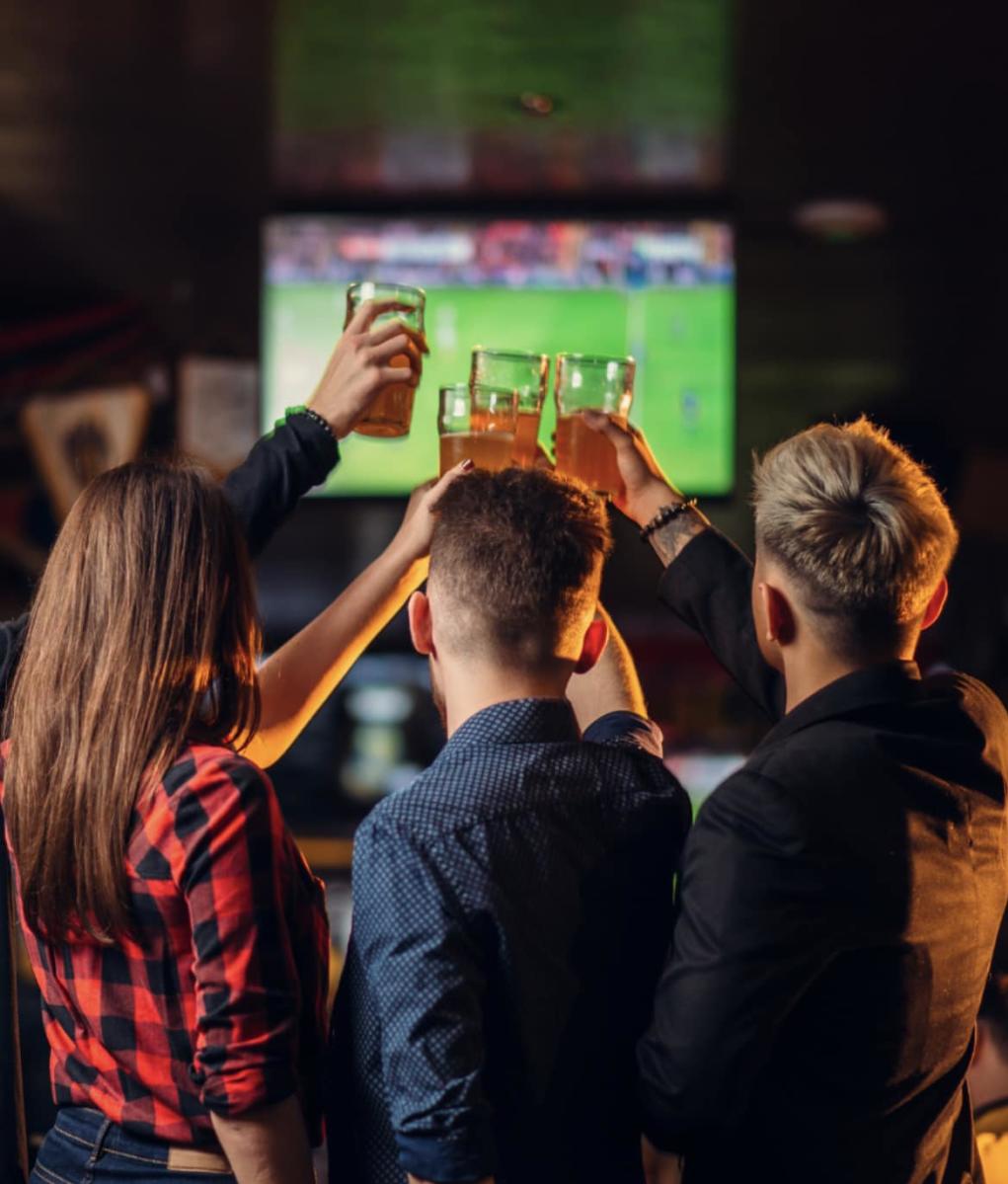 Image courtesy matchbox restaurants
In addition to delicious pizzas, burgers, beers, and other food items, Matchbox at Reston Station is a Game Watch location and features GameDay specials on Monday and Thursday nights, as well as all day Saturday and Sunday in the bar area.
Other Matchbox locations in Fairfax County include Merrifield and McLean. 

Places to Watch the Game and Enjoy Family Fun

Dave & Busters
Fairfax & Springfield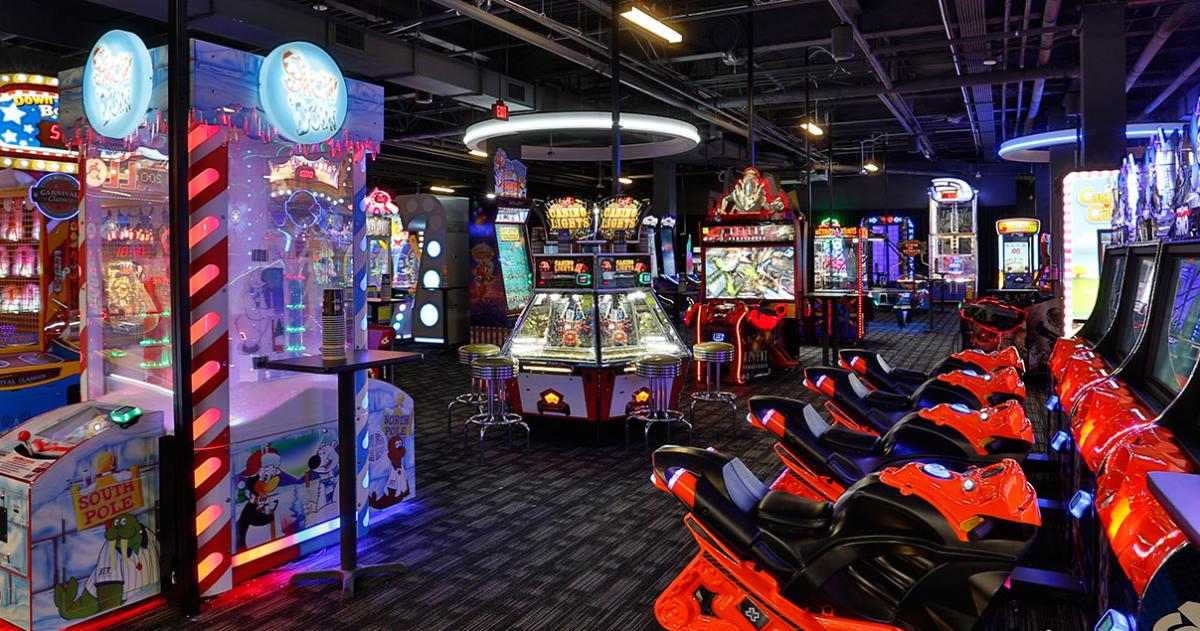 Enjoy fun for the whole family at Dave & Busters, where you can eat, drink, play, and watch sports - all under one roof! Although the entertainment center is mostly known for its wide variety of arcade games, you'll find a restaurant with large television screens.
Locations at Fair Oaks Mall and Springfield Town Center.
Tailgaters Sports Grill & Fun Land of Fairfax
Centreville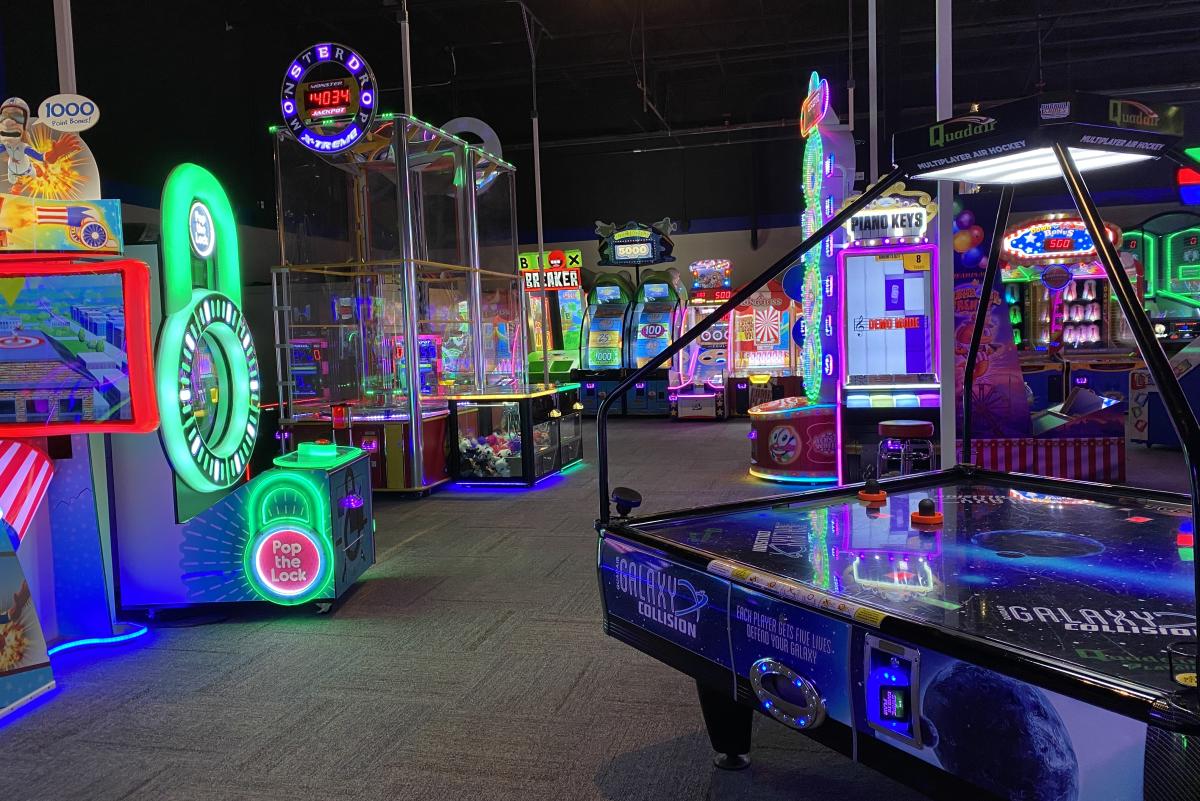 Let the kids loose (or unleash your inner child!) at Fun Land of Fairfax, an indoor entertainment facility with 100+ arcade games, go-karts, laser tag, a ropes course, rock climbing and more! The on-site restaurant, Tailgaters Sports Grill, features a ginormous projection screen and delicious bites to curb your cravings.
 
Whether you're looking to see your favorite teams win or watch your rivals get crushed, there's no shortage of sports bars, restaurants, and even arcades to see the game. What are your favorite teams that you're rooting for this season? Let us know in the comments or join the conversation on social media using #FXVA and @VisitFairfax.