Since its inception in 1857, Herndon has been known as a small-town escape in the Washington, DC region. The same holds true to this day with charming antique shops, stunning nature trails, and even high tea.
With affordable hotels, great restaurants, and proximity to Dulles International Airport and the nearly-open Herndon Metrorail Station, it's also a great place to stay to see the greater region. After all, it's not far from Reston and Reston Town Center, Great Falls Park, and the iconic Smithsonian's National Air & Space Museum Steven F. Udvar-Hazy Center. A brief Metro ride will also take you to over 400 shops and restaurants in the malls of Tysons. Or stay on the train and see the monuments and memorials of Washington, DC.
For now, though, stay a while and discover the history, heart, and irresistible charms of Herndon, Virginia.

Get to know historic Herndon, Virginia.
With Civil War, D-Day, and dairy farming history, Herndon has some eclectic things to see and do. Start with a piece of "the skinniest park in Virginia," the Washington & Old Dominion (W&OD) Trail. Once the railbed of the W&OD line that ran from 1859-1968, the park is just 100 feet wide and 45 miles long. The paved trail runs through the heart of Herndon and the railroad it replaced played a significant role in the Civil War. You'll also find a couple of interesting Civil War Trails markers in the area. One tells of Mosby's Raid where Colonel John Mosby (the "Grey Ghost") captured 25 prisoners. Another speaks of Laura Ratcliffe, a spy who helped Mosby and General J.E.B Stuart raid Union outposts. Merrybrook, her lifelong home, still stands in Herndon.
Herndon's railroad history is captured at the Herndon Depot Museum. Once the site of a Civil War skirmish, this museum displays unusual historic items and maritime memorabilia in honor of the town's namesake, Commander William Lewis Herndon. It also makes a great anchor for a self-guided walking tour of downtown's historic homes.
Another great site to see—especially for kids—is Frying Pan Farm Park. With its livestock and 1920s-1950s dairy farming history, it's a step back in time. Enjoy nature trails, family-friendly event programming, baby animals, an antique carousel and country store, equestrian-center activities and events, and historic demonstrations at this multi-purpose must-see in the Washington, DC metro area. Fun fact: For over a decade, this is where America's pardoned Thanksgiving turkeys went to live their natural lives in peace.

Play it your way on the county's western edge.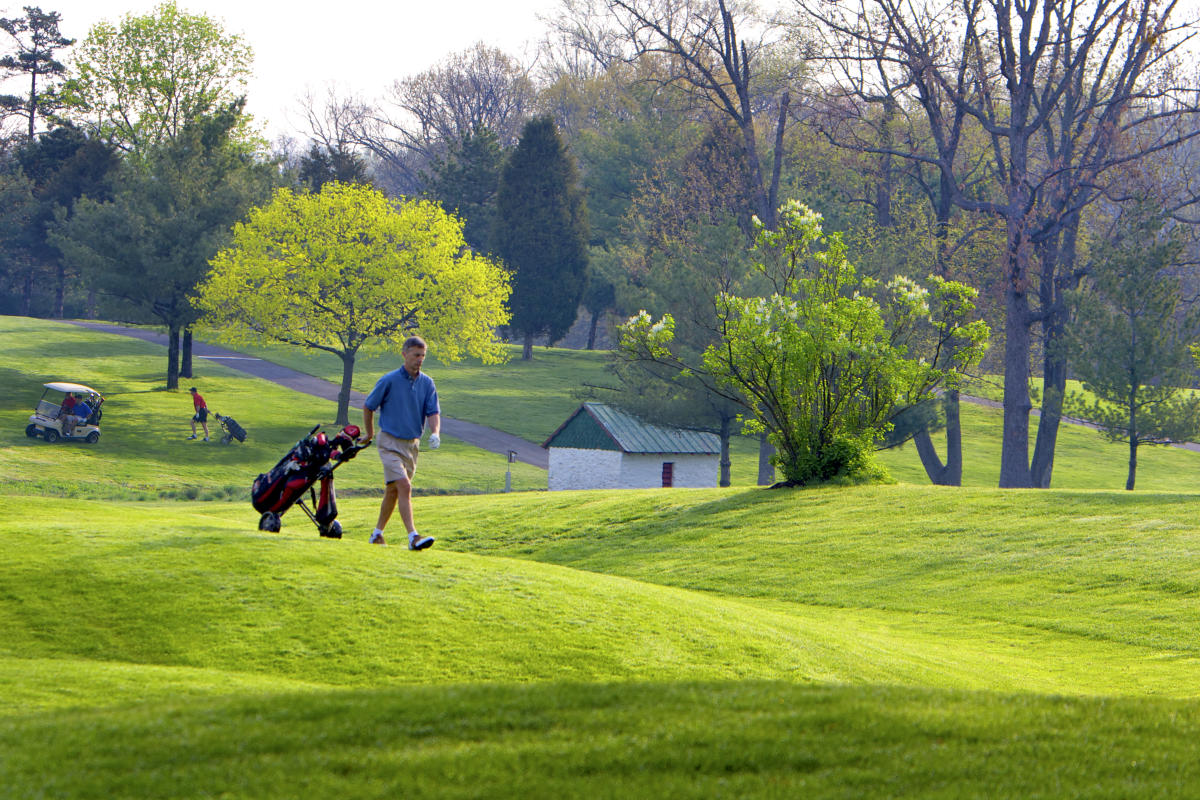 Herndon Centennial Golf Course

Herndon specializes in eclectic interests, so everyone in the family will be fully engaged. Treat your linksman to a round at the spectacular Herndon Centennial Golf Course. Its rolling fairways and free-flowing tees have made it one of Golf Digest's "Places to Play" for 18 consecutive years. Or, for a different kind of game, visit Hashtag Gaming Arena, the largest board game and collectibles retailer in the entire mid-Atlantic!
Fans of the arts will want to catch a professional theater show at NextStop Theatre Company, peruse the galleries at ArtSpace Herndon, or create their own masterwork at Pinot's Palette. For some higher-octane fun, take a hike at Runnymede Park, get challenged at Escape Room Herndon, or bounce the day away at Launch Entertainment Center's trampoline park.

Celebrate your day with a concert or festival.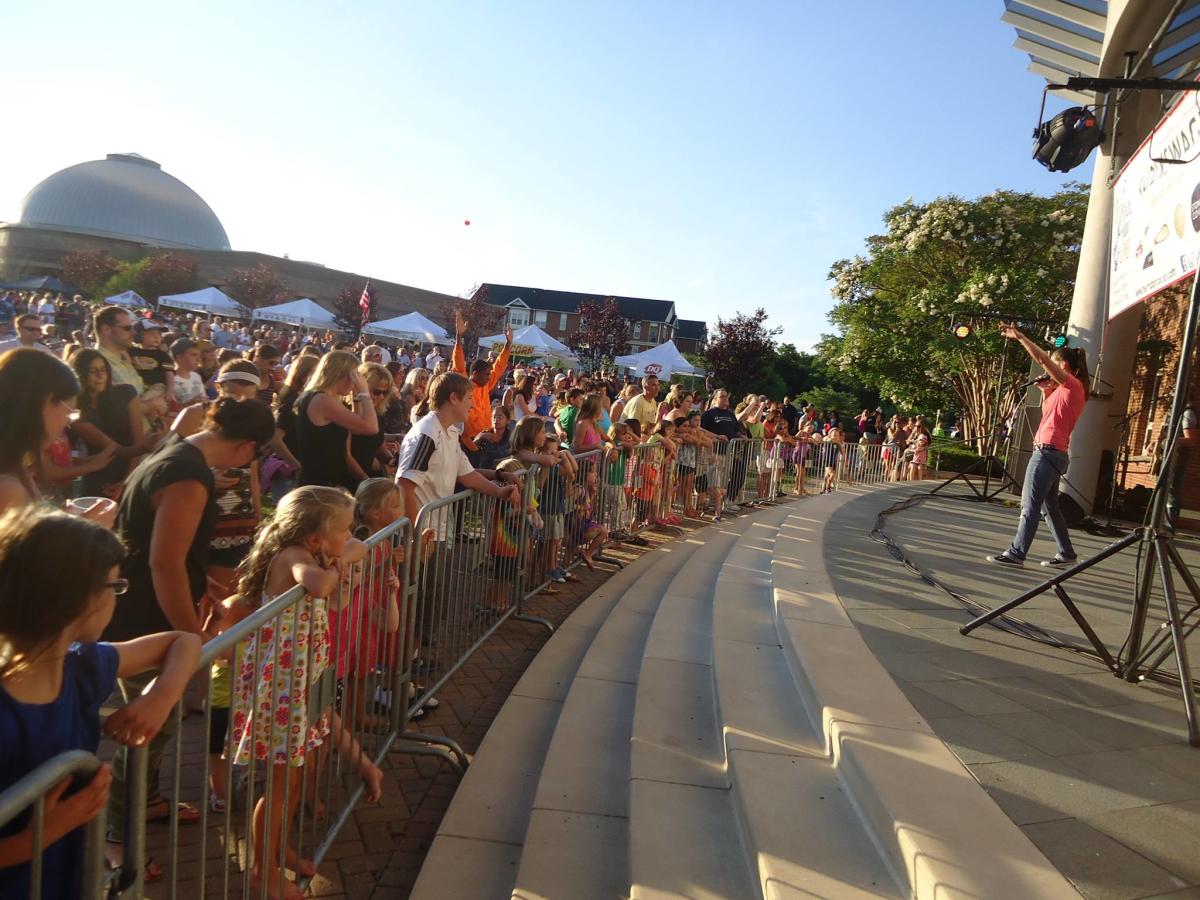 Image courtesy Laura B. Poindexter, Chairman, Friday Night Live!
 
Herndon knows how to party. And if it's June, that comes in the form of the Herndon Festival— four days of rides, games, food, and fun. In September, the town puts on NatureFest, a family-friendly, hands-on event spotlighting the animals, plants, and insects that live in Runnymede Park. And folks wait all year for December's WinterMarkt, a traditional European Christmas Market filled with food, gifts, drinks, and holiday spirit.
Concertgoers will love summer in Herndon because there are free concerts and entertainment all summer long, courtesy of the county. There's the Arts in the Parks entertainment series for kids at Frying Pan Farm Park. And for adults, there's Hunter Mill Melodies, an eclectic mix of musical genres, from folkloric music to rock. Music at Arrowbrook Park adds local wine tastings to the concert lineup. And the much-beloved Friday Night Live! summer series brings food and local brews to the Herndon Town Green, thanks to the Dulles Regional Chamber of Commerce.


By now you must be hungry in Herndon.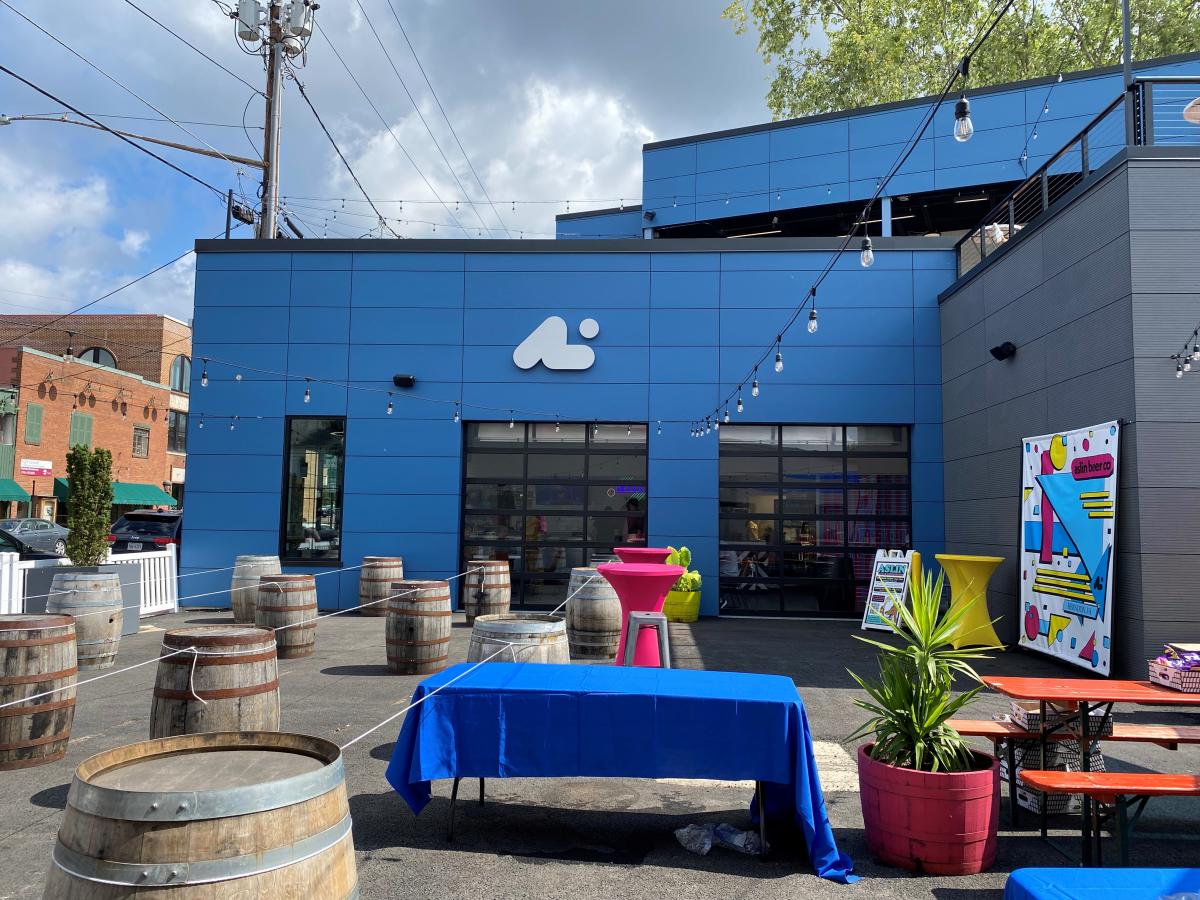 Aslin Beer Co.

Tell any local you're headed for Herndon and they'll reply, "Be sure to stop by Jimmy's." Jimmy's Old Town Tavern is known far and wide as the place where "everyone is treated like a regular" and those regulars have quite a bit of fun. They pledge their troth to the Buffalo Bills, eclectic microbrews, and Tuesday Trivia nights.
Elsewhere in the dining category, you'll find hot fried chicken at Wooboi Hot Chicken, diner food at The Virginia Kitchen, and plant-based foods at GreenFare. Just want to grab a sandwich? The Deli is our pick for the best between bread. From there, global cuisine takes the stage with Le Vingt de Trois' French pastries, Euro Bistro's Austrian/German menu, and A Taste of the World's well, taste of the world. And if you want to dine to impress, enjoy the formal service at Zeffirelli Ristorante or the iconic tableside presentations at Russia House.
But wait. There's more. Grab and go with a New York-style bagel from Bagel Café, freshly baked bread from Great Harvest, yummy desserts from Amphora Bakery, or my personal favorite, a chocolate raspberry twist (or literally anything else) from Grace's Pastries. You can explore the local harvest each Thursday from May through October at the Herndon Farmers Market. And for a little extra fun, watch the wacky flavors of donuts being made at Duck Donuts.
Thirsty? We thought so. Grab a cup of locally roasted joe at Weird Brothers Coffee (check out this quick video!). If you crave it after returning home, you can always order online. And if that doesn't pack enough punch, Herndon's two independent breweries are happy to help. Juicy Brewing Company is the county's newest with a fresh take on hazy IPAs and fruit-forward sours. (Here's a quick tour!) And Aslin Beer Company is a Fairfax County mainstay with three locations in the region, some pretty cool can art, and a load of special events and festivals. (Here's a quick tour!) The brewery just opened IZZI, a new coffeehouse and pizza restaurant, next door for convenient eats. Both breweries welcome pups on the patio.


Lizards, wolves, and vinyl. Oh my!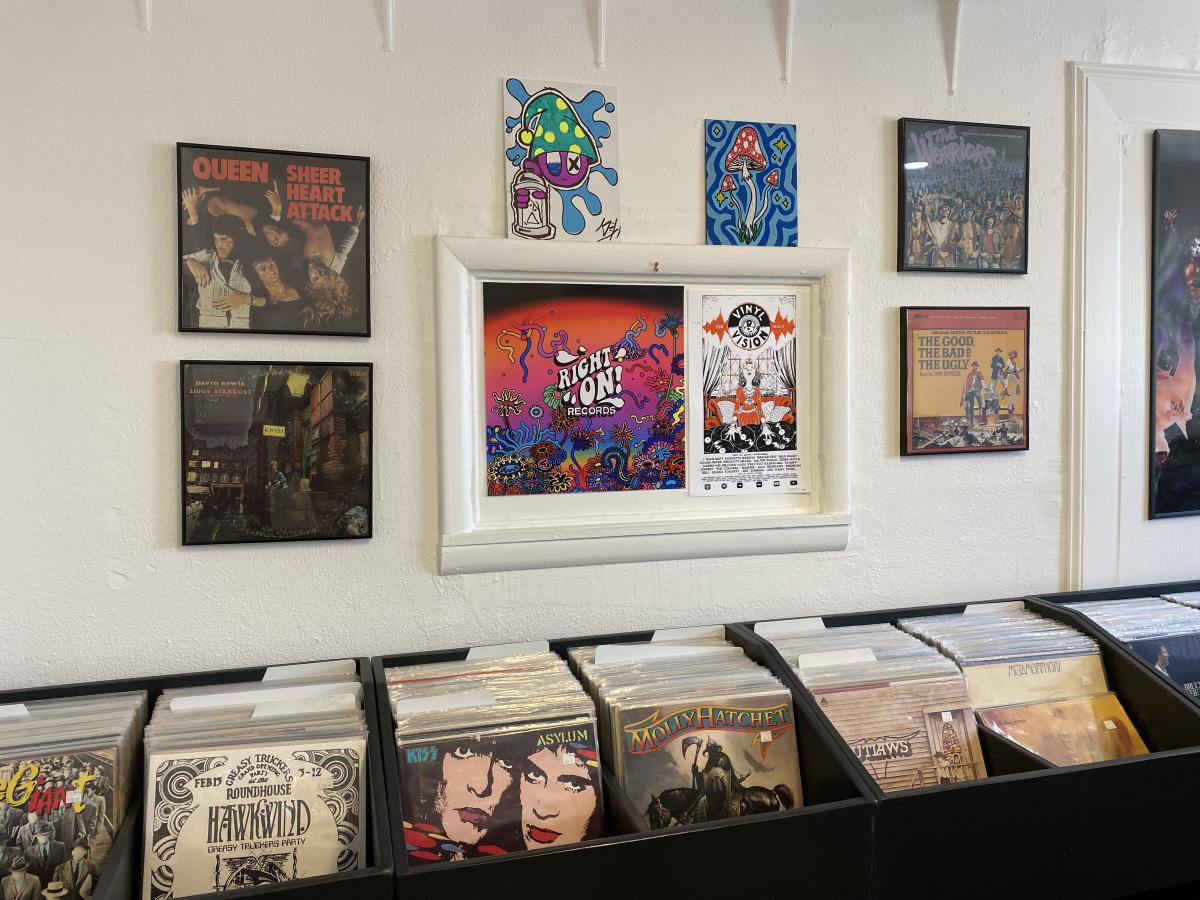 Right On Records!
 
We couldn't end this blog without mentioning a trio of interesting shops to visit. Conveniently located right off the W&OD Trail is Green Lizard Cycling. It's a bike shop paired with a café to fuel your cross-county ride. Good Wolf Gear is an outdoor gear exchange, buying, selling, and trading items for camping, hunting, hiking, and more. And Right on Records is your go-to source for vinyl and that special sound that simply can't be duplicated by digital recordings.
Finally, we'd be remiss if we didn't mention the OG of storytime at Herndon Fortnightly Library. Their children's section is second to none.

As you can see, Herndon is the perfect mix of small-town charm and big-city amenities. With its local attractions, plush hotels and fabulous restaurants, you need never leave. But with its proximity to everything else Fairfax County has to offer, we know it would be hard to stay put. See you soon in Herndon!