Nestled in the heart of Northern Virginia, close to the nation's capital, Fairfax County, Virginia is an accessibility gem. As locals and wheelchair users, we discover new things about where we live almost daily. We love our extended neighborhood and how it prioritizes the disability community, which is the largest underserved population in tourism with emerging market potential.

You'd need a lifetime to truly experience all that Fairfax County offers, but if you only have a few days to visit our little corner of the world, here are our must-explore accessible attractions for fun, outdoorsy, and history-loving folks alike!
Friday Night: Dinner and Drinks at the Winery at Bull Run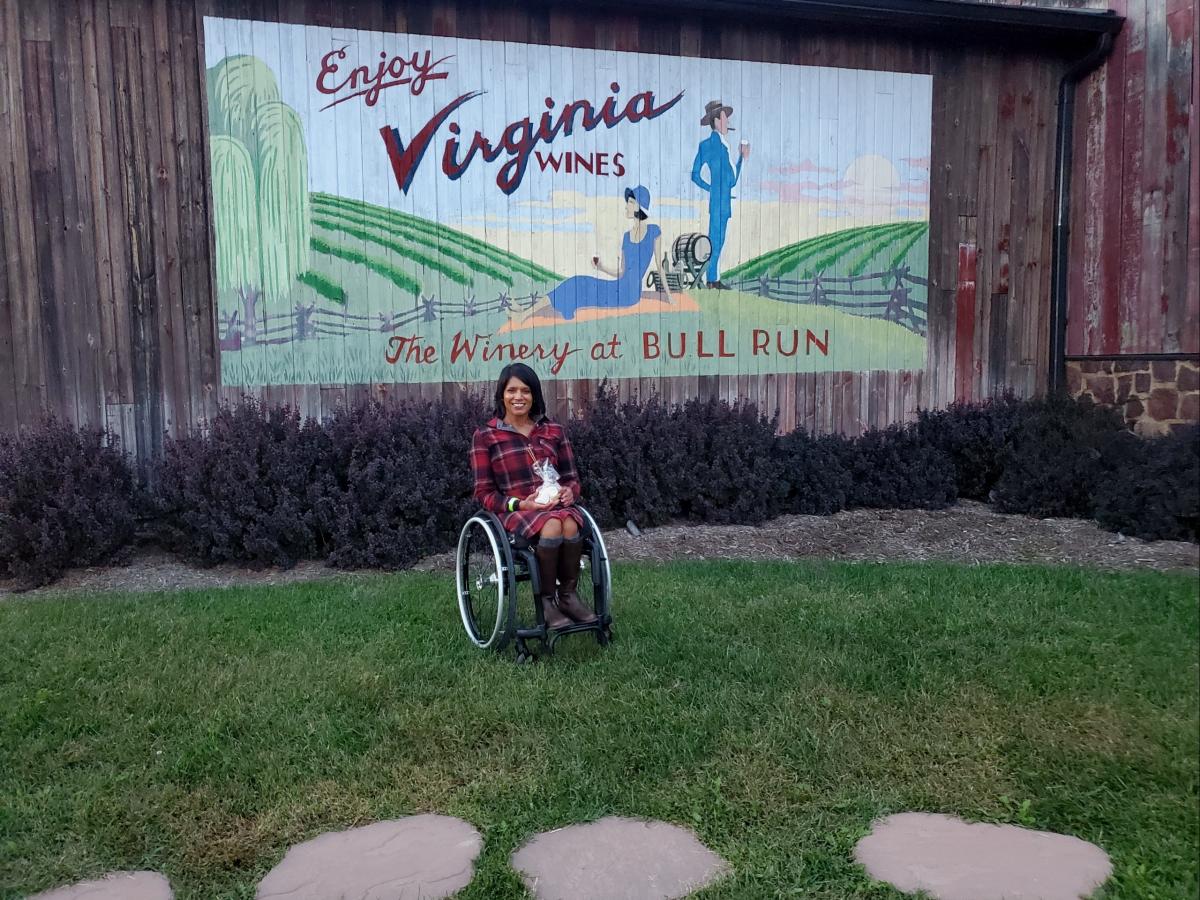 A "farm-to-table, grapes-to-glass" picturesque escape from the hustle and bustle of life, travel back in time at The Winery at Bull Run. The winery strikes a unique balance of producing fine 21st-century Virginia products while paying tribute to Civil War history and preservation. The Instagrammable winery sits adjacent to Manassas National Battlefield Park and houses a small Civil War museum with relics found on the property.

Accessible parking is on a gravel, but manageable area. Paved paths connect different sections of the winery, but you will have to travel over grassy areas to get to some of the picnic tables. There is an accessible bathroom. Call for additional accessibility information: 703-815-2233.
Saturday Early Morning: Great Falls National Park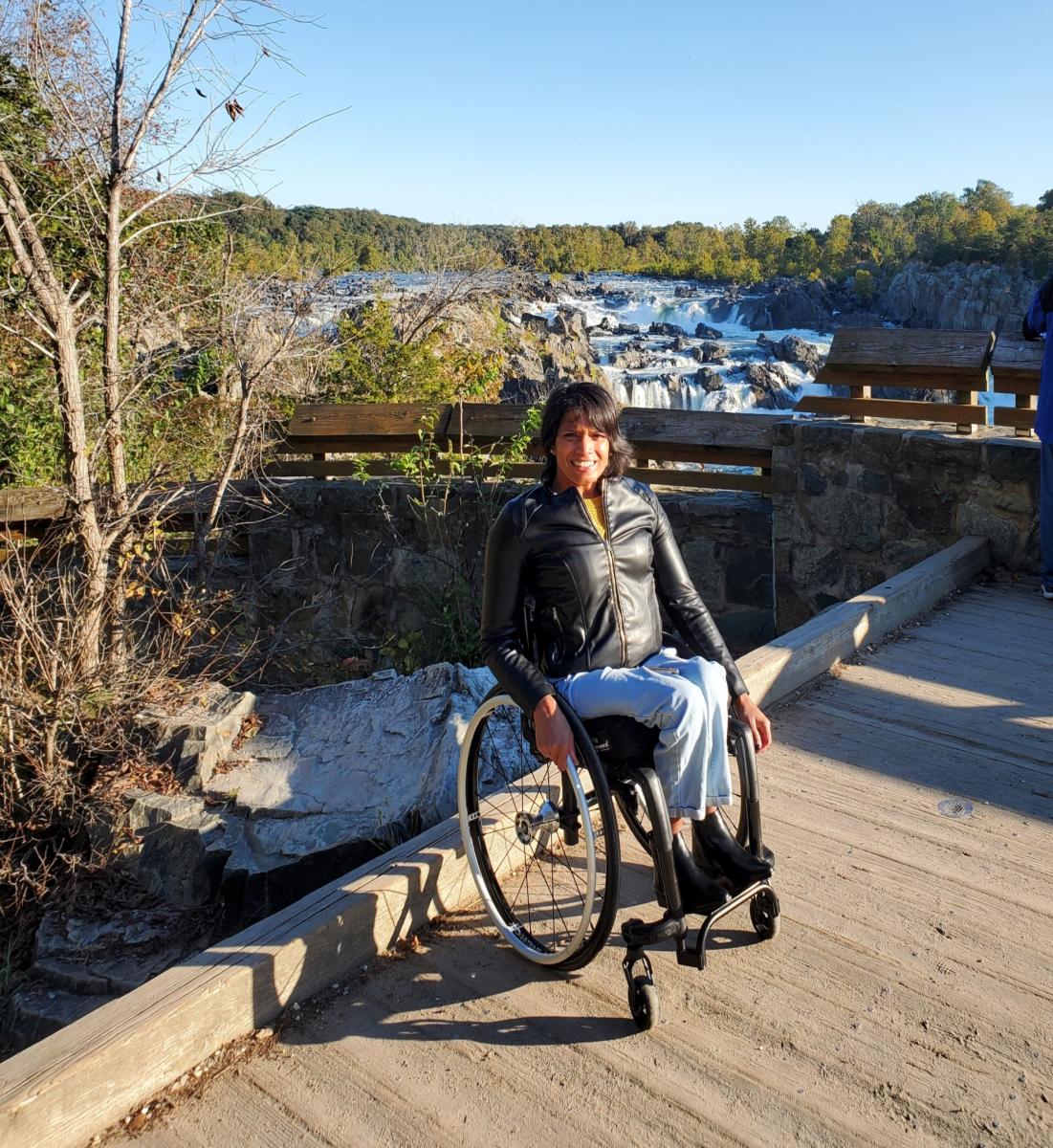 This spot is for our early-riser, outdoorsy, nature-loving friends (but really everyone). Take a sunrise stroll around Great Falls National Park as the park opens at 7 a.m. (also, you'll beat the crowds). Here, mighty Mother Nature puts on a stunning show as the Potomac River builds up velocity and falls over steep jagged rocks to get through the Mather Gorge. It's no wonder people have been visiting Great Falls for thousands of years. The visitor center is currently closed until March 2023 for renovations.

Managed by the National Park Service, there is a $20 entrance. But, if you have an America The Beautiful Access Pass, it's free! Accessible parking is available, and trails are mostly flat, hard-packed dirt, with some areas with rocky bits. Overlooks two and three on the main path are fully accessible and offer great views. Additional accessibility information.

Saturday Morning: Smithsonian's National Air and Space Museum Steven F. Udvar-Hazy Center
The Udvar Hazy Center, the lesser-known but equally impressive sister site of the National Air and Space Museum in Washington, D.C., houses some of the most recognizable and record-breaking aircraft/spacecraft in history in a visually dazzling, hangar-like structure. Aircraft at the museum include an SR-71 Blackbird, Enola Gay, and the Concorde. The crown jewel is the Space Shuttle Discovery. The center has everything from aircraft from the early days of flight to recent military helicopters and planes.

There is ample accessible parking and bathrooms. The museum is spacious and fully wheelchair accessible, with elevators and even a ramped walkway to the different levels. Additional accessibility information.

Saturday Afternoon: Meadowlark Botanical Gardens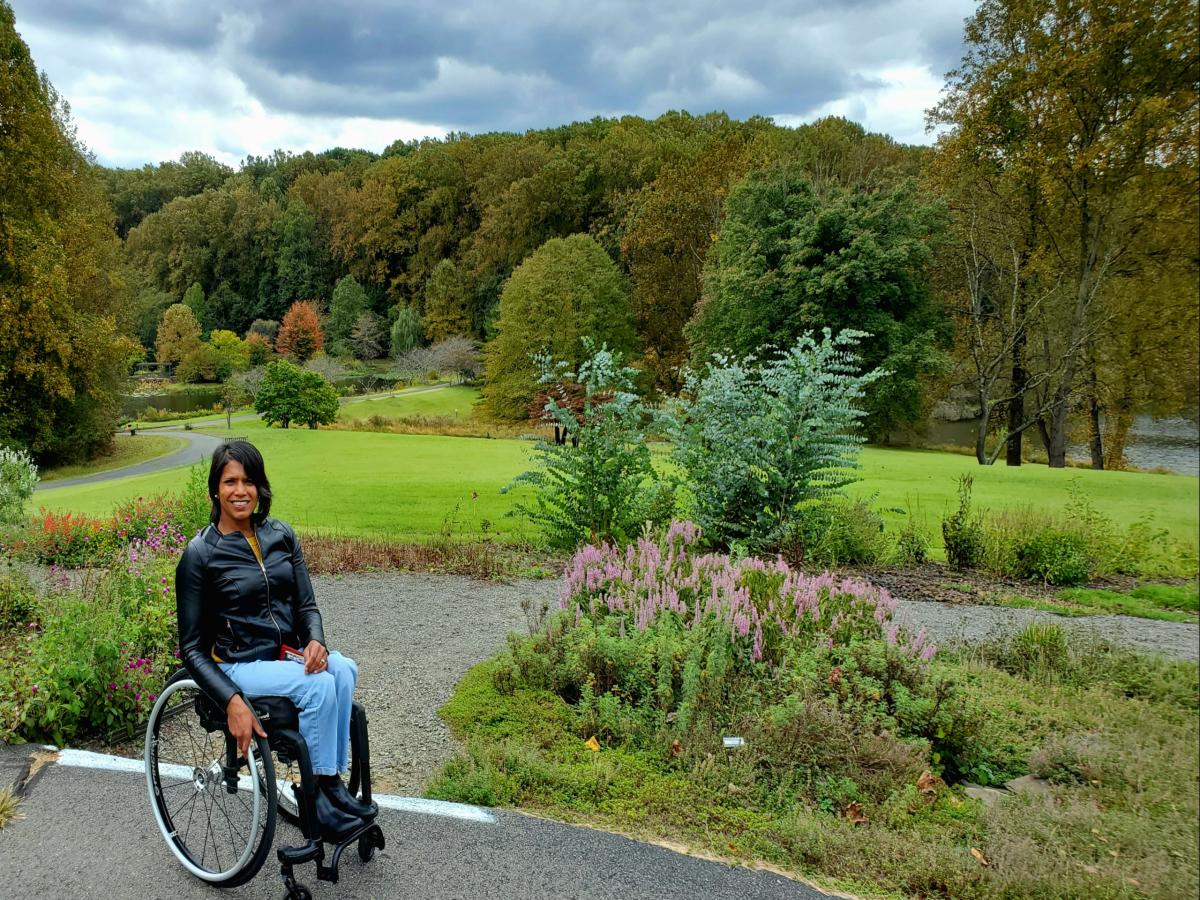 Love gardening, flowers, trees, and quiet serene settings? Meadowlark Botanical Gardens is the place for you! The central public garden with several ponds (and giant koi!) serves as a quiet respite for nature and people alike. It's also an outdoor classroom that preserves plant diversity. A centerpiece of Meadowlark is The Korean Bell Garden. The pagoda was built by hand in South Korea using methods that date back thousands of years and depicts a unique blend of Korean and Virginian images. Meadowlark changes with the seasons, and no two visits are the same.

There are 3.5 miles of paved walking trails and 1.25 miles of mulched trails. However, please be advised that many of the paved trails are steep and not ADA-compliant. There is an ADA-accessible trail designated on the map, which you must download digitally or scan a QR code upon arrival. Meadowlark offers a wheelchair-accessible cart service to drive you to different places (you can stay in your wheelchair) but call ahead to ensure it's available. Contact: 703-255-3631, meadowlark@nvrpa.org.

Sunday Morning: National Museum of the U.S. Army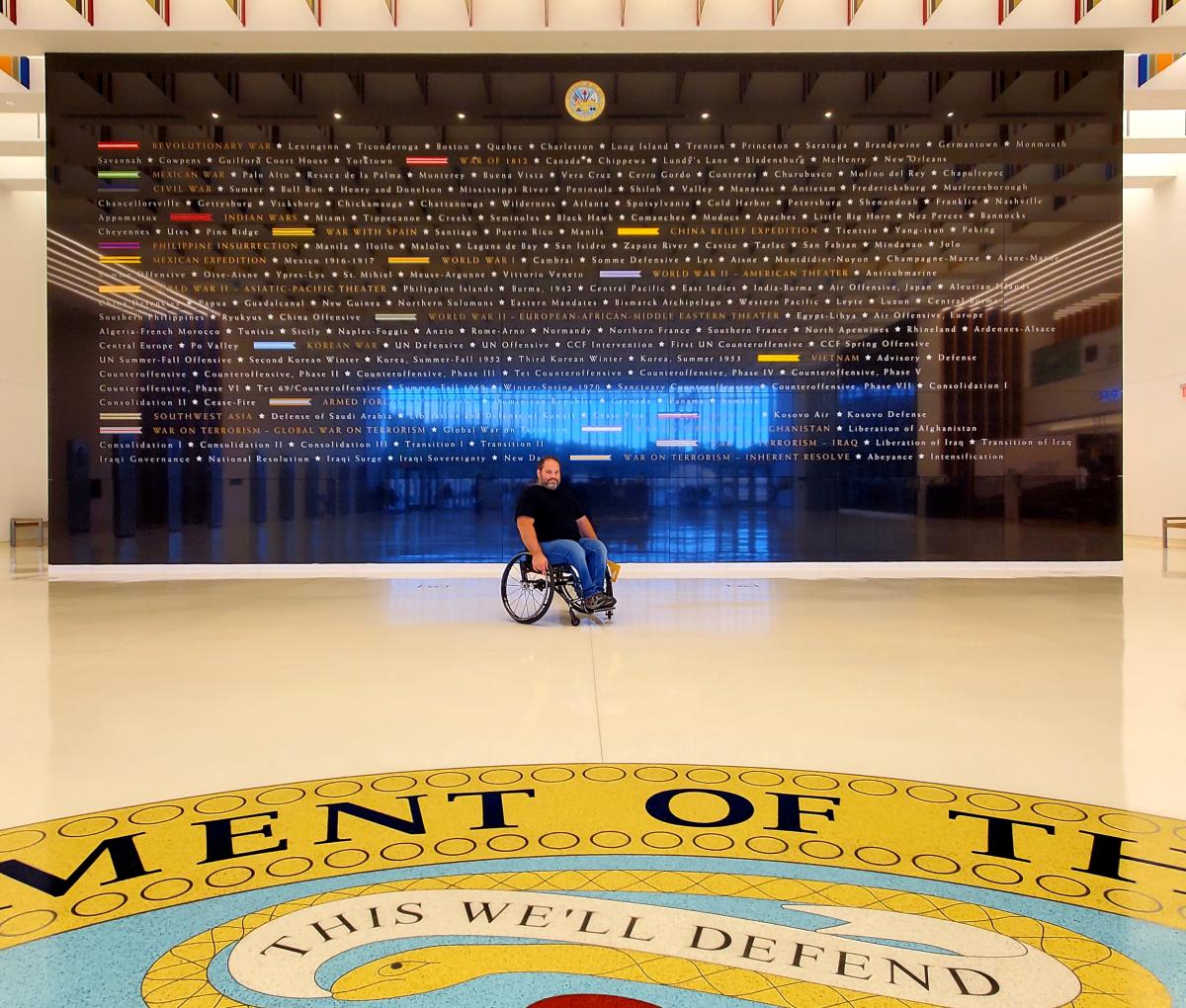 With an emphasis on soldiers' stories and points of view, the National Museum of the U.S. Army encapsulates more than 245 years of history in a new, state-of-the-art facility. Located on the grounds of Fort Belvoir (you don't need special clearance to visit), this museum offers experiences for various audiences, from multiple video/film elements to highly interactive and tactile exhibits to content you can read at your leisure. It is comprehensive and in-depth without being overwhelming. You will leave the museum with a newfound understanding, appreciation, and reverence for our nation's history and how the Army has been at the heart of it.

We were blown away by all the accessibility and language features in place. These include controllers that plug into interactive exhibits if you can't reach up to touch screens, audio tours with printed scripts and assisted listening systems, wheelchairs for rent, tactile guides, guides in several languages, and much more! There's even an accessible nursing pod. All can be checked out for free with an ID. No need to call ahead! This should be normalized and the gold standard! Additional accessibility information.

Sunday Afternoon: Mount Vernon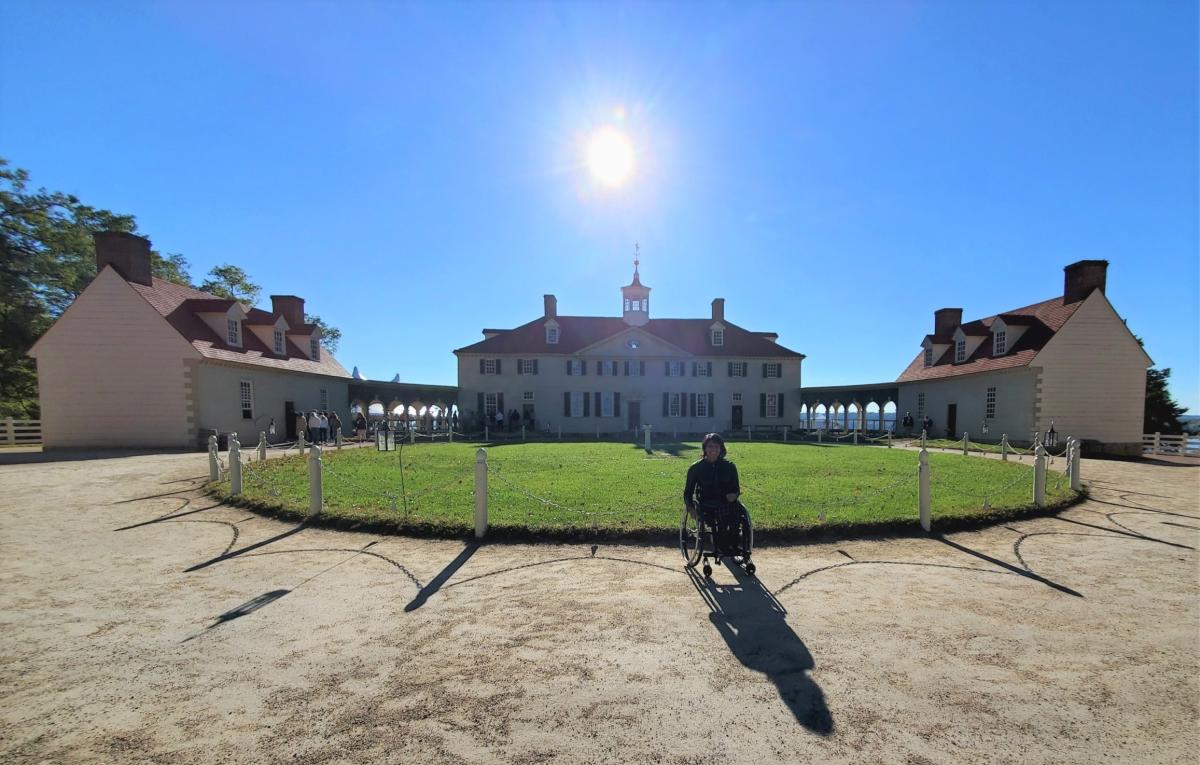 Complete your trip to Fairfax County with a visit to George Washington's Mount Vernon, the home of the father to the nation. Once again, step back in time to the early days of the United States. Your grounds pass ($28) gets you a timed ticket tour of the mansion, access to historic buildings and the tomb, exhibits in the education center, strolls through several gardens and trails, and a sweeping view of the Potomac that's hard to beat. Please note the East Front will be covered in scaffolding until April 2023 for preservation efforts giving visitors a rare view of the original sideboarding.

The first floor of the mansion tour is accessible with a photo book provided for the upper levels. The grounds have areas of steep unpaved terrain, but the main areas are mostly flat with a smooth, paved path. Descriptive audio tours are available, and the welcome center, museum, and education center are fully accessible, with assisted listening and captioning available. Additional accessibility information.

Quick Takes: Where to Stay, Where to Eat
Hotel: Westfields Marriott Washington Dulles with breakfast at the Westfields Marriott Washington Dulles' Wellington's
This accessible, federal mansion-style hotel, set in tranquil Chantilly, Virginia is close to Washington Dulles International Airport. Don't miss a scrumptious meal or the breakfast buffet at Wellington's!

Hotel: Embassy Suites by Hilton Springfield with complimentary, made-to-order breakfast and omelet bar.
Located in Springfield, Virginia, off of I-95 with easy Metro access to Washington, D.C., don't miss the hot breakfast bar in the morning with made-to-order omelets!

Lunch: Alta Strada Mosaic - Craving Italian? Head to the trendy Mosaic District to savor dishes from Michael Schlow, a James Beard award-winning chef.

Dinner: Burtons Grill & Bar - This is a must. At Burtons, every dish is customizable. Meeting food allergy or gluten-free needs is a top priority without sacrificing taste. 
Stay tuned as we take a closer look at the accessibility of each of these attractions, recommendations for accommodations, and delicious eats in Fairfax County, Virginia.
*This blog was originally published on www.photoswithaspin.com and reprinted here with permission as part of a collaboration with Photos with a Spin. Check back each month for more in our accessible travel with Abe & Maggie!*