How do you like your chicken wings? Spicy or sweet? Dry-rubbed or saucy? America's favorite messy snack is widely enjoyed everywhere - from tailgates to family dinners. Lucky for us, there's no shortage of chicken wings here in Northern Virginia. If you're on a quest for the best chicken wings in Fairfax County, look no further than our list of places to visit for that finger-lickin' good taste. 

Glory Days Grill
An award-winning family restaurant and sports bar, Glory Days Grill is well-known for its atmosphere as well as its made-to-perfection baskets of chicken wings. With three wing styles and 11 flavor choices, there's a wing for every palette! Glory Days has several locations throughout Fairfax County, including Centreville, Fairfax/Vienna, Reston, Herndon, Burke, Lorton, and Falls Church. 
Hot Tip: On weeknights, they offer $6 appetizer wing baskets after 9pm!

Choong Man Chicken
On a quest for crunchy chicken wings? The hunt is over with these three words: Korean. Fried. Chicken. Choong Man Chicken brings Korean flair to Fairfax County with the traditional "tikkudak" style, meaning it's prepared by being fried and then baked in a charcoal grill. Forgoing classic flavors like Buffalo and Barbecue, Choong Man instead brings uniquely-spiced sauces such as Garlic Soy, Curry, and Gochujang (red hot pepper). 

Velocity Wings 
If you're looking to try unconventional flavors, Velocity Wings takes the cake with their selection of 40 finger-lickin' good sauces and dry rubs. Seafood lovers will enjoy favorites like their Spicy Crab and Honey Crab sauces, while those who want something out-of-the-box can try the unconventional Chipotle Raspberry or Georgia Peanut sauces. Not that adventurous? Don't worry, classic connoisseurs - crowd favorites such as Honey BBQ and Lemon Pepper are still on the list. 

Buffalo Wing Factory
Buffalo Wing Factory offers craft wings and craft beer, with locations in both Chantilly and Reston. With favorites like Peruvian Verde and Sweet Flamin' Jerk, you're bound to find a new flavor at this beloved spot. 
Hot Tip: If you have a sweet tooth, Buffalo Wing Factory also has cinnamon sugar pretzels and fried Oreos! Yum! 

Patriots Pub and Grill
Patriots Pub and Grill promises to "make your experience one to remember!" And with their tasty chicken wings, how could they not? With great eats and a friendly staff, this local staple has surely made a name for themselves. 

Jimmy's Old Town Tavern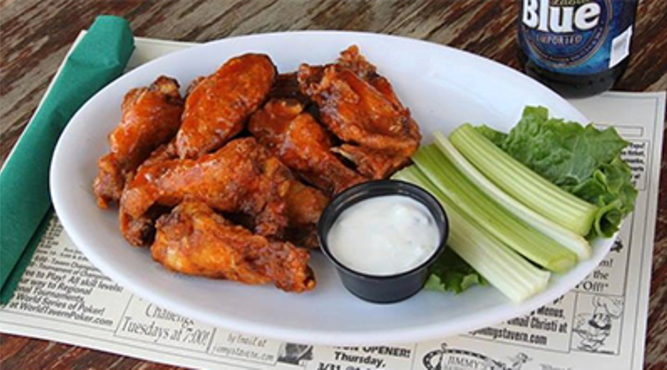 Dubbed "King of the Wings" by Northern Virginia Magazine not once - but five times, Jimmy's Old Town Tavern is a Northern Virginia favorite. Its owner, Jimmy, hails from the land of the wings, Buffalo, NY, and has been serving up tasty food in Herndon for over 20 years! Which spice level will you challenge yourself to? The choices go all the way from mild to "suicidal!" 
Chic Mc 
Yet another Korean Fried Chicken joint is on this list. It's just that good! Chic Mc in serves up Korean chicken wings with a choice of Soy Garlic, Hot, or half-and-half. The cool thing about getting your chicken wings from here is that you can also pick up your favorite Korean dishes - Kimchi, Bulgogi, Pork Belly Buns... the possibilities are endless. Chic Mc has locations in Annandale, Vienna, Chantilly, Burke, and Alexandria. 

Buffalo Wild Wings 
There's a reason Buffalo Wild Wings grew from a small Ohio sports bar to a widely recognized name. We couldn't leave them off this list! Their Asian Zing and Teriyaki flavors are to die for - among others on their extensive list of sauces and dry rubs. Lovingly nicknamed B-Dubs by their fans, their wings are certain to make you say "mmmm!" Locations include Fairfax City, Alexandria, and Falls Church. 

Which wing joints in Fairfax County are your favorite? Let us know in the comments below or on social media at @VisitFairfax and #FXVA! Now, it's time for me to go get some wings!